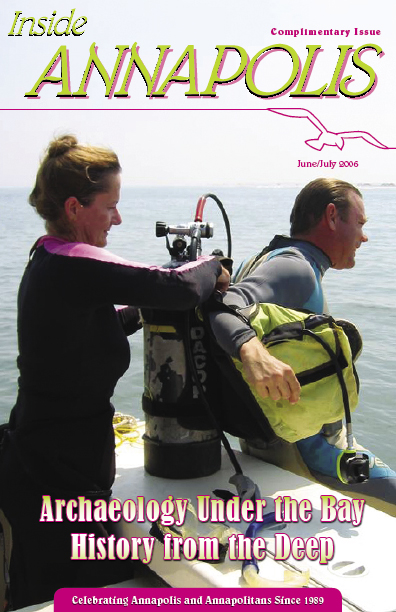 June/July 2006
Table of Contents

Features:
Underwater Archaeology in the Chesapeake Bay
More than 550 known archaeological sites lie beneath the waters of the Chesapeake Bay, or buried under layers of silt on riverbanks, or in marshes, according to Susan Langley, PhD, Maryland's State Underwater Archaeologist. Nancy Breslau Lewis reports on the fascinating treasures buried under the sand.

PLUS: Annapolis Summer Garden Theater and Maryland's Clean Marinas program

Annapolis Insiders: Vanessa Carter
In every decision Vanessa Carter makes, she considers how it will benefit the community. The director of the county's Clinic and School Health Division has had the community in mind her whole life, raised by parents who believed giving back to the community was not just a passion but their sole purpose in life. Margot Mohsberg chats with the health leader and breast cancer survivor.

PLUS: Lynne Sherlock and Debi McKibben

Annapolis History:
St. Clair Wright Center for HistoryQuest
Like most historic buildings in Annapolis, 99 Main Street has a long history and a lot of owners. From bakeris to pet shops, the building has survived the centuries and now houses the new HistoryQuest Center for the Historic Annapolis Foundation. Deirdre Flanagan looks back at the history of this spot as well as 77 Main, which houses the museum store.

Bay Business: Russel & Mackenna
They started in a one-car garage two years ago. Today, Lauren and Kevin Russell are set to open their own showroom of their distinctive hand-made furniture. Joseph Patrick Bulko talks to the Russells about what it takes to pursue the American Dream.

PLUS: LimeLight Marketing and Promotions, Bay Icons, Chester River Boat Company, Wild Thing, Legal Briefs: Can I Take Your Picture?, Consider This...Becoming a Private Pilot, and Jimmy's Favorite Sites

BAY LIFE: St John's College
As an ocenaographer, Louis "Skip" Kovacs spent more than 31 years concerned with what happens beneath the surface of the ocean. Now he's spending more time on top of the water, coaching St. John's College students who have formed a fledgling, but dedicated, sailing team.
PLUS: Barnacles and At Home...My Back Yard

EVENTS: Bermuda Ocean Race
The Bermuda Ocean Race sets sail on June 9, headed for the port of St. George's in sunny Bermuda. The course is 751 nautical miles and could see as many as 50 boats competing for the various trophies and awards.
PLUS: The Chesapeake Bay Swim, 11th Annual Build-A-Boat Challenge, and Chesapeake Light Craft Okoume Fest

BAY LIFE, ETC.


Annapolis Editions


Organizations: CASA


Education: George Fox Middle School


Education: Annapolis Area Christian School


Real Estate Sales


Dining Out: Squisito Pizza and Pasta

MISCELLANY


Annapolis Map


Mi Casa Es Su Casa


The Wine Coach


Restaurants, Shops, Services, Galleries & Schools


Advertiser Directory


Crossword Puzzle