Consider This.Becoming a Private Pilot
A few years ago—it seems like yesterday—my wife and I were looking back at our lives, our work, our children, our house and began to openly speculate about things that we would like to do, but for one reason or another, never got around to doing. With little encouragement, I said that I had always wanted to learn to fly. Quite casually, she responded by saying, "Why don't you do it?"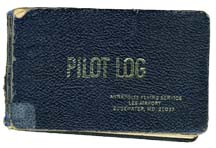 Within a week of that lunch, I tracked down the necessary information on what was required to get a private pilot's license. On January 22, 1986, I had my first official half-hour introductory flight lesson at Lee airport in a Piper 140 low wing aircraft. That flight rekindled the excitement I had felt as a teenager in the early sixties, when I had my first airplane ride in a 1929 Ford Tri-motor when it was barnstorming little airports in Central Illinois. (Believe it or not, a Ford Tri-motor—maybe the same one—is touring the United States this summer. Go to www.airventuremuseum.org/fordtrimotor/ to find an airport location near you and check out the Ford for yourself.) By December of 1986, I had accumulated 53 flight hours and was the proud owner of a VFR (visual flight rules) Private Pilot license. I now know that the average time required by most pilots is from 50 to 70 hours, and although I never calculated the cost at the time, it probably averaged about $40 an hour.
My twenty-year love affair with flying never died, but was suspended by college obligations and severe time limitations during the past few years. That suspension may be over thanks to Gary Beckett, a flyer representing the AOPA (Aircraft Owners and Pilots Association) and a new program called Project Pilot. Although Project Pilot (www.ProjectPilot.org) was not created for flyers like me, the 3,500 flight schools around America have agreed to give anyone the opportunity to check out general aviation and the schools in their areas through a 15 minute, no-cost, introductory flight lesson. Through this program, the AOPA wants to show how easy and affordable it is to obtain a pilot's license, and to show potential pilots all the travel, recreation and career opportunities general aviation can offer. Although aircraft, fuel and operating costs continue to rise, you can still get a private pilot's license for less than $3,000 today. Compare that to boating, cars or other hobbies and it starts looking like a bargain! Once you become a pilot, you are a pilot for life, although flying is subject to current flight physicals and biannual flight reviews.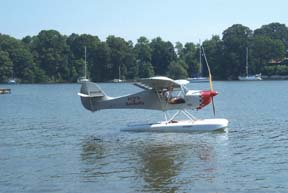 With Gary's help, I experienced Project Pilot firsthand. Gary arranged a meeting with John Galdieri, a 1996 Naval Academy graduate, a commercial pilot and owner and operator of his own flight school, Trident Aircraft, at the Bay Bridge Airport in Stevensville, Maryland. I have had many instructors over my 20 years of flying and John was cut from a classic mold. John was tolerant and quietly assertive as I brought all of my old flying skills back to life. We flew from the Bay Bridge airport to Easton for a few practice landings, and then back. It was a great day, a great instructor and a great flight.
Learning to fly is well within reach of any person of average ability and health. If you can drive a car and read a map, most likely you can learn to fly. You can begin training at any age, but you must be 16 years old in order to fly solo and 17 years old to hold a Private Pilot Certificate.
Today, many would-be pilots start flying while earning their Student Pilot Certificate, applied for with a simple medical exam with an FAA-designated local physician, before one's first solo flight. This exam is not required before the introductory flight or initial flying lessons. Student Pilots are limited to supervised practice flying, may fly alone after meeting certain requirements, may not carry passengers and are restricted from certain air traffic areas without additional training and instructor endorsement.
The Recreational Certificate allows pilots to carry one passenger during daytime hours within 50 miles of their home airport after about 30 of the minimum 40 hours of the Private Pilot curriculum. Many regard it as a stepping stone to the full privileges of the Private Pilot certificate.
A Private Pilot Certificate allows the pilot to carry passengers and permits him or her the full range of standard pilot privileges. The holder may not fly for hire, although in the U.S. the pilot may share expenses with passengers, typically cutting the cost of flying to one-half or even one-quarter the cost of aircraft rental.
As you would suspect, not all students go on to graduate but the process of learning and flying is an experience unto itself. It reminds me of a comment made by Dr. Charles Kinzer during one of my flight physicals, when he discovered I was building an airplane. Dr. Kinzer said "Even if you never finish it or fly it, it will be the experience of a lifetime."
If you are like many that have "learn to fly" on your must-do-sometime list, the time is now, and the opportunity is here and the introductory flight is FREE. Call John Galdieri at 240-832-1476 or log on to www.TridentAircraft.com or go to www.ProjectPilot.org to find a flight school near you. You can do it—trust me!