Chester River Boat Company
By Joseph Patrick Bulko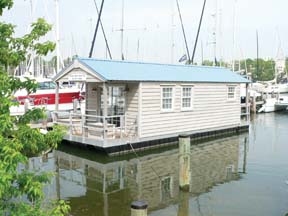 He dreamed of quietude upon the gently lapping shallows, buoyant and still, nestled safely in a shoreline sanctuary, a hideaway, a retreat, a floating clubhouse embracing evening's soothing serenity, absorbing the essence of relaxation and reinvigoration, tasting peace before returning to the hubbub, the cacophony, of modern landed activity, the daily soul-sapping bustle of mandated participation in the rat race.
Michael Johnson's dream, a custom-designed multi-use houseboat, is now available to the public. Formally launched as a business enterprise in January, Chester River Boat Company serves the entire East Coast, not just the Annapolis area where the company is based. An in-water display vessel is located at Bert Jabin's Yacht Yard.
During the last 100 years, houseboats have gone from leaky wooden barges to romantic and innovative floating structures serving many purposes. Chester River has morphed the basic houseboat into a floating addition to existing waterfront property.
"Our classic houseboats are the perfect addition to any home on calm water or up a lazy creek," said Johnson. "Your houseboat can have everything to accommodate a modern lifestyle – hardwood flooring, fine furnishings, appliances and covered outdoor decks. They can be 'totally tricked out' or simple plywood and pine for a more rustic approach."
The interior can be designed with any style of cabinets, flooring, fixtures, wall coverings, counter tops, trim, and paint to suit the customer's taste. The exterior siding is cedar and can be painted or stained.
"If you have a home, a pier, a boat," said Johnson, "then put the houseboat on the other side. It can function as an art studio, an architect's office, a guest house, a party room."
"Today's houseboat owners are often professionals," he continued, "empty nesters who want a special waterfront treasure that serves as a secluded get away, a place to entertain, or a serious handyman's workshop just steps from the home. It's a floating asset to any waterfront property."
When Johnson, a graphic designer, moved to Annapolis seven years ago, he needed a place to put all his boat equipment, but city and county regulations prevented him from building a shed on his property down near the water. Eventually, he came upon the notion to put a houseboat—a floating cabin—on the water and use that for his "boat stuff."
"I think most people would want to build a little building down by the water," he mused.
The Chester River houseboat's interior has full plumbing and electricity, juiced by a 50-amp line from the dock. A bathroom—ahem, head—with a large shower and a kitchen—er, galley—with fridge and stove are standard features. Beds – bunks – can be installed if the planned use includes sleepovers. Television, sofa and chairs, a bar, and a poker table can be added to transform the vessel into a cozy recreational space.
"If you can dream it, we can build it," Johnson said, emphasizing that each boat is built to customer specifications. A stripped-down version can be purchased by those who want to finish and customize the facility themselves. The final product can be delivered within 30 to 45 days. Depending on features, prices range from $65,000 to just about $100,000.
For waterfront homeowners, this is a reasonable investment. "If you were to have a place on the water," explained Johnson, "and you wanted to build a building this size, it would first of all take you six months of permitting, six months to build it, and you've got pickup trucks driving across your yard. This, I can deliver dockside, even as a secret to the wife with a bow on it."
Chester River products are deemed watercraft by the Coast Guard, and they are stamped with a Coast Guard-issued hull number. They are Coast Guard-approved and receive a Manufacturers Identification Code (MIC). They have navigation lights and an anchor light. Chester River houseboats voluntarily implement American Boat & Yacht Council's (ABYC) standards and are constructed in accordance with U.S. Coast Guard Boat Safety standards.
Insulated to repel summer's heat and winter's chill, the vessel is 36-feet long, about 12-feet wide and high, with draft less than 12 inches. In addition to onboard heating and air conditioning, the boat uses an Incinolet electric incinerating toilet, an environmentally friendly U.S. Coast Guard-approved marine sanitary device with no overboard discharge. Gray water from the shower and sink can be pumped onshore and used, perhaps, to water the lawn.
The exterior deck is made of Brazilian hardwood, ipe [ee-pay], with marine grade welded aluminum frame railings and gates. "From the bottom up," said Johnson, "it's foam filled styrene flotation billets, like a floating dock—tons of it, everywhere. It's very stable."
Johnson is also targeting marina operators who are interested in buying houseboats, putting them in shallow slips unusable by sailboats, and then renting them, for a weekend or a season, as party or meeting spaces. The vessel is ideal for a marina's unrentable nooks and crannies.
Hunters, especially those pursuing waterfowl, represent another market for the houseboat. Several of them could pitch in and buy one as a group, and use it as a floating base camp for weekend—or week-long—hunting and fishing trips. For this purpose, the roof can be painted camouflage. "They blend these things right into the environment," he noted.
"Been boating all day?" Johnson asked rhetorically, summing up the allure of the houseboat. "Just powered over to your favorite watering hole with several friends? The houseboat is the perfect venue if you're not quite ready to get off the water. Come back, stay aboard, take a shower, turn on the TV and watch a game."