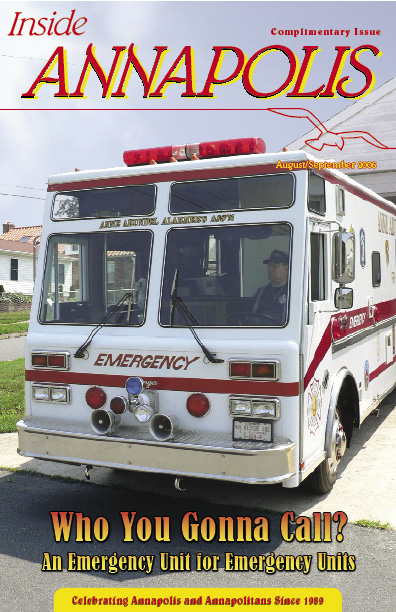 August/September 2006
Table of Contents

Features:
Alarmers and One Hundred Club
In 1958, Al Brandt began a coffee wagon service for firefighters and other emergency personnel that became the Anne Arundel County Alarmers and, later, he founded the One Hundred Club to aid the
families of fallen heroes. M.A. Cashman talks to Al about the early years and the new equipment that is aiding firemen today.

PLUS: The Annapolis Yacht Club and Chesapeake Bay Environmental Center

Annapolis Insiders: Dr. J. Scott Harmon
Nothing makes Dr. J. Scott Harmon happier than welcoming midshipmen and other visitors to the Navy Museum at the Naval Academy and seeing their interest in his exhibitions. A man dedicated to education and public service, Harmon is preparing to oversee a major renovation of the museum. Pamela Miller looks into the history of the man and his museum.

PLUS: Carol Fearns and Ray Weaver

Annapolis History:
Maryland Hall
Like many beloved Annapolis institutions, Maryland Hall for the Creative Arts was slated for demolition until a group of citizens campaigned to save it and turn it into a cultural center for the city of Annapolis. Home now to the Annapolis Chorale, the Annapolis Opera, the ASO and the Ballet Theater of Annapolis, Maryland Hall is a vital part of our community.

Bay Business: Designs & Signs
Brendon Brandon's Mayo shop is a long way from his birthplace of Australia, but he has found a niche in Maryland as a sign maker. Joseph Bulko chats with Brandon about the lost art of glass gilding.

PLUS: Annapolis Bookstore, Bay Icons, The Anne Arundel County Fair, Legal Briefs: Whose Horse is This?, Consider This...Your Internet Connection, and Jimmy's Favorite Sites

BAY LIFE: AAMC
Using donations given by the community to the AAMC Foundation for the development of the DeCesaris Cancer Institute, AAMC became the fi rst hospital in the region to use the robotic surgical system called DaVinciTM to remove cancer from the lung of a 78-year-old grandmother from New Jersey.
PLUS: The American Eel: A Fascinating Fish and At Home...Put a Bat in Your Belfry

EVENTS:
The 30th Annual Maryland Renaissance Festival
Once again, the lords and ladies of Revel Grove are ready to provide merriment, handcrafted wares, and a little jousting for good measure. Get the scoop on this year's events.
PLUS: Navy Football , A Beach Party Benefit for the Annapolis Maritime Museum, and 25th Annual Hospice Cup

BAY LIFE, ETC.


Annapolis Editions


Organizations: Box of Rain


Education: Montessori International
.................. Children's House


Education: St Martin's Lutheran School


Real Estate Sales


Dining Out: Wild Orchid Café

MISCELLANY


Annapolis Map


Mi Casa Es Su Casa


The Wine Coach


Restaurants, Shops, Services, Galleries & Schools


Advertiser Directory


Crossword Puzzle