Sika Build-A-Boat Challenge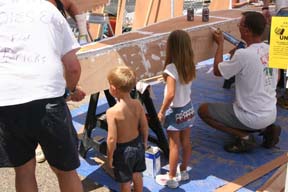 Annapolis Yacht Club is proud to sponsor the 11th annual Sika Build-A-Boat Challenge. Teams, called syndicates, will compete for the coveted Sika Challenge Cup. Each team, consisting of three to eight members, is challenged to design, build and sail or paddle a small boat, using a limited set of materials and an unlimited quantity of fast-curing Sikaflex®-291 Sealant.
Starting at 10:00 a.m. on Saturday, June 24, at the AYC annex, tems will be allotted up to six hours to complete their boats using identical supplied materials. There are specific rules that must be followed in building and paddling or sailing the boats.
Festivities begin with a party and dinner for participants, AYC members and friends on Friday, June 23. Cost for dinner is $25 per person, plus tax and tip, and reservations are required by Monday, June 19.
Saturday, June 24, is Boat Construction day, beginning at 10:00 a.m. and continuing through 4:00 p.m. The public is invited to the AYC Annex to watch the syndicates in action.
Food and beverages will be available at the construction site for teams and visitors. Proceeds from the event benefit the AYC Junior Fleet.
On Sunday, June 25, a skipper' meeting will be held at 11:00 a.m. in front of the AYC juniors clubhouse. The Build-A-Boat race will start promptly at 1:20 p.m. to honor the club's 120th birthday. The conclusion of the races will be followed by the awards ceremony and AYC's birthday celebration. AYC birthday cake will be served.
Materials Provided to Each Syndicate

4 Sheets: 4' x 8' x 1/4" Luann Plywood
3 Pieces: 2" x 2" x 8' Construction Grade Fir
4 Pieces: I" x 2" x 10' Construction Grade Fir
1 Caulk gun
200 plastic bundle ties (ties do not need to be removed after construction)
10 Tubes: Sikaflex® 291 Adhesive/Sealant
Method of construction: Cut wood to suit individual designs. Attach pieces together using plastic ties looped through drilled holes at regular intervals. Bond with Sikaflex® 291 Adhesive/Sealant. Decoration of the finished boat is at the discretion of each team, usually following a theme that uniquely identifies the Syndicate. Other than the use of water-based paint, there are no other restrictions for finishing and decorating the boats, as long as there is no contamination of the water in Spa Creek.