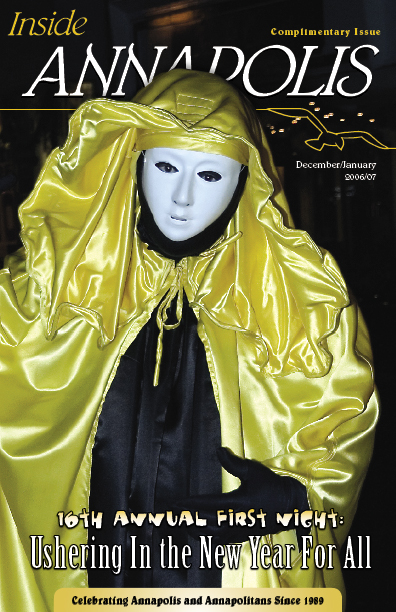 December/January 2007
Table of Contents

Features:
Patuxent Research Refuge & National Wildlife Visitor Center
Nestled amidst the encroaching sprawl of suburbia, lies a 12,790 acre oasis of wilderness, a densely forested realm teaming with wildlife – and scientific research. Patuxent is one of over 500 refuges in the National Wildlife Refuge System administered by the U.S. Fish and Wildlife Service. Joseph Patrick Bulko reports.

PLUS: First Night Annpolis and Anne Arundel Gastroenterology Associates
Annapolis Insiders: Reggie Broddie
As Chief professional officer of the five Boys and Girls Clubs in Anne Arundel County, Reggie Broddie isn't only an employee, he is also a member. His commitment and passion to the children of the Boys and Girls Clubcontinues to imspire the community. Margot Mohsberg interviews Kiwanis Club's outstanding citizen of 2006.

PLUS: Joanne and Philip DeLoache and Angie Brennan
Annapolis History: B & A Trail
Stretching 13.3 paved miles from Glen Burnie to Arnold, The B & A Trail meanders through mature hardwood forests, active farmlands, and urban and suburban neighborhoods on the bed of the Old Baltimore and Annapolis Short Line railroad.

Bay Business: Grateful Pets
Jim and Barbara McCaffrey, owners of Grateful Pets in Annapolis, have spent the last three years cultivating their in-home pet care business one client at a time. Joseph Bulko takes a closer look at this dynamic duo.

PLUS: Severna Perk; Bay Icons; Legal Briefs: Not My Socks, Not My Socks; Park Place; Consider This...Pet Health; and
Jimmy's Favorite Sites

BAY LIFE: Anne Arundel Medical Center
Dr. Lorraine Tafra, medical director of the Breast Center at Anne Arundel Medical Center, has spent her career setting standards in breast care. She may be well-known worldwide in the field of breast
cancer treatment and research, but her day-to-day relationships with her patients in the community are the heart of her work. Margot Mohsberg reports.

Improve your Day with Fun Gourmet
It's that time of year again, and we have the scoop - the events, where to get your tickets, and directions. Don't miss the event that celebrates Annapolis' status as Sailing Capital of the World!
PLUS: Till Death Do Us Part; Owls Rule the Night; and At Home...Cleaning Up Fibber McGee's Closet

BAY LIFE, ETC.


Annapolis Editions


Organizations: The Junior League of Annapolis


Education: Gunston Day School


Education: Crofton Middle School


Real Estate Sales


Dining Out: The Treaty of Paris at
>>>>>>>>>>>>>The Maryland Inn

MISCELLANY


Annapolis Map


Mi Casa Es Su Casa


The Wine Coach


Restaurants, Shops, Services, Galleries & Schools


Advertiser Directory


Crossword Puzzle