Chesapeake Light Craft OkoumeFest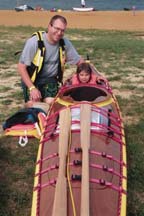 Chesapeake Light Craft (CLC), the world's largest maker of build-it-yourself boat kits, will be hosting a small boat festival on June 9-11, 2006, in Annapolis and Edgewater, Maryland. OkoumeFest is a family-friendly event centered on the joys of building and using small boats. All small boats are welcome, regardless of material or type.
The event kicks off Friday afternoon, June 9th, with an open house at the CLC factory featuring varnishing and epoxy seminars and CNC-machine demonstrations, followed by a reception in the evening. On Saturday, June 10th, on-water activities and boat demos will be held at YMCA's Camp Letts on the Rhode River. Attendees who bring their own boat will be eligible for prizes such as Best Overall Boat, Best Paint Job, and Best Outfitted Boat. OkoumeFest will wind up on Sunday, June 11th, with a morning nature paddle on the Rhode River.
Saturday's event costs $15 (including lunch)—children under 12 can attend for free. Overnight tent camping is available at Camp Letts on Friday and Saturday for $10 per tent (bring your own tent). Full details and registration information about OkoumeFest is available at www.clcboats.com or by calling 410-267-0137.
Back