Annapolis Editions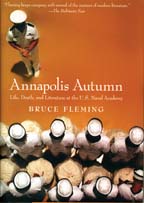 In Annapolis Autumn, Bruce Fleming, professor of English at the Naval Academy for nearly two decades, captures the sights, sounds, colors, and conversations of this tradition-steeped institution. For their other classes, the cadets learn how to assemble guns, control armored vehicles, man battleships, and kill other human beings. In English class, however, Fleming introduces his students to nuance and subtext, to the gay poets of World War I, and to the idea that not every piece of literature is designed to be "motivational." Fleming explores questions about teaching, the ultimate purpose of higher education, and the labels of "liberal" versus "conservative"—questions made all the more gripping at a time when many of his students will graduate from the classroom to the battlefield. Wherever fine books are sold.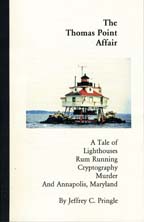 The Thomas Point Affair, by Jeffrey C. Pringle, is a murder mystery set against the backdrop of developing technology in the mid-1930s. The threads of the mystery include the Martin China Clipper, Chesapeake Bay steamboats, trains, cryptography, rum running, one of the most famous semi-automatic handguns ever made, Thomas Jefferson, and the U.S. Naval Academy. Though all the underlying facts are true, great liberty was taken to bring them all together coherently. The book was initially conceived over dinner with friends, who wondered, "wouldn't it be great if there was a murder mystery about the Thomas Point Lighthouse?" The Thomas Point Affair is a tour de force thriller with much fascinating history thrown in. This book is available for purchase at www.lulu.com.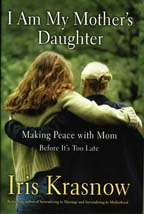 What would you tell your mother if you could tell her anything? Drawing on her own experience with her ailing, but still irrepressible, eighty-five-year-old mother and the collective wisdom of more than a hundred other midlife daughters, I Am My Mother's Daughter, by Iris Krasnow, offers fresh prescriptions on how to overcome the anger and resentment that can accumulate over the years. The key, Krasnow says, is learning to let go of the fantasy mother and embrace the real mom who hates your hair, criticizes your husband, whines about your kids—or worse. She shows us how moving beyond vintage pain and old blame can reward you with years more of a supportive friendship with the woman who knows you better and probably loves you more than anyone else. Available wherever fine books are sold.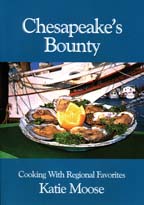 What could be more enticing on a hot summer's day than to sit down to a table covered with fresh newspapers, fresh steamed crabs, Old Bay seasoning, cole slaw and a cold beer? Or is it something more elegant that you're looking for—Beef Chez Conduit (beef tenderloin with Bearnaise sauce), fresh asparagus, new red potatoes, and pumpkin cheesecake. Getting hungry? Take a peek inside Chesapeake's Bounty by Katie Moose, and you'll discover a region rich in culinary delights and history. The recipes are elegant and easy, designed for many different occasions. Menus make for easy planning, with all the recipies available in the cookbook. To order your copy, contact Katie Moose at kamoose@erols.com or 410-263-5272.