Exquisite Italian Fare
Squisito Pizza & Pasta
1007-A Bay Ridge Avenue
Annapolis, Maryland 410-990-9800 www.SquisitoPizzaandPasta.com
Modest Appetizers, soups and salads: $3.95 to $7.95
Pastas and Entrees: $6.95 to $15.95
Hours: Sun. - Thurs. 11:00 a.m.-10:00 p.m.
Fri. and Sat. 11:00 a.m. to 11:00 p.m.
Extensive wine list
Ample parking.
All major credit cards accepted.

It was time to test the bread and waters in the much touted Squisito Pizza and Pasta Ristorante in the Eastport Shopping Center. A catchy word, squisito is a derivative and means exquisite or gorgeous. The second "s" in Squisito sounds like a "z".
With ample parking available, we were soon inside the informal restaurant and walking down an inviting half-wall corridor between two dining areas. At the end, we faced a glass counter of rainbow-colored gelatos (Italian ice cream, but with a difference) to the right and a menu board on the left and in the center, a continuation of the same glass-covered counter showcasing the daily varieties of Chicago (Sicilian) and New York (Neapolitan) style pizzas.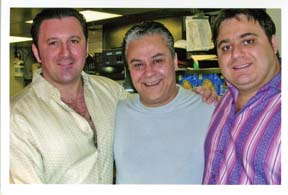 After multiple warm welcomes from owner-manager "Sammy" Awakian and several kitchen staffers, we learned how to choose from the board, the menu and the counter. "Sammy" is often found behind the counter, taking orders and chatting with the customers. If you have any questions, he is always happy to make an informed response and excellent recommendations.
Our food and drink orders taken, we earned a number and were escorted to a table. The rich tones of tenor Andrea Bocelli gently filled the atmosphere and we settled into our upholstered booth. Service, both cheerful and timely, commenced with our choice of an Italian wine, Gabbiano Chianti—an excellent match with our entrees. We started with a fresh house salad of several lettuces, olives and onion with piquant oil and vinegar dressing
On this Friday evening, we chose one of the daily specials; my ally in food selected the surf and turf with spaghetti. He beamed as he tasted both the rare (as ordered) filet mignon and the delicious sautéed shrimp (or lobster) served in a lemon scampi sauce, with spaghetti.
I asked for a dish I had learned about from a friend, but could find neither on the menu nor on the daily special board.The Penne Adriatica proved no problem for the chef because it is often a daily special. Sautéed shrimp and scallops with a scoop of lump crab meat in the center of its light marinara sauce was worth the effort to make the special request.
Although Squisito makes 16 varieties of pizza, we were happy to research the ingredients of at least ten varieties on a lunchtime visit. Pizza is a specialty on Mondays and pasta is a specialty on Tuesdays, although both are available every day of the week. We sampled several kinds of New York or thin crust pizza—the Meat Lovers Pizza with pepperoni, ham, ground beef, bacon and sausage on that crisp thin crust was a protein delight with fresh mozzarella and tomato sauce. One of the other choices was the Capriosa Pizza with artichoke hearts, mushrooms, red roasted peppers and a white sauce, an outstanding medley of fresh vegetables. For something really different, we tried the Hawaiian Pizza with pineapple and ham, again with a white sauce. It was delicious, and would be most appropriate as a finish to an all pizza meal.
The other style pizza crust is thick with a square shape and originated in Sicily. In addition, one can find stuffed pizza that appears similar to a quiche. While on the subject of finishing, we must dwell on the gelato—delightfully fresh in rainbow colors and exotic tastes. The Italian version of ice cream, it is fat free and much lighter. According to Sammy, "No cream and no butter." And, it is made in-house. We ordered a strawberry and a lemon; both were delicious. Gelato is an important finish and if you don't have lunch or dinner, definitely start and finish with the gelato.
During our meal, we couldn't avoid hearing a conversation from a nearby table, "Who has the lock on food?" asked an expatriate Neapolitan. "Gotta be Italian," said the other diner. Both laughed as they sealed the deal they had no doubt made during earlier visits to the Annapolis eatery. Two gentlemen from Naples had met for yet another meal in a place very like an Italian trattoria. Dishes in Squisito are created from authentic Neapolitan recipes found in the three Italian restaurants owned by Sammy's family in Naples, Italy.
There are currently seven Squisito Pasta and Pizza restaurants in the area, all serving exquisite Italian fare. However, the chefs in the different venues have the opportunity to present their unique flair, guaranteeing the best they can produce individually. Don't forget to check the daily specials when you go.
Squisito provides catering and all dishes are available for takeout. Menus feature appetizers, salads, soups, Italian subs, focaccie, special pastas (including a low carb variety), "old time favorites," entrees and a children's menu for those less than 12-years-old. The family-friendly Squisito locations are in Annapolis' Eastport Shopping Center, Chester, Clarksville, Edgewater, Riva Road, Severn and Severna Park.