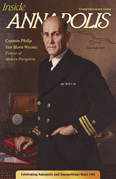 June/July 2007
Table of Contents

Features: The Paca House and Gardens
From elegant to earthy, the exhibits at the William Paca House and Garden capture the texture of life as it was lived in Annapolis nearly two and a half centuries ago. The18th century home rises above Prince George Street,as a stately example of Georgian architecture referencing Paca's position as one of Annapolis's most prominent residents during the Revolutionary period.

PLUS: Weems and Plath
Annapolis Insiders: Fahima Vorgetts
As a board member of Women for Afghan Women (WAW), a volunteer organization committed to ensuring the human rights of women in Afghanistan, Ms. Vorgetts has dedicated her life's work to improving the plight of women in her native country.

PLUS: Lt. Commander Brian O. Walden, Director, USNA Band and Karma O'Neill
Annapolis History: The Bay Bridge
No summer exodus to the beaches of the eastern shore is complete without a drive over the Bay Bridge, formally known as the William Preston Lane, Jr. Memorial Bridge. During the week, 65,000 cars cross and re-cross the 4.35 mile connector, and those numbers rise to nearly 100,000 on summer weekends. Deirdre Flanagan uncovers the history behind this elegant arch that spans the Chesapeake.

Bay Business:
Admiral Cleaners Celebrates 75 Years
Begun in 1932 by Henry Worcester, Admiral Cleaners is one of the oldest dry cleaning and laundry companies in Maryland. Whitney Kerridge (granddaughter to Henry Worcester) and her husband Scott Kerridge are the third generation to operate the business.

PLUS: Discover Annapolis Tours; Legal Briefs: Don't Put Off Signing That Will!; Purple Cherry Wilson Architects ; Consider This...Investing 101; and Jimmy's Favorite Sites

BAY LIFE: St. John's College
Taylor Waters' sense of humor is part of what makes her good at her job as the Director of Student Services at St. John's College. While a sense of humor may make her hectic schedule cheery it is competence in the face of unpredictable tasks that makes her the capable yet fun-loving Director of Student Services.

Wine: Maryland Wine Industry Grows 18.6%
Kevin Atticks, Executive Director of the Maryland Wineries Association reports on state wine sales and statistics for FY06, along with a review of the 2006 Long Splice wine from St. Michaels Winery.
PLUS: Bay Wildlife...Pollinators; At Home...Bathrooms: First Choice in Remodeling; and Eastport Home and Garden Tour

BAY LIFE, ETC.


Annapolis Editions


Organizations: Anne Arundel County Department of Aging and Disabilities


Education: Archibishop Spalding High School


Dining Out: Sam's On The Waterfront

MISCELLANY


Annapolis Map


Mi Casa Es Su Casa


Restaurants, Shops, Services, Galleries & Schools


Advertiser Directory


Crossword Puzzle