Russell & Mackenna:
Custom Furniture With a Seaside Flair
By Joseph Patrick Bulko
Wouldn't it be nice to walk away from the drudgery of the nine-to-five world, to free oneself from the shackles of "working for the man," from making someone else wealthy?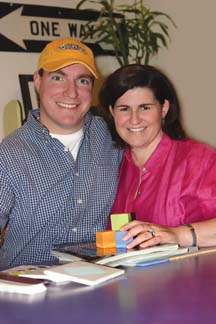 Lauren and Kevin Russell took the plunge, kissed their jobs good-bye, and set out in pursuit of the American Dream. They became entrepreneurs, starting a business to build and sell their own line of distinctive home furnishings.
"We started in a one-car garage two years ago," said Kevin, "with one client, a small table saw, and a few rough sketches of furniture designs on notebook paper. One thing has led to another, and now here we are in a 3,000-sq.ft. production facility in Hanover."
Combining Lauren's design skills and Kevin's woodworking know-how, the couple creates furniture for coastal and casual living, using vibrant colors such as "blueberry," "raspberry," and "tangerine," and incorporating hand carved finials, small works of art attached with removable wooden dowels.
Both grads of Salisbury University, the former college sweethearts have been married for six years, with two young daughters and a third baby on the way. Prior to founding Russell & Mackenna, Kevin worked for T. Rowe Price in Baltimore as an investment counselor and was on the staff of The Severn School. Lauren has been a design artist since graduating in 1994. The "Mackenna" half of the firm's name is from the middle name of daughter, Sawyer, who was just an infant when the couple conceived the business.
"Besides the clean and refreshing spirit in our furniture," said Lauren, "there is a feeling I try to bring to life with my furniture designs. It's the feeling you get sitting in a beach chair at the ocean reading a good novel. Or the feeling you have playing Frisbee in the surf with the kids. After all, that's what life is all about."
The company sells 33 products—all wood furniture—addressing every major room of the house, including living room, dining room, kitchen, bedroom, and bathroom. Each piece is built by an experienced woodworker, with the care and quality of materials to preserve its value over time. The chosen woods—maple, poplar, and maple veneers—are known for their durability and sustainability.

Lauren explained that she is constantly developing new ideas, but the challenge is working them into a very hectic production schedule. "A prototype typically takes a day to build and we will critique it almost immediately. Our stylist, Mary Quayle, and I will primarily look at the aesthetics and functionality of the piece. Larry looks at the costs, while Kevin's primary focus is that a piece can be built efficiently in a production mode. If there is any hesitation or concern from any of us, the piece will be reworked until we are all happy with it. Usually, by the second or third round we have a winner."
Having learned about woodworking from his father, Kevin became proficient as a furniture builder through practice, practice, and more practice. "Kevin is continually discovering more efficient methods for constructing furniture and trying out new products that he discovers. He is passionate about building furniture," said Lauren
"Although my background to that point had not been in furniture building or cabinet making per se," added Kevin, "my father is a very skilled craftsman and he had a fantastic wood shop/shed in our backyard when I was growing up. I picked up a few things here and there, and learned a lot about building furniture through trial and error."
Occasionally an idea does not translate well to the real world. "Early on I designed a bench that looked really neat on paper," Lauren confessed, "but after it was built, I just looked at Kevin and apologized for wasting his time! That bench ended up in the dumpster. It was uncomfortable and downright ugly!"
Despite the incidental hiccup, revenue projections are being exceeded this year, and the company has six full-time and four part-time employees. Initially cracking this tough market with lots of cold calls, Russell & Mackenna has 14 dealers as far north as Northeast Harbor Maine and as far south as Palm Beach Florida.
"They are all high-end lively furniture stores in very exclusive areas that have loads of coastal character," said Lauren, who added that there are no local dealers by design. "We are opening an appointment-only showroom in Severna Park this summer, thus becoming our own local dealer."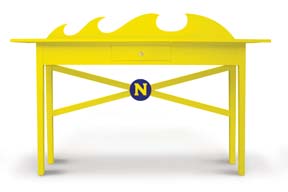 Russell & Mackenna has no plans to outsource production overseas. In fact, Lauren cites advantages of maintaining local facilities. "By keeping our production local, we are able to customize and modify our pieces for customers, offer multiple colors and custom color combinations. This gives us a leg up on most importers who stay with standardized pieces."
"Our customers really like to pick and choose their own colors," she continued, "to add statements of individuality to their furniture. Importers cannot easily do that because they are mass-ordering like pieces. Another benefit to domestic production is that we have a strong handle on our quality control. Importers will wait three months for a container, only to find damaged furniture and missing pieces."
The company maintains close ties with dealers, participating in co-operative marketing initiatives and related public relations efforts. "We really do walk the walk," said CEO Larry Strassner on the firm's dedication to dealer relationships. Russell & Mackenna also works closely with notable architects and interior designers. That market segment accounts for roughly 35% of the company's sales and includes deliveries to Beverly Hills and The Hamptons.
In October 2004, Strassner, who just happens to be Lauren's dad, was happily retired, planning his days around golf, when his daughter asked him to help with the fledgling furniture business. His vast experience includes 10 years as President of Hamilton Bank and the running of Nuclear Support Services, a publicly-held company in the business of refueling nuclear power plants.
"There were only three of us back then," said the proud papa, a graduate of West Point with an MBA from Loyola College, "but they jokingly donned me the CEO and it's sort of stuck. It's been rewarding to be able to mentor my daughter and son-in-law through the challenges, and witnessing the successes that arise everyday owning a small business."
He finds the business "inspirational" and he never ceases to be amazed at their progress. "I've done this for stockholders," he reminisced. "Now, I'm doing it for my daughter and son-in-law. It's a different set of emotions."
Plans include adding a collection of new pieces each year and making changes to the current line, depending on what is selling and what is expected to be popular the next season. "At this point in our young company, we are primarily trying to grow the line," said Lauren, "and establish ourselves as a serious furniture manufacturer and offer as many options as possible for buyers."
What does it take to be a successful entrepreneur? "Besides a strong business model and/or product," explained Lauren, "it takes the sort of person who always looks on the bright side, knows his or her strengths and weaknesses—and is not afraid to admit them—who is happy to work hard all day every day—including weekends and holidays—and is able to maintain enthusiasm and a sense of humor in the worst of times. Since there is very very little free time in a start up—maybe one day a month—it is critical that you love what you do."
"I'm delighted by how enthusiastic people are when they come across our pieces," Lauren concluded. "It's not that common to find a seafoam colored vanity with a raspberry colored countertop. Our designs are classic and clean, but our fun colors and spirited finials seem to evoke smiles everywhere. We couldn't ask for more!"
Russell & Mackenna is located at 7190 Parkway Dr, Suite 300 in Hanover. They can be reached at 866-366-3505, and you can visit the website at RussellMackenna.com.