Forty Years of Theatre Under the Stars
One year after "Olde Towne" Annapolis became a National Historic District, Joan Lisota Baldwin led a dedicated group of arts enthusiasts to launch the Summer Garden Theatre (ASGT). To Baldwin, it was "a melting pot. . . of all theatre organizations, representatives of which appear annually on the summer theatrical scene in Annapolis." Living their mission, "to provide opportunities for the community to learn about and experience live theatre under the stars," they enhanced the Annapolis theatre scene and brought new life to the Old Shaw Blacksmith Shop at city dock.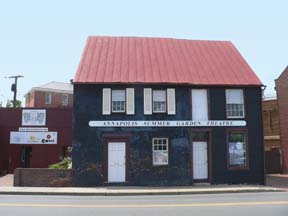 Originally on the water and designated as wharfage in 1696, the theatre site has had a long and rich history. George Washington may have kept his horses in the stables there; caverns unearthed in the restoration of 1983 may have been part of an "underground railway" for runaway slaves.
The original 1720s building burned down in 1782. Soon after, the site was occupied by Scottish-born John Shaw, Maryland's best-known cabinetmaker. Known as Annapolis Federal, his furniture can be seen in the State House, the Hammond-Harwood House, private collections and museums. And Shaw took many other jobs. In addition to being State Armorer during the Revolutionary War, he made coffins, sold imported goods, and oversaw the final construction of the State House dome. Made from cypress timbers held together with wooden pegs, it is the largest free-standing wooden dome in America.
The two-building structure at 143 Compromise Street was probably built after the street was platted on landfill in 1837. The Shaw family moved their shop to the Parole area in 1960, and in the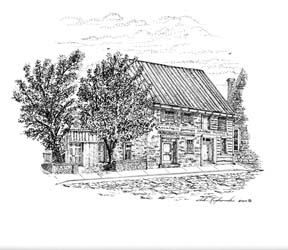 flurry of historic renovation and artistic activity that followed, the property became home to ASGT, an enterprise that was to reflect the life and work of John Shaw: dedicated, artistic, resourceful.
While three founders signed the papers of incorporation: Joan Baldwin, Al Tyler, and C. Edward Hartman, II, all early programs list a fourth: Anthony Maggio, local pharmacist and teacher at Annapolis High School. According to Maggio, "ASGT was formed because the other area groups did not perform in the summer. Colonial Players declined, and that helped spur the founding of ASGT."
The founding of ASGT was an exciting time that attracted eager and hard-working volunteers who successfully established the new theatrical venture from the first season, when You Can't Take It With You and Brigadoon were performed in an open-air area that is now the William Paca House Garden. By the second season, ASGT had leased the Shaw Blacksmith Shop from the County for $1 a year. In the stable area, they built an outdoor theatre with a 208-seat house, a lighting system of tin cans with light bulbs and a curtain time determined by Mother Nature, who dimmed the lights. In 1990, they purchased the property for $1, with the stipulation that they "continue as a commercial theatre engaged in cultural and educational activities."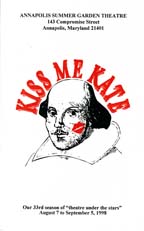 As a commercial theatre, ASGT has produced more than 100 shows, usually two or three a summer, with longer runs for the more popular shows. Using two casts, they ran some shows for a whole summer: 1776 in 1975 and Annie in 1985. They repeated others: a second production of Annie in 1995, Brigadoon in 1966 and 1983, The Sound of Music in 1969 and 1986, and Kiss Me Kate in 1980 and 1998. The shows for the 2006 Anniversary Season are Rogers & Hammerstein's Cinderella, Urinetown and Cabaret. Directing Cinderella is ASGT alum Nicole Robler-Fickes, a professional actor who was Annie in 1985 at Summer Garden, and Cinderella at the Colonial Theatre in 1987.
As an educational organization, ASGT provides workshops for adults and young people in acting, vocal skills, music, theatre and dance and they run a summer teen camp. In the 80s, they did three shows with children in the casts: Annie, The Sound of Music, and Evita in 1987. Those kids inspired the creation of The Talent Machine, a company of young performers that was part of ASGT for six seasons, from 1988 to 1993, before moving on as the Talent Machine Company.
A 501(c) (3) all-volunteer organization registered in the State of Maryland, ASGT gets support from ticket sales, memberships, and grants. Monies are used for building materials, royalties, musicians, costumes, and publicity.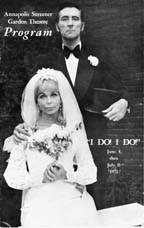 Currently ASGT is guided by a 12-member board. President Carolyn Kirby, a former budget analyst for the County, contributes art and business skills in the "melting pot" of local theatre organizations described by Baldwin. Kirby has been on the boards of the Children's Theatre of Annapolis, The Chesapeake Arts Center, and ASGT, where she has been active for 18 years. When she was dating her husband in 1979, they came to Bye, Bye Birdie to see her future sister-in-law in the show. In 1988, when her two daughters were in the first Talent Machine, she became involved. Kirby sees how important theatre is for kids: "The kids learn from shared experience; they learn self-reliance." One of her daughters told her, "Better than me hanging out at the Mall," and "…so busy doing theatre in high school, I didn't know I was supposed to be stressed."
According to Kirby, "It takes about 50 people—performers and technicians—to do a production. . . and about three months from auditions to the opening of the show; there are eight weeks of rehearsal. It is a seasonal company, but a 12-month operation." She is interested in every aspect of production, "I like to see things come together, from choosing the show and the director, to the process, to tech week. There is a certain rhythm to it." She has seen variety in the size of the casts and in the choice of shows. In 1998 they began a series of Musical-Shakespeare-Musical which lasted through 2005. This year they will skip the Shakespeare play and do three musicals.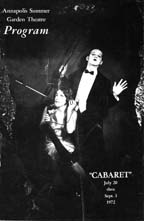 Sound is a critical element in outdoor theatre. Kirby describes how they make it work, "Our theatre has no roof, no shell, no walls, so we record music in the studio and mike the onstage voices; then we balance the two." They also deal with environmental sound that cannot be controlled: traffic, boat horns, sirens from emergency vehicles, music from car radios and the revving of motorcycles. According to Kirby, "The noise was part of our decision to cancel Shakespeare. We are also on the flight path for BWI, but we go with the flow. Makes outdoor theatre fun."
Audiences include regular subscribers, new people, some one-timers. There are locals—some like Shakespeare, some like musicals, some come because they know someone in the show. Some are tourists, but according to Kirby, "Tourists are not our bread and butter." Performances are cancelled "because of rain" only if it rains over the theatre. In such cases, ticket holders may exchange tickets or request a refund.
Membership, available in several categories, begins at $5 per year, and includes a newsletter and the right to vote for the board. Volunteers of all levels of expertise are welcome. Interested parties may volunteer to usher for one performance of each show. Kirby recommends this as a way to "see how the whole thing comes together." Through such volunteers, ASGT has an opportunity to develop long-term ties. Many decide to volunteer on a permanent basis, as Kirby did.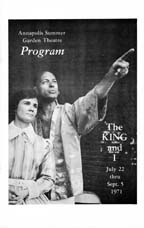 The 40th anniversary is being celebrated throughout the year. The kick-off was an Open House on First Night 2005 that featured hot cider and video clips from shows produced over the past 10 years. On May 15, there was Upstairs at Middleton's when alumni and supporters gathered to share stories, sing songs and nominate material for the September review: Broadway Under the Stars, a revue of songs and performers from the past 40 years. The review weekend—September 8 and 9—is the first of a three-weekend celebration. Proceeds from the review will help with needed renovations: new office, reconfiguration of the lobby, restroom enhancements, central air conditioning and secured storage.
As it has for the past 40 years, ASGT is living its cultural and educational mission in the heart of historic Annapolis. Not unlike John Shaw, these theatre people are happiest when working.
For information on the 2006 season or the anniversary revue Broadway Under the Stars in September, call 410-268-0809 or visit the website at www.summergarden.com