Debi McKibben: Simply Stronger
You and I have 600 muscles and 206 bones in our bodies. Sometimes, particularly after a long bike ride or game of softball, those hundreds of muscles and bones make themselves painfully evident. When those aches and pains start, I resolve, for the hundredth time, to get in shape—join a gym or sign up for a yoga class. If you are also resolved to take better care of yourself, you may want to call Debi McKibben.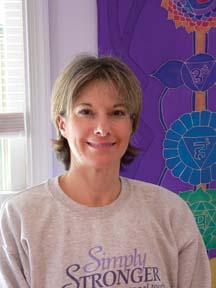 Certified Personal Trainer and owner of Simply Stronger Yoga & Fitness Studio, Debi has built her career on guiding people toward healthier, more serene lifestyles. Her studio encompasses the experience and insight Debi has acquired during 19 years as a fitness instructor, personal trainer and health club manager.
Simply Stronger helps each client develop an exercise regimen that meets health requirements and fits into a daily routine. The studio's mission statement pledges to help clients manage stress, control weight and improve organ functions, enhance self-respect and ignite or rekindle one's passion for life: certainly a "tall order."
Fitness is both a vocation and an avocation for Debi McKibben. She has earned certifications and acquired experience in weight training, aerobics, yoga, elder fitness, water aerobics, and most recently, Myo-Fascial Release Massage Therapy.
When Debi opened Simply Stronger in 2001, she poured all of her resources—financial, personal, and professional—into her business. Her investment has paid off. The Studio is bustling from early morning until well into the night—week-days and week-ends. The clients are men and women from 18 to 83 years old. Most clients want a bit of toning, some external motivation, help with losing a few pounds. They're sometimes struggling with the predictable aches and pains of life—back aches, shortness of breath, diminishing stamina, those pesky symptoms of aging.
Debi and her staff are prepared to work with clients whose health problems require special therapeutic workouts. Some of Debi's clients live with serious health issues such as multiple sclerosis and spinal injuries. Debi has trained as a nursing assistant; she is mindful of her clients' limitations and trained to advise her clients as to appropriate and safe exercises.
Two experienced yoga instructors offer courses and individual sessions at Simply Stronger. Kathy James offers Integrative Yoga Therapy. In addition, Kathy is certified in the Sekhem-Seichim Reiki Method of Universal Healing. Anusara Yoga is taught by Linda Lytle-Foster. Linda and Kathy add their personal touches to the courses they teach.
When you call or stop by, you'll probably meet the dynamo who keeps this successful Yoga & Fitness Studio humming: Debi McKibben is a tall, slender woman with a welcoming smile and glowing complexion. She looks like the quintessential "California girl," but she's home-grown: born in Washington, D.C. and raised in Maryland. In her early twenties she made two important life-commitments: she began her career in physical fitness and met and married her husband of 15 years, Kevin McKibben. While his business is construction, he is Debi's "right-hand-man" helping to keep her business running. "My husband is unbelievably patient and committed [to helping me build my business.]" Kevin and Debi have two children; a son, Kelan, who is 12, and a daughter, Braeden, who is 10. While the children are not involved in their mom's fitness studio, Debi's success is, in part, due to their patience and understanding. The McKibben family is training to do the Bay Bridge Run this May; the children know the importance of exercise in their lives through such life experiences.
Debi's fitness and business expertise include years of designing programs, working for and managing area health clubs. Those years provided her with a variety of experiences upon which to build her own studio. You may recognize her from her years at the Holiday Spa, later owned by Bally's Fitness for Women, or Premier Health and Fitness, where she coordinated aerobic programs, designed water aerobic programs, managed personal training departments and taught aerobics, step, weight training, resist-a-ball and yoga classes. Debi also taught at Merritt Athletic Club, Bay Fitness, Severna Park Sport Fit, Major Changes and [Kent] Island Athletic Club.
"I love working with all levels of fitness and capability of people," says Debi. "I love to see their improvement—weight loss, increased stamina, better sleeping habits, that they hold themselves better, that they have an awareness [of their bodies], their new-found muscles. Their commitment to themselves to better their lives and their health is my number one favorite accomplishment. I live for helping to bring that awareness. I love knowing that everyday I help people, and I am so proud of my clients for all their accomplishments no matter how small or how large." Now that is a mission statement.
Located at 1610 West Street, almost directly across from Goodwill, Simply Stronger is a suite of two large rooms; one, packed with imposing equipment and a fine music system; the second, larger room empty, except for some mats, colorful, giant balls, and a beautiful sun mural-logo on one wall in shades of gold and yellow. It is in that large, sunny room where yoga classes are held. Of course, there's also the requisite changing room, restroom and office. No juice bar or comfy couch for lounging; when you arrive at Simply Stronger, you get to work... or play—depending on your point of view.
Let me mention, as well, that while Simply Stronger is on the second floor, the Studio can be reached by elevator as well as the stairs. The Studio is completely accessible and welcoming to clients that require walkers, canes and wheelchairs. There are benches along the walls between the elevator and Studio door, should one need to rest en route.
So, no excuses...Call Simply Stronger at 410-626-9787 or email simplystronger@ureach.com if you have questions or want to set up a consultation.