Skip Kovacs
Sailing Coach
and
Boathouse Manager
St. John's College
As an oceanographer for the Naval Research Laboratory, Louis "Skip" Kovacs spent more than 31 years concerned with what's happening beneath the surface of the ocean. Now, in his second career, he's spending much more time on top of the water, coaching St. John's College students who have formed a fledgling, but dedicated, sailing team.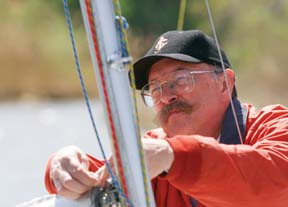 Kovacs joined St. John's in 2004 as the part-time manager of the boathouse and coach of the sailing team. He was already very familiar with the college, since his son Louis E. Kovacs graduated from St. John's in 2002. "He was in rowing all four years, and during his last year, he coached the novices," Kovacs explained.
Through his son, Kovacs met Leo Pickens, director of the college's athletic program. Kovacs had designed and built a single rowing shell that his son brought to the college. "Leo was pretty impressed and asked if I could volunteer on Saturday mornings, when they have the boathouse stewards here, and show them how to build a shell," says Kovacs, who was happy to share his expertise with the students.
Later, when Pickens was looking for a boathouse manager, he thought Kovacs was the perfect fit. Kovacs had been almost as impressed with the athletic program as he was with the college's academic program. While Johnnies are encouraged to devote "thumos," the Greek word for passion or spirit, to their athletic endeavors, winning is not the only goal. As a volunteer soccer coach, Kovacs has seen athletes get burnt out when winning is emphasized over enjoyment.
"The athletic program at St. John's is really outstanding. It's a tremendous asset to the college," he says. "It's designed to give students the chance to blow off steam in a competitive environment, but not too competitive. The Johnnies put so much effort into everything, and Leo always emphasizes that it's the effort and enjoyment of the sport that really count. There should be a lot more of that in college sports."
The team is slowly growing, Kovacs says. During the first year, four students were interested; last fall, 16 students took part regularly on the team. Many had never been in a sailboat before. "Luckily, the kids catch on to it pretty quickly," Kovacs said. "We've been blessed with having at least one experienced sailor every year, and this past year we have two experienced sailors, Rob Shaver and Sterling Schlegel."
Kovacs is assisted by volunteer coaches Jay Bergquist, a graduate of the college's Graduate Institute, and by Annapolis sailor Celeste Simons. "Celeste is a six-time national champion and an awesome sailor," Kovacs says. Simons can work with a student who never sailed before and have him or her racing in short order, he says.
The sailing program is a relatively new endeavor at the college; as new boats have been added through the years, a sailing team evolved from student interest. The college now has nine boats: four Lasers (singles) and five Flying Juniors (doubles). The boats are kept at the PYC – "President's Yacht Club" – a tongue-in-cheek nickname for the docks at the Wardour home of St. John's College President Christopher Nelson.
An extensive intramural program replaced intercollegiate competition in sports such as football and lacrosse in 1937. That's when St. John's adopted its rigorous academic program, based on reading and discussing the great works of Western civilization. However, three intercollegiate sports are now pursued with zeal at St. John's: croquet, crew, and sailing. Unfortunately for the sailing Johnnies, the conference in which they compete, the Mid-Atlantic Intercollegiate Sailing Association, includes college powerhouses such as St. Mary's College, the U.S. Naval Academy, and Washington College. "These are teams that recruit sailors for their teams," says Kovacs. "They're among the best in the nation."
That doesn't intimidate the Johnnies, who go to regattas to do their best and try to improve on their last showing, Kovacs said. "They're just happy to be out there and competing." The team's handicaps include old boats, a very small budget, and limited practice time. If the weather cooperates, the team can practice about two hours twice a week, sandwiched in between laboratory classes and last call at the dining hall.
"We like to go to club regattas and first-level qualifiers – there are a lot of club teams there, and we do a little better," he says. Last year, one team went out determined not to finish in last place, and the students were very pleased to come in second-to-last, he says. Since he's been coach, the best team showing was a third-place finish (out of seven boats) at the McCurdy Open, a club regatta hosted by the University of Delaware.
Kovacs says Navy has been helpful to the Johnnie sailing program. "Gavin O'Hare, the head dinghy coach, has been a real friend to the St. John's program," Kovacs says. "He's got an open invitation for our sailors to scrimmage on Wednesdays with Navy, and he's supplied us with sailing instruction material and a CD on team racing tactics. When Navy was replacing boats in its fleet, he offered us a head's-up on buying them."
In addition, the team is grateful for the generous support of the Annapolis business community. The Johnnies get discounts from Fawcett's, Viking Boat Supplies, Annapolis Performance Sailing, and West Marine. Bacon & Associates gave the college a deep discount for a sail for one of the FJs, Kovacs noted.
Since he is often working with beginners, part of Kovacs' job is monitoring weather conditions to make sure the Johnnies are safe on the water. When it's too choppy or windy, or too cold, the team won't go beyond the sheltered cove where the boats are docked. "We don't want to take any chances," he says.
For 17 years, Pickens has tried to build a viable sailing program, and with Kovacs' help, he believes the college is well on its way. The college has a fleet of about 50 boats that Kovacs and student stewards maintain. "Skip has taken our whole water sports program to a higher level," says Pickens. "With his knowledge as a shipwright, we are now able to perform any and all repairs to our boats in house. Even more importantly, because he's such a good teacher, the boathouse stewards are now repairing the boats under his direction."
In addition, Kovacs injects enthusiasm and dedication into the sailing program, which in the past has lacked such a disciplined approach. "He's a perfect fit for St. John's. Under his management, the sailing program can grow," Pickens says.
Kovacs studied physics at Lake Forest College, where he earned his bachelor's degree; he earned his master's in Oceanography from New York University and went to work for the Naval Oceanographic Office in Chesapeake Beach, Maryland. When the division was moved to Mississippi, Kovacs and his family decided they didn't want to leave Maryland. "We had fallen in love with Annapolis and the Southern Maryland region, and have strong family ties here," he says.
He was fortunate that a colleague recommended him for a position with the Naval Research Laboratory in Washington, D.C., where he worked for 29 years.
Kovacs and his wife, Lydia, a physician's assistant, live in White Plains, Md. They have two sons: Louis, the St. John's graduate who is now in medical school, and Michael, a St. Mary's College graduate who is pursuing a teaching certificate.
With his love of sailing and his appreciation for St. John's, Kovacs believes he's found a job that suits him perfectly. "The Johnnies are great," he says. "They're so much fun to deal with. They have such curiosity and such eagerness to learn. Of course, the academic program builds the ability to think critically, to find what you're doing wrong and work toward correcting it. That's true of all worthwhile endeavors – sailing included."