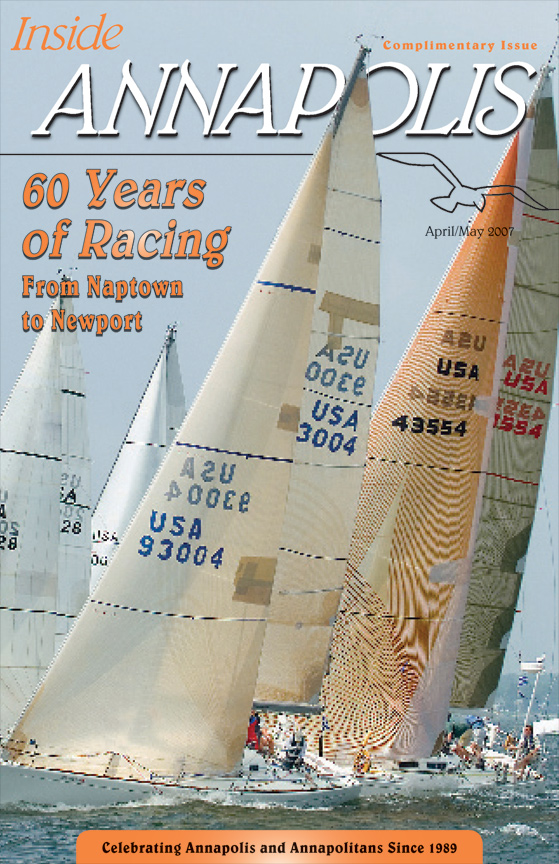 April/May 2007
Table of Contents

Features: Mayor Moyer Keeps Annapolis Clean
Since the days of Ladybird Johnson and the "Keep America Beautiful" campaign of the 1960's, Mayor Moyer, has been at the forefront of nearly every environmental, greening, climate change, and open space program in the City of Annapolis. Discover the reasons why Annapolis is considered a model for nvironmentally conscious urban areas everywhere.

PLUS: The Annapolis-Newport Race
Annapolis Insiders: The 82nd Commandant of Midshipmen, Captain Margaret D. Klein
The academy's first female commandant and its second highest-ranking officer entered the United States Naval Academy as a plebe in 1977. The institution started accepting women in 1976. The Navy has changed considerably since then and Capt. Klein's appointment is testament to that change.

PLUS: Terrence F. Smith and Barbara Daniels and Side Street Framers
Annapolis History: St. John's College
As local traffic winds around the campus, the signage at two entrances proclaim: St. John's College, formerly King William's School, Founded 1696. Originally King William's was a prep school, whose initial focus, as a colony 'free' school, was to free young minds to a liberal education. Deirdre Flanagan uncovers the history behind this local college.

Bay Business: Chevy Chase Opticians
Optician Kimberly Youngchild talks about her biggest challenge: to coax customers out of their comfort zone and try a new look.

PLUS: Echoes and Accents; Legal Briefs: What? He Didn't Change the Beneficiary?; Take One Digital Media ; Consider This...Service Clubs; and Jimmy's Favorite Sites

BAY LIFE: Anne Arundel Medical Center
Dr. Paul T. Elder enjoys a challenge, whether it's in the operating room or with medical staff leadership. Earlier this year, after serving two years as vice president, he became president of the medical staff at Anne Arundel Medical Center. Dr. Elder discusses his life as a doctor and the future of AAMC.

Wine: Everything's Coming Up Roses
Imagine, if you will, a restaurant wine list that simply categorizes wines as reds, whites or pinks in both still and sparkling styles. You order a wine from the pink category and your fi rst sip does not evoke the sweetness you hoped for. What happened? Aren't all pink wines sweet? Jamie Foster de-mystifies Ros wines.
PLUS: Bay Wildlife...Making a Difference in Your Backyard

BAY LIFE, ETC.


Annapolis Editions


Organizations: Fidos for Freedom


Education: St. Margaret's Day School


Education: Annapolis Middle School


Real Estate Sales


Dining Out: Yellowfin

MISCELLANY


Annapolis Map


Key School Annual Book Fair


Mi Casa Es Su Casa


Restaurants, Shops, Services, Galleries & Schools


Advertiser Directory


Crossword Puzzle