Yellowfin
By Patricia Barry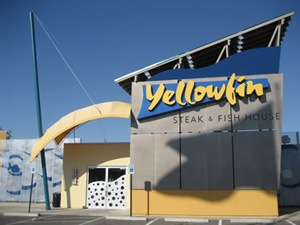 Yellowfin Steak and Fishhouse
2840 Solomons Island Road
Edgewater, Maryland 21037
Tel.:410-5731333
E-mail: www.yellowfinrestaurant.com
Moderate
Appetizers and Starters: $7.00 to $18.00
Entrees: $17.00 to $39.00
Hours: Dinner Mon. to Thurs. 5 to10 p.m.
Fri. & Sat. 5 to 11 p.m.
Sun. Champagne Brunch (new) 11 a.m. to 2 p.m.
Sun. Dinner 2 to 9 p.m.
Happy Hour in Bar & Lounge (appetizers one-half price)
Mon. to Fri. 4 to 7 p. m.
Sat. & Sun. 2 to 6 p.m.
Moderately-priced Wine List
Valet and Self Parking
Do you have a clear idea about what you want when heading to a restaurant? Well, if you've never been to your selected destination, perhaps you trust someone's recommendation or it's only a hunch because you like the name or location.
Let's cut to the chase! Our first visit to Yellowfin Steak and Fishhouse on a Saturday night was in pursuit of good food, great views and stimulating conversation. We won on the good food, but too late for views due to darkness and conversations were difficult due to noise from the nearby lounge-bar. Mind you, the lively patrons of the bar were not rowdy, merely celebrating the end of a workweek.
We set our goals for a second visit, on a Friday night, but at 5:30 p.m. for drinks and views of waterfront scenery and a reasonable distance from the gathering place in the lounge..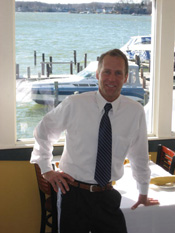 Service with a smile was a constant. The servers attended to our every wish. Their demeanor was never subservient, but always engaging. On our first dinner visit, we began with an Arroyo chardonnay, a fruity Japanese wine that complemented our maki rolls – sushi of rice pressed with seaweed and a mini soft shell crab named "spider" and a second maki with spicy yellowfin tuna, so fresh and tasty. My companion was savvy about amounts of ginger, wasabi and red pepper sauce to accompany each roll. My naive larger wasabi portion and subsequent five alarm response offered him the opportunity to explain that wasabi in small amounts is particularly useful because it kills bacteria in fish. Too much feels like it's killing the diner.
And the wine selection also paired beautifully with our salad dinners—Nicoise (with Romaine lettuce, red onion, potatoes, green beans, Kalamata olives, capers, chopped egg, tomatoes and toasted sesame-ginger dressing) topped with blackened yellowfin tuna, seared and chilled then evenly sliced. The combinations were superb especially the light quality and fresh taste of the ubiquitous tuna. A side of creamed spinach was light and airy.
My salad was baby field greens, tomatoes, red onions, cucumbers, balsamic vinaigrette, crumbled Gorgonzola and croutons proudly wearing a crown of jumbo lump crab cake. We try crab cakes everywhere we visit and this one was among the most pure with large lumps of backfin white meat and only a hint of any binder. It stood up there on a top tier with the best of them on the Chesapeake Bay.
Dessert for us consisted of a genuine vanilla ice cream that hit the spot.
On our second visit, the sun was still declining over the breathtaking expanse of the South River. This was a splendid view. The lounge bar was a mere hum in the background. We selected two appetizers from the tempting suggestions on the starters list – the crispy calamari that were cut in-house into large rings with additional tendrils, proving to be wonderfully tender and super fresh, all the more delicious with the Mei Ploy sweet chili sauce. Our second choice was the New Zealand green shell mussels, extra large and sautéed in shallots, white wine and butter. The accompanying seafood veloute sauce was an elegant touch and left a lingering taste. The garlic and wine bath was perfect for mopping with the crostinis. We selected a chardonnay by Rodney Strong; its fullness worked well with our dinner choices.
My ally in food selected an entrée of more than sufficient portion, certainly enough for us to share. "Eight chops in this rack of New Zealand lamb make it good value for the money," beamed the New Englander. With a rosemary and garlic scent, it was also perfectly cooked, rare and napped with a sautéed cranberry demi-glaze, certainly a special taste reward. With the plate arrived garlic and chive mashed potatoes and sautéed baby carrots.
Although we learned that the Chocolate Confusion was the favorite dessert among diners, we opted for the Key Lime Pie that was anything but what you would expect. In a large round ramekin, the pie was sprinkled with natural brown sugar and seared with a brulee flame. Voila! It was key lime brulee--a new and exciting taste and, quite a concoction.
Service was extremely attentive and agreeable. We were beautifully cared for at table by Michael, Trish and Suzie. Known to many in these environs, founding General Manager Kevin Gersande touches every detail of the restaurant's style and success.
In business for three years, Yelowfin serves excellent food of generous proportions. Expansive glass windows in a marine setting do provide dramatic views of the South River and its backdrop. However, the large space and polished stone tiles underfoot do help the modern steel décor to carry sound. Timing and seat selection can dampen the noisy ambiance. Or, you the can select the "energetic" option and sit in the lounge-bar, one of the most popular spots in the County.