Echoes & Accents:
Put a spring in your steps
toward Spring redecorating!
For those of us who'd rather flip the pages of Architectural Digest than Vogue, rather try out sofas than try on shoes -- there's a guilt-free adventure awaiting you hidden away behind a paint store in Annapolis. That experience is the Echoes & Accents Consignment Showroom at the intersection of Chinquapin Round Road and George Street. Don't miss it.
Saunter beneath the black-and-white striped canopy of Echoes & Accents and enter another world, where chandeliers sparkle, velvets and leather glisten, cherry, oak and marble glow – a feast for the eyes. Each end table bears an antique book or amusing crystal piece. Oriental rugs tastefully unfold underfoot.
And best of all – every delightful sofa, table and lamp is for sale… cheap! This, dear reader, is the pinnacle of consignment shops, as inviting and sophisticated as any upscale department or furniture store. Name-brand furniture, crystal, lamps, rugs, silver and brass items, every piece discretely tagged with a brief description and price. And if you're lucky, a small red slash through that price will signal an even deeper discount.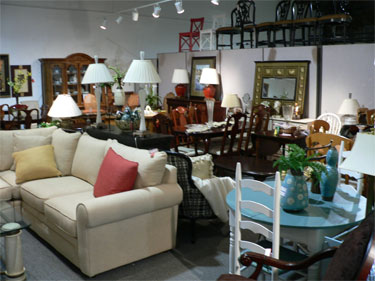 Consignment items are reduced in price by 15% if not sold within 30 days and again, they're reduced an additional 15% if they're still unsold after 60 days. After 90 days unsold items will disappear from the shop. That means, shoppers must decide whether to act quickly to insure that they'll be able to buy that lovely night stand or take a chance and wait for the piece to be reduced next month.
The shop's wares are difficult to resist. Wander from area to area, the couches and chairs, bookcases and lamps are grouped as they might appear in one's home… should one be so fortunate as to acquire them. Paintings, prints, mirrors and sconces tastefully decorate the walls and partitions, making it even easier to envision that mahogany table and chairs in your own dining room. In fact, you can sometimes purchase the china, crystal and flatware to complete the dining room.
The charming owners, Leah Deane and Barbara Rasin Price are experienced at making your visit to their showroom as stress-free and fun as possible. They make a point of filling the candy dish on the counter, offering customers coffee, tea and cookies while classical, jazz or perhaps some reggae music plays softly in the background. Sometimes, customers dance across the carpets and among the furniture groupings. "Whether it's Iraqi music or Sarah Brighton, our customers love it," says Barbara.
Leah points out, "We choose merchandise that people can touch, afford, take home. That's important. We accept items only if we both agree. We want the consigner and the buyer to be happy."
Barbara adds, "We recycle. Someone gets to use something that might otherwise be wasted." Echoes & Accents can handle moving and estate sales; their experienced staff helps families make informed decisions about the items they are selling.
The consignment showroom mixes new items with the gently used, and even offer some antiques. Previously-owned broaches, necklaces and earrings fill some of the glass cases… all with enticingly modest prices. Greeting cards and gift enclosures – not previously used, are also for sale. After almost ten years, Leah and Barbara know what works for their clients. They plan carefully so every detail is just right.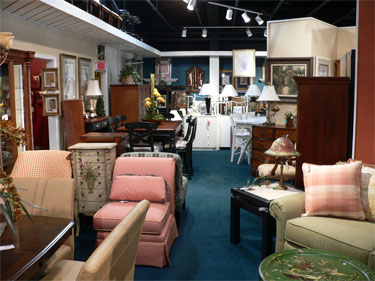 The two sisters have always been close, but the last ten years, as business partners have been particularly fun. Leah has always been involved in the business of decorating and furniture design. Barbara founded and ran a non-profit agency advocating for elderly and disabled people. When Leah's business partner retired and Barbara gave up her non-profit work, the sisters decided to harness their complimentary skills and go into business together. Echoes & Accents Consignment Showroom was born. Their business has grown and flourished thanks, in part, to their love and respect for one another, their staff and their customers.
"From the day we opened, customers were fabulous, enthusiastic, supportive. Our customers are loyal; they realize we are trying to make them feel welcome," says Leah.
Stop by Echoes & Accents at 224 Chinquapin Round Road (behind the Annapolis Paint Company) and see the array of goodies for yourself. Whether you're thinking of buying or selling, you'll receive helpful advice from Leah and Barbara and their experienced staff; just call 410-280-8800. You may even find just the easy chair you've been searching for or a desk for your home-office.