Consider this ůService Clubs
Service clubs like Civitans, Jaycees, Junior league, Kiwanis, Lions, Optimists, Rotary, Ruritans and hundreds of other clubs have been created over the past 100 years. Let me express my apologies now for not naming your service club if it is not on my short list. While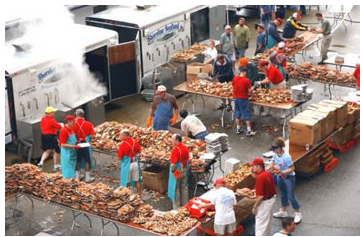 these clubs were organized in United States for the benefit their members and their respective communities, they now have millions of members and now span the globe. The charitable benefit from service clubs is incalculable but normally includes manpower and money that is raised by the collective efforts of their members to aid individuals, causes, communities and groups. There is no doubt that most Americans have helped service clubs for many years, often without knowing it. A good example is when Kiwanis, Rotary and Civitans members stand duty on the Christmas Red kettles of our local Annapolis Salvation Army. Annapolitans have done their share by buying fruitcakes, attending a charitable golf tournament or the grand daddy of all crab feasts hosted by the Annapolis Rotary club. Many years ago when during one of my eleven years on the board of managers at the Anne Arundel Medical Center I estimated the value of 85,000 man hours contributed that year by the hospital auxiliary at $1,000,000 or more. It doesn't take much thought, imagination or math skills to see how a charitable group can be more productive and effective than most individuals could ever be.
This American charitable phenomenon has been assisted buy our own government. Service clubs have been created and operated under the Internal Revenue Service Code (IRSC) section 501(c) (4), which allows them to form and operate tax free in most instances. Organizations created under the IRSC 501(c) (4) are defined as social welfare organizations. These organizations must be operated exclusively to promote social welfare and must operate primarily to further the common good and general welfare of the people of the community, often referred to as civic betterment and social improvements. The promotion of social welfare does not include direct or indirect participation or intervention in political campaigns on behalf of or in opposition to any candidate for public office. However, a section 501(c) (4) social welfare organization may engage in some political activities, so long as that is not its primary activity. The league of Women Voters is a good illustration of being active in the political process and not violating the underlying guidelines. However, some expenditure made for political activities may be subject to tax. I would highly recommend professional guidance if this is an area you are interested in pursuing.
There is some confusion about contributions made to these organizations. Unless the service club has created a charitable foundation, most contributions made to these organizations are not charitable tax deductions. It is not uncommon to see that a portion of your expenditure is deductible and is often noted in the literature provided to you at the time you make a purchase or make a contribution. Business's often support these charitable events, but often as advertisers or club members themselves.
Service clubs have flourished for more than 100 years but sadly part many service clubs have experienced declining enrollments. The reasons for the membership declines is unclear, but the charities and causes they embrace are still in there and in need.
I have included a brief list of the more recognized clubs that operate in the Annapolis area and the organizations international web site addresses.
● Junior League was established on 1901 and now has more than 170,000 members. See more information and service club purpose at www.ajli.org
● Rotary International was established in 1905 and now has approximately 1.2 million in more than 32,000 clubs in more than 200 countries and geographical areas. See more information and service club purpose at www.rotary.org .
● Kiwanis International was established in 1915 and now has 8,400 Kiwanis clubs with nearly 280,000 members in 96 nations and geographic areas, including youth and college programs . See more information and service club purpose at www.kiwanis.org
● Civitan was established in 1917 and now has over 40,000 members in 24 countries including youth and college programs. See more information and service club purpose at www.civitaninternational.com
● Lions Clubs International was established in 1917 and now claims they are the world's largest service club organization with 1.3 million members in approximately 45,000 clubs in 200 countries and geographical areas. See more information and service club purpose at www.lionsclubs.org
● Optimist International was established in 1919 and now has 105,000 individual members in more than 3,200 autonomous Clubs. See more information and service club purpose at www.optimist.org
● Jaycees was established in 1920 with 3,000 members and have been working in their communities for over 86 years. See more information and service club purpose at www.usjaycees.or .
● Ruritan National was established in 1928 now has nearly 34,000 members in more than 1,200 local communities throughout the United States. See more information and service club purpose at www.ruritan.org.
I would encourage you to visit these web sites, familiarize yourself with the specific causes that each service club embraces or ask a friend that belongs to one or more of these service clubs. You might find it is something that you would like to be part of and a new and rewarding or fulfilling part of your life.