Terence J. Smith
Award-Winning Journalist, Writer,
and Former CBS Correspondent
By M.A. Cashman, Ph.D.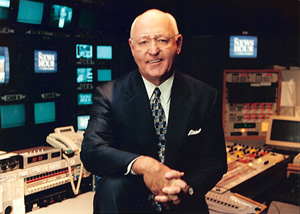 From his waterfront home in Shady Side, where the West River joins the Bay, award-winning journalist Terence J. Smith continues to cover history-making events around the world. After 44 years of daily deadlines, he resigned from CBS in 2005 and now enjoys what he calls a "working retirement." The emphasis here is on "working," as Smith continues to write, travel, teach, lecture, moderate panels, and attend conferences. He reads four newspapers daily: The Washington Post, The New York Times, Financial Times, and The ( Annapolis) Capital. He is a frequent guest host for The Diane Rheam Show on NPR, and recently he traveled to China to teach classes in journalism at Fudan University in Shanghai. By any standard, Smith leads an exciting life. While it may stem from his boundless enthusiasm, innate curiosity, impressive language skills, and willingness to follow the action, he chalks it up to serendipity.
Smith loves language. From a prominent newspaper family, his father, "Red" Smith. the most widely-read sportswriter in the world, was honored by the Baseball Hall of Fame. With his father, Smith shares a love of language and wit, an ability to see the joy in life, and a dedication to the pursuit of excellence.
His excellence in the field of journalism has earned Smith many awards, including two Pulitzer Prize nominations, The New York Times' Publisher's Prize for outstanding writing (22 times), two Emmys for his work on the broadcast "48 Hours," and a share in the George Foster Peabody Award for general excellence given to the staff of CBS Sunday Morning,
Additional awards honored his work as founder and head of the media unit at The NewsHour with Jim Lehrer. As senior producer and media correspondent, he broadcast 110 in-depth tape reports and anchored some 250 studio discussions on media issues. In the course of seven years, he and his unit won 18 national awards and honors for media criticism and analysis.
In pursuit of excellence, Smith has traveled widely and lived in several major cities, including NY and DC. He spent eight of his 20 years with the New York Times living abroad in the Middle and Far East, in Jerusalem, New Dehli, Bangkok, Hongkong, Saigon, covering national and international news. In 1985, he joined CBS News in Washington, covered the Reagan White House, and reported cover stories for CBS Sunday Morning.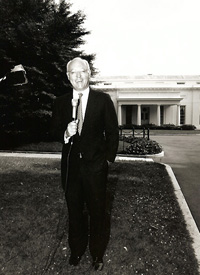 He has covered wars, including the 1967 Arab-Israeli conflict known as the six-day war, the Vietnam War, during which he was Bureau Chief at the Times, from December 1968 to June of 1970; the four-year war in Israel, from 1972 to 1976; the Yom Kippur War of 1973; and the 1975 Turkish Invasion of Cypress. He survived the danger of war when living in Saigon in an area frequently under mortar fire. During this time, he covered peace negotiations as well as the daily lives of people in more than 40 countries.
Smith loves writing articles on a wide area of topics: government, politics, war, ethics in journalism, and the environment. He recently did a Carter-redux piece that reviews the thirty years since Jimmy Carter was sworn in as the 39 th President of the US. In his political analysis of our country vis-à-vis three decades of hindsight, Smith underscores international and domestic accomplishments that make the Carter presidency "more impressive than it seemed when he left office in 1981." He comments that, "On the international scene, Carter facilitated the return of the Panama Canal to Panama. The de-regulation of air travel was one of his domestic accomplishments." He also wrote a recent piece on an unsung world leader, the former mayor of Jerusalem, Teddy Kollek. Stepping down after 28 years in office, Kollek is remembered by Smith for his dedication and ability to maintain energy and optimism in managing a city with a split personality.
Some topics are inspirational, such as his piece on Art Buchwald. To Smith, Buchwald was the kind of writer who achieved celebrity through an innate wit, exceptional skill with the English language, and a great deal of hard work. When Smith visited him in hospice care, he found the trademark Buchwald optimism intact. It was at this time that Buckwald performed one of his many quiet acts of generosity. Smith recalls,
"After my father. . . died in 1982, his Alma Mater and mine, Notre Dame, established an annual Red Smith Lecture in Journalism. At the same time, my sister, Kit, and I set out to raise $100,000 to endow a scholarship in our father's name at Notre Dame. Despite many generous gifts, it was slow going until Art pitched in." Buckwald donated his entire lecture fee to the scholarship fund and encouraged many others to donate. And today, according to Smith, "Thanks to Art, a deserving Notre Dame junior or senior benefits from the Red Smith Writing Scholarship."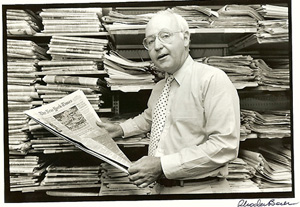 And Smith loves the water. He learned to sail when he was ten, and first became enchanted with Annapolis in 1977 when he came to buy his first boat from Annapolis Yacht Sales. In 1989 he bought a summer cottage in Shady Side, and four years ago, he and his wife Suzy made the area their permanent home. In the retirement part of his lifestyle, he sails, plays tennis, and enjoys spectacular views of the Bay. In the working part, Smith writes political analyses and articles on the environment that foster Bay conservation, describe the annual nesting of the Osprey, and celebrate the history of the Bay.
His recent interest in Captain John Smith, no relative as far as he knows. inspired him to retrace the Captain's 1608 journey in search of the Northwest Passage. Following the Captain's incredibly accurate map of the area, in legs, from Jamestown to the mouth of the Bay at Havre de Grace, Smith and party covered 1000 miles. His article on the re-enactment is featured in Smithsonian magazine.
More on Smith's exciting and serendipitous life, with 2007 calendar, explore terencefsmith.com