Chevy Chase Opticians
Optician Kimberly Youngchild is so passionate about eyewear that she outfits her dogs Spike and Chips in fashionable sunglasses. Spike, a Pomeranian, and Chips, a border collie, are regulars at Youngchild's shop, Chevy Chase Opticians, and they are as popular as the colorful specs she sells.
The shop offers eyeglasses and sunglasses that range anywhere from $350 for a popular designer look to $14,000 for glasses designed by David Eden and decorated with 16 real diamonds. "We don't sell too many of those," Youngchild says of the Edens. But what is selling a lot are frames from designer Judith Leiber, who is also famous for her elaborate handbags. "They're fun," says Youngchild. "They're just wild." New York designer Robert Marc is also popular with Annapolitans. Marc's style offers subtle details, color combinations such as cocoa and dune or tortoise and tangelo (orange) and his own signature hinge. Youngchild periodically travels to Paris, New York, Italy, and Las Vegas to see what the latest trends are and what will fit her clientele.
The stylish blonde shop owner sports a pair of Badgley Mischkas with black rims and rhinestones on the temple. (The temple is the long stem of the glasses that hook onto the ear.) But customers have a wide range of options in both color and styles. Can't decide between green and black? You can have both with two-toned frames or you can opt for animal print, fishnet (yes, fishnet), or floral patterns on the temple.
Rimless or partially rimless frames are still the rage and women want "anything with bling," Youngchild says laughing. "Everyday, I hear that – I need bling." Men's preferences are leaning toward the vintage professorial look and away from rectangular shapes.
The only real limit is what the customer is comfortable with. Youngchild says her biggest challenge is to coax customers out of the comfort zone to try a new look. "People are afraid of change," she noted. But, "nine times out of 10," when customers agree to different frames, "they love 'em."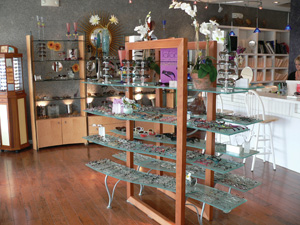 Youngchild grew up in Houston, where she studied to be an interior designer. But after working summers at the optician shop owned by her mother and stepfather, the optometry bug eventually bit. She has now been in the business 17 years, most of which was spent in Bethesda where she first opened Chevy Chase Opticians.
In 2002, she moved to Annapolis and opened up a store in the Annapolis Harbour Center. "I fell in love with the community," she said, describing Annapolitans as relaxed. "People actually care about what you're saying," she observed, rather than being in a hurry to be somewhere else. She also found an eager market for her products. "Annapolis really needed high-end eyewear."
Unlike traditional opticians, Chevy Chase Opticians does not offer eye examinations or contact lenses, nor does it take insurance. Youngchild's assistants, Patty and Marcelo, are both certified by the American Board of Optometry, a requirement that the owner has for anyone to work there. That way, she explained, customers are getting the benefit of someone who knows what they're doing and didn't just leave a fast food job the day before.
Besides the designer selection and qualifications of the staff, the boutique shop feels and looks different than a chain store. "I designed it to be more like a gallery," Youngchild commented. The wood floors are complemented by light wood cabinets and glass shelves are held by a frame that any sailor would recognize as a nautical design. A long oval glass-topped table is offset by jewel-toned seats. Youngchild also uses the store to showcase her collection of funky glass sculptures.
The popularity of contact lenses and Lasik surgery, which eliminates the need for any eyewear except sunglasses, has not affected her business. "It's a small niche I'm after," she said, adding that not everyone wants to get their eyes done. Eyeglasses are just a fashion accessory for some of Youngchild's customers who have 20/20 vision. But whether the customer really needs to see or just wants to look hip, they are given personal service, which includes handcrafting. "We work on it ourselves," she noted. "It's not an assembly line."
Youngchild acknowledges that when she first started in the business, "I was really into the fashion part of it. I just wanted everyone to look gorgeous. I didn't know the back [technical] end." As a result, sometimes, the frames were not quite what the customer had expected or needed. "I learned from my mistakes," she said. " Now her experience and technical skills help her to steer people into the frame that fits their needs. For example, a stronger prescription means a thicker lens that only works in certain frames. "You can't put a very nearsighted person in rimless glasses," she pointed out.
Opticians follow certain guidelines in advising someone on the right frames. The Vision Council of America recommends that the frame shape contrast with the face shape, and be in scale with the size of the face. Angular, narrow frames and a clear bridge may flatter a round face, while frames with a lot of color and detailing on the top may work for a more triangular face.
Youngchild and her crew also ask questions about lifestyle and pay attention to the strength of the prescription. Part of her job is educating customers about eyewear and what she thinks are necessary investments. Anti-glare or anti-reflective coating is definitely one she recommends. While "they've gotten a bad rap," because some coatings will come off, she said, the better ones will not. People don't need to be embarrassed by bifocals anymore either – now they're called progressives and come in several styles. "There are so many options," Youngchild stated.