Paul T. Elder, M.D.,
President of the Medical Staff,
Anne Arundel Medical Center
Several years ago a physician working in a large academic medical center in New York designed an algorithm, in jest, to guide medical students to their appropriate specialty based on their personality characteristics. Using a starting point of whether students described themselves as "sane" or "crazy," the physician carried out the algorithm to help them determine which path they should follow.
If the student declared himself or herself "sane," "very hardworking," "nice," and "preferred patients to be asleep," anesthesiology was deemed the most appropriate choice.
Paul T. Elder, M.D., chose anesthesiology as a specialty not because he preferred his patients to be asleep, but because he wanted "to take care of very sick people and help them through a particularly tough time in their lives. Except for women giving birth, most people never want to meet an anesthesiologist professionally.
"Surgery is difficult for the individual and for families, and I take great enjoyment out of helping people through that kind of situation. Life in medicine is finding out what you don't want to do; then you figure out what you like doing."
An anesthesiologist is a patient's guardian in surgery, literally holding a patient's life in his hands. It is a challenge and a responsibility that requires a steady hand and the ability to think and act quickly, allowing the surgeon to fully concentrate on the procedure. "It's a very collaborative process," said Dr. Elder, who maintains an active practice with Anesthesia Company, LLC.
Dr. Elder enjoys a challenge, whether it's in the operating room or in medical staff leadership. Earlier this year, after serving two years as vice president, he succeeded Thomas Ducker, M.D., as president of the 720-member medical staff at Anne Arundel Medical Center. He previously served on the executive committee and as the medical staff's secretary-treasurer. He has been a member of the AAMC medical staff since 1985.
Dr. Elder said continued strong medical staff leadership is vital to AAMC's future growth. "We act as the voice for the entire AAMC physician and allied health population," he said. "AAMC's individual practitioners need to know that someone or some entity is looking out for them and has their interests, as well their patients' interests, at heart." Medical staff leadership lobbies on the community's behalf, as well, educating legislators to the important health care issues facing the region.
As AAMC undertakes campus expansion this year – including a new ambulatory services building, expanded services, and additional parking garages – he believes that stable and supportive medical staff leadership is more vital than ever.
"Our medical executive committee, which includes the current and past medical staff presidents, collaborates with the hospital administration, nursing, and other support staff leadership. The physicians' perspectives related to expansion and program development is an important part of the hospital's commitment to its mission and vision," said Dr. Elder.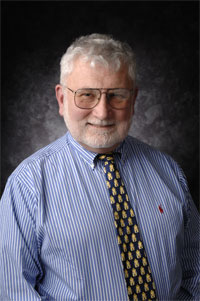 He says one of the main objectives of his role as president is to make sure the community is aware of the services available at AAMC and that "the people of this region continue to have access to the quality health care available at AAMC."
Dr. Elder is formulating a number of goals for his presidency, and one of them is to carry out Dr. Ducker's plan to restructure the medical staff.
"Paul has been integral in setting in motion the initiatives I looked to put in place and, in his role as president, I know he will continue that trend and help further advance the medical staff at AAMC," said Dr. Ducker, a neurosurgeon with Maryland Brain & Spine.
Following four years of active duty with the United States Navy, which included tours in Morocco and Vietnam, Dr. Elder earned his undergraduate degree from Oakland University in Rochester, Michigan, and his medical degree from Wayne State University School of Medicine in Detroit, where he was a "student of distinction." He completed an internship and residency at the National Naval Medical Center (NNMC) in Bethesda, Md., and a fellowship in pediatric anesthesia and critical care at Children's National Medical Center in Washington, D.C.
After three years with NNMC as a staff anesthesiologist, pediatric critical care consultant, and head of surgical services quality assurance and risk management, he took a position as staff anesthesiologist at The Fairfax Hospital before moving to Annapolis in 1985 with his young family.
Dr. Elder's early days in Annapolis saw him raising his four sons with his wife Dorothy, and participating in local activities, such as the Historic Annapolis Foundation, the Ward 1 Sector Study, the Annapolis Fire and Safety Commission, Main Street Renovations Committee, and the Annapolis Yacht Club. "Moving into leadership at AAMC takes up a lot of my time, but I continue to enjoy my family, reading, working in the garden, and going to the beach," he said.
Dorothy Elder has been active in AAMC's Auxiliary, and now is first vice president of the 500+-member organization, which provides volunteer services throughout the hospital, as well as philanthropic support.
Dr. Elder's tenure as president of AAMC's medical staff began Jan. 10 at the medical staff quarterly meeting, and was celebrated at the AAMC medical staff appreciation dinner on Feb. 3.
"I'm looking forward to getting the next two years off to a great start," said Dr. Elder. " Anne Arundel Medical Center offers tremendous opportunity to its outstanding medical staff, and I feel the next two years will present exciting opportunities and will be an incredibly successful time."