Jimmy's Favorite Sites
Just when your courage is up to make the buying decision between plasma, LCD or projection television LG Electronics is adding a new Cathode Ray Tube (CRT) product to the mix that may make you rethink your choice. Driven by the company's continuous emphasis on design and technology, LG's new innovation is expected to further increase it's dominance in the world television market. The stylish CRT TV bears a close resemblance to an LCD TV, and LG is confident that the new TV will appeal to budget-minded customers who wish to experience exceptional audio-visual quality at a lower cost. LG Electronics has been a pioneer in home entertainment technology since its inception and continues to provide its customers with the best quality, variety and price options. The CRT TV market remains strong with a dedicated consumer audience.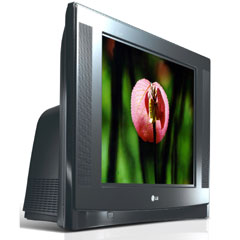 The new 21-inch CRT TV (model name: 21FU1R) is good news for consumers who consider three major factors before purchasing a new TV: picture quality, design and particularly price. Around 75 percent cheaper than a LCD TV, the Ultra Slim CRT TV will appeal to budget-minded customers. The product's technical specifications add to its appeal. The LG Ultra Slim TV has a deflection angle of 120 degrees to make it the slimmest CRT TV ever! LG's Anti-Doming Mask and Glass Design technology eliminates distortion at the edge of the screen. Its 'Nano-Fluorescent Substance' technology enables the TV to realize higher contrast ratios and display an excellent image quality with vivid and rich colors.

'This Ultra Slim TV is highly price competitive with great product quality in the 20-inch TV market. This unit may appear in your Sunday newspaper supplement soon, stay tuned!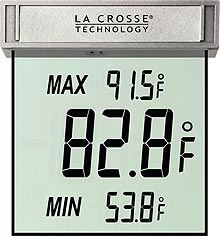 We have remote temperature sensors in several locations around our home and at least two outside, reporting temperature and humidity 24/7. The indoor display units are located precisely where we want information, but invariably there are times when you want to know the temperature and you are not near the display. Alas, LA Crosse Technology has developed a 4 inch by 3.75 inch LCD digital display, that uses a AAA battery and attaches on the outside of any window. This simple but clean looking LCD Window Thermometer will give you an instant update as you are leaving home or office. It can also be removed for window cleaning. I found this little gem at www.thinkgeek.com and at $15 it is an easy buy decision to make .
Several issue back I wrote about the prevalence of Adobe Acrobat's Portable Data Format (PDF) revolution and the ever increasing popularity of online college courses using the PDF feature. I thought it might be interesting to check back with Massachusetts Institute of Technology (MIT) a leader in this area and get a progress report. MIT in 2003 pledged to place all course materials including lecture notes to sample tests, and even making audio and video files of actual lectures online and free of charge. Their commitment to the "Open Course Ware" program should be completed by this fall and continuously updated and supplemented by 2008. Today however, you can find 1,500 of their 1,800 courses online and free to download. According to press reports MIT has as many as one million unique visitors a month and many are taking advantage of this incredible valuable resource.

You can not get a degree from MIT using this feature unless you are an enrolled MIT student but a disciplined students, educators or self-learners anywhere in the world can study at one of the premiere universities for free. All you need is a computer, an internet connection and the desire to learn. The entire "Open Course Ware" program can be found http://ocw.mit.edu/OcwWeb/Global/all-courses.htm.