Fidos For Freedom, Inc.
By Pamela Loeb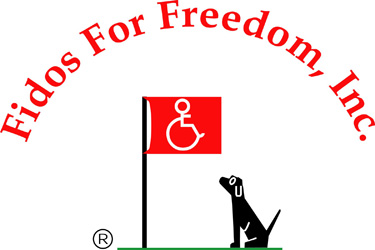 His long legs, winning smile and the glint in his eye, make him tough to miss. As he skillfully negotiates the crowds and deftly picks up dropped items, you can't help but admire him. You must learn more about this handsome devil, so you approach his even longer-legged partner to inquire. Who is this mysterious guy?
His name is Theo and he's a 4 year old Doberman mix. He is the Service dog partner of Annapolis resident Geoff Riefe. Maybe you've noticed them out and about, perhaps at a Navy football game, or enjoying a meal at City Dock.
Theo and Geoff met at Fidos For Freedom, Inc., a not-for-profit organization based in Laurel, MD that trains Hearing dogs, Service dogs and Therapy dogs. As is the case for almost all of the Assistance dogs Fidos trains, Theo was donated as a young pup. He spent his first year living in the home of a puppyraiser, and then moved in with a member of our training staff to complete the advanced skills portion of his training. Fidos has no kennel facilities. We rely on our dedicated staff of volunteers to raise and train these canine assistants in their own homes.
At the same time Theo was learning the ways of the world, Geoff applied to become a Fidos client. Accompanied by his wife, Ann, Geoff came to Fidos for training over a period of several months. Slowly, but steadily, he amassed the minimum 120 hours of training required before bringing home his new canine partner. The smooth, confident team you see today is the result of all that hard work.
Fidos For Freedom, Inc. also trains Hearing dogs that alert people who are deaf or hard-of-hearing to all the important sounds in their lives. These teams also go through a rigorous training period comparable to that of Geoff and Theo.
In addition, Fidos has a wonderful Therapy dog program comprised of volunteers who take their dogs on visits to various healthcare facilities in the area. Some therapy visits are designed to help people smile as the dogs often come dressed in costumes and do silly tricks. Other visits are physically therapeutic as the patients reach out to pet their canine visitors.
Our dogs never cease to amaze. They even help children improve their reading skills in a program known as DEAR (Dogs Educating and Assisting Readers). The program takes place in local schools and libraries, and specially selected children are encouraged to read one-on-one with a Therapy dog and trained volunteer. Children tend to focus better on reading, and forget any limitations, while working with a Therapy dog. The dogs also help educate our Junior Volunteers (children aged 12-17) over the course of the school year, and allow them to earn needed community service hours toward graduation.
Fidos For Freedom, Inc. depends upon the generosity of donations and volunteers in order to continue our mission of improving the quality of life of people in the Baltimore-Washington area through the use of specially trained dogs. If you're interested in becoming a volunteer, making a donation, learning more about our program, or maybe you'd like to come see Geoff and Theo graduate and/or participate in our silent auction you can reach us at www.fidosforfreedom.org or call 410-880-4178 or 301-490-4005. We look forward to hearing from you!