Lieutenant Commander Brian O. Walden,
Director, USNA Band
By Pamela Beaudette Miller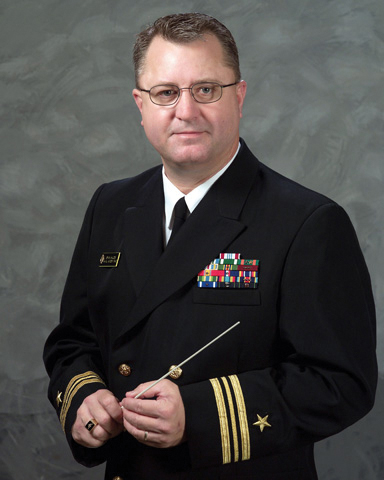 The rehearsal hall at the Naval Academy filled with disparate sounds as flutes, tubas, trumpets, and basses warmed up. Dissonance resolved into harmony when, after a moment of silence, Lieutenant Commander Brian O. Walden's baton flicked down. He led the band into "On Winged Flight," one of the compositions they would play two evenings later at Maryland Hall, guest conducted by the composer, Gunther Schuller. Music soared as LCDR Walden, Director of the U. S. Naval Academy Band, conducted with thoughtful attention.
LCDR Walden came to the Naval Academy in November 2006 from Norfolk, Virginia, where he served as the Executive Officer of the U. S. Navy School of Music and as well as Director of Training. All Army, Navy, and Marine Corps musicians train at the same place, with musicians returning at different times during their career for higher levels of training. The U.S. Navy School of Music is the largest of its kind in the world, and, according to their website, "Graduates of the Navy School of Music go on to become musical ambassadors throughout the United States and abroad as members of the U.S. Army, Navy, and Marine Corps Bands."
It wouldn't be the Navy without service onboard ships, and LCDR Walden served on several, including USS Mount Whitney and USS Obannon. When speaking of his shipboard service, Walden emphasizes the opportunities the school of music provides. "When we would pull into a port, we would perform all the ceremonial engagements, and then, when the other sailors were off the ship enjoying their liberty, that's when we were out performing for television audiences or going to set up concerts further extended from the geographical area where the ship was visiting in port. We would go to orphanages to schools and other places to provide goodwill to the local people." While the other sailors were enjoying their liberty, the band members were introducing the local people to some of the best of America: military service members.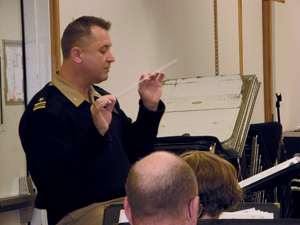 During the time he spent at Norfolk, LCDR Walden was also director of music at his church in Virginia Beach. He approached his position there as an opportunity to be an active participant in the ministry of the church, drawing on his earlier education at Saint Leo University, Florida. (He graduated Magna cum Laude with a degree in music and a double major in religious studies.) "Ministry should support the wholeness of the church," Walden believes, "and part of that was to educate the congregation on how the music developed. One of the things I would always do when I introduced a hymn is I would give them the history of the hymn before we sang it so that they could decide 'oh, this makes sense' while we were singing it. The liturgical aspects of the scripture fit the message today and fit the hymn."
LCDR Walden is a Southerner by birth and grew up in South Carolina, though there's no trace of the South in his voice—living in vastly different parts of the country and around the world has left a more neutral accent. After an early tour of duty in Charleston, he and his wife, Staci, and their two sons lived in Boston, New Orleans, Guam, Naples, the Marianas Islands, and Chicago, where Walden was Director of the U.S. Navy Band at the Naval Training Center Great Lakes. Living in such diverse locations is, Walden says with a grin, "the best part about the Navy. You get to see so many different types of culture."
His tour in Italy introduced the whole Walden family to a new culture and new experiences which, Walden says, made "probably the best tour I've ever had. I was there for four years and it was the perfect time in my life to be there because my children were at the right age to be able to enjoy the experience. Italy was a very big part of their lives and it also taught them a lot of things. I think my kids are so well adjusted because of their cultural experiences of living in Europe." While there, one of Walden's favorite experiences was coaching the All-Italy Little League baseball team at the European championships in Kutno, Poland. "Those kinds of things," he says, "you just don't get the opportunity to do here in the States."
While in Italy, LCDR Walden began to look around for the next way in which he could continue his professional development. Walden was director of the NATO band during the Kosovo conflict and wasn't allowed to take engagements off the base. He was assigned other duties in the Public Affairs department and decided that it was an area in which he could expand his knowledge and experience. He enrolled in and graduated from the U.S. Naval War College with a Graduate Diploma in national security strategic studies. In discussing this departure from his previous extensive studies in music, LCDR Walden explains "I also really wanted to know that, as I advance through the ranks— especially here when I sit in a meeting or briefings with other officers—I need to know how they think; I need to know what they've been doing. It helps me maneuver in the environment a little better and understand strategically how people think."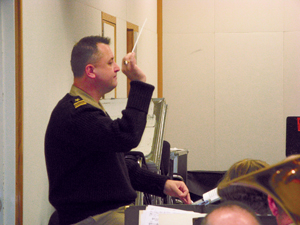 Whether traveling or stationed with the Navy, studying or lecturing at various universities or touring with a Latin band based in Virginia Beach, Brian Walden has been all around the world and on every continent except Antarctica. When asked about travel, his face lights up and his grin widens: "Love it!" is his instant response.
But after a beat, he says, "Well, actually I used to love it. I'm very glad to be able to be in this job because it's geographically centralized here. Some of our units do occasionally go off yard and do things, like our rock band goes to out to Texas or North Carolina or different places, but my job pretty much is simply located here. I like that for awhile—I'm traveled out."
As the rehearsal hall fills with the soaring notes of "On Winged Flight," Lieutenant Commander Brian Walden turns a page of the music score, baton never missing a beat. For a man much given to travel, he's found a contented niche on the shores of the Chesapeake and at the U.S, Naval Academy.