Karma O'Neill:
New executive director of Hospice Cup lives up to her auspicious name
By Margot Mohsberg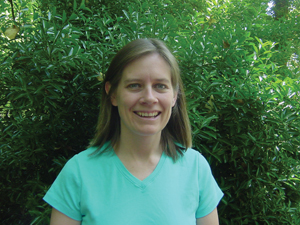 Karma O'Neill has been an active volunteer in Annapolis for several years, as president of the Maryland Seafood Festival, donating her time to the Historic Annapolis Foundation, and helping to plan the Hospice Cup benefit sailboat regatta. Despite her many charitable endeavors, no one has ever commented on the appropriateness of her name. "Not once, actually," she says.
This year, Karma has parlayed her passion for charitable work into a part-time job as the first paid executive director for Hospice Cup Inc., the nonprofit group that organizes an annual regatta to raise money for several hospices including Hospice of the Chesapeake. The popular race and extremely popular post-race shore party, which will held on September 8 this year, has raised more than $7 million in its 25 years of existence—money that has helped pay for medical care not covered by Medicare or private insurance.
Karma says the success of the event is due to the many volunteers, sponsors, donors and sailors who support it. "It's just such an easy event to become involved in," she says. "Nearly 90 percent of the money raised goes back to the participating hospices to ensure that every person who seeks hospice care, regardless of his or her ability to pay, is able to receive it. There is just not a bad thing you can say about trying to help people live out the remainder of their lives as comfortably and with as much dignity as possible."
The origin of Karma's name is as interesting as the name itself, which was determined during the baby shower held in honor of her impending birth. During the party, all of the women were asked to recommend baby names. "My great aunt was a huge reader and happened to be reading a book about karma and Buddhists, so she said, 'I think you should name her Karma,'" she says. "Well, it stuck. I was born in 1970, my mom was a bit of a hippie, and my parents were 18 and 19 years old when they had me."
Still, it wasn't just the era in which she was born that inspired her name. Karma's family truly believed in the importance of "do unto others as you would have them do unto you." "They always instilled the belief that if you do things that make you feel good, you will have a happy life," she says.
Karma was born in Colorado and moved to a small town outside of Burlington, Vt., with her mother, stepfather and three siblings when she was in high school. When it came time for college, Karma was once again ready for something new. When an admissions counselor from Roanoke College in Salem, Va., offered her the chance to come down south, she quickly took the bait.
"The counselor won me over and it ended up being the perfect place for me," she says.
After college, she moved back home, worked in the restaurant business and quickly "felt kind of lost. Vermont is a great place to raise a family, but it wasn't the best place for a young person at the time," she says.
When her college roommate suggested they move to Annapolis together, she and her parents hopped in the car to scope it out. As with many of the city's transplants, the historic, waterfront atmosphere was an instant hit.
"I walked into Ram's Head and told them that if they gave me a job, I would be back in two weeks," she remembers. Not only did Ram's Head provide Karma with a job and a reason to call Annapolis home, it also introduced her to her husband, Sean. "We are one of 14 couples who met while working at Ram's Head," she says. "We now have a book club and the one rule of membership is that you had to have worked at Ram's Head at some point in your life."
Karma continued to build her culinary and catering skills and ultimately became an event planner for the Watermark company, a job that included organizing the spectator boats for Hospice Cup. "I had worked with Hospice Cup for the past four years and when I heard they were looking to fill a paid position to help organize the event, I decided to apply," she says. "I knew it was a solid organization and something I felt I really wanted to support."
She was certainly the ideal candidate. Not only did she already know the folks from Hospice Cup, she had also spent the past three years serving as president of the Maryland Seafood Festival, a three-day festival that raises funds for several local charities.
"We are very pleased to have Karma on board as our key staff member for
the Hospice Cup, Inc.," says Cullen Murray, Board President of Hospice Cup, Inc. "With someone so experienced in event planning, fundraising and board management, I believe our organization's planning efforts will enable us to reach new goals, run more efficiently, and continue to make the annual Hospice Cup a successful fundraising event."
Karma says the job is ideal for her personally as well as professionally because it enables her to work from home and care for her two children, Carter, who is 4 years old, and Jillian, who is 15 months. "I'm not sure how part-time it is, though, because I think about it all the time," she says with a laugh.
Her dream is to serve as the executive director of Hospice Cup for a long time to come.
"It's such a great event because it attracts so many different kinds of people, everybody from sailors to hospice to companies who generously donate lots of money and auction items," she says.
Last year, more than 80 boats participated in the regatta and nearly 700 people attended the event afterwards raising a total of $400,000.
"We hope to raise at least that and more this year," Karma says.
For more information about the Hospice Cup, call 410-919-8393 or log onto www.hospicecup.org