Sam's on the Waterfront Café
By Patricia Barry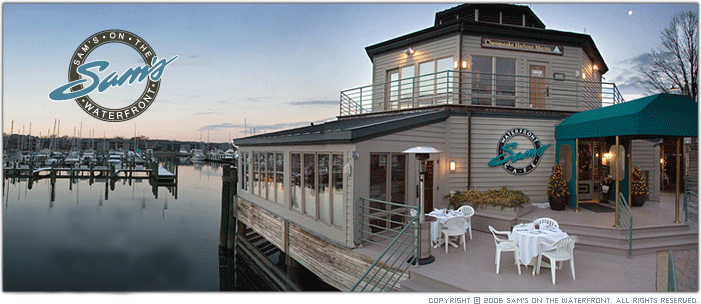 Sam's on the Waterfront Café
2020 Chesapeake Harbor Drive East
Annapolis , MD 21403
Tel: 410-263-3600
www.samsonthewaterfront.com
38 57'6" N – 76 28'0" W
Moderately Expensive
Appetizers, Soups and Salads: $6 to $13
Entrees: $18 to $45
Prix Fixe Menu: $56 to $79 with wine pairings of $18, 22, and 25
Hours: Lunch-Mon. thru Sat. 11:30 to 4:00
Dinner-Sun. thru Thurs. 4:00 to 10:00
Fri. and Sat. 4:00 to 11:00
Sunday Brunch 10:30 to 4:00
Fairly-priced extensive wine list
Ample car parking and boat slips.
Call Chesapeake Harbour Marina for boat space: 410-268-1969
You'll know when you are there—at Sam's on the Waterfront Café, a destination restaurant just a short ride south from the Annapolis Historic District. You'll approach a replica of the Thomas Point Lighthouse in the midst of Chesapeake Harbour . This in-the-water restaurant beckons like a siren to both landlubbers and boaters with its exquisite menu, spectacular site and well-earned reputation.
Former owner Mary Randall revealed her mission on my last review in 2003: "to own and operate the best restaurant in Anne Arundel County ," and she worked on its success for 12 years. Approximately eighteen months ago, Andrew Parks, grandson of Sam Parks, for whom Sam's is named, took the reins as owner and has been on an exciting upward spiral ever since.
Parks' rich background in restaurants includes ownership of the popular Hard Times Cafe in Crofton. Today, a working partnership with Executive Chef Ahmed Korono (formerly with Jean-Louis Paladin of the Watergate in Washington , D.C) is proving to be a fortuitous union.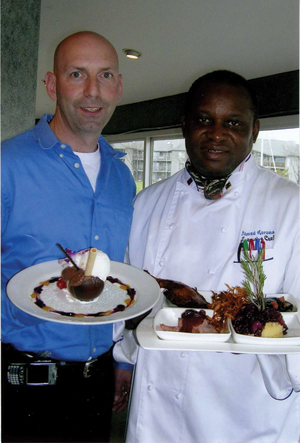 First impressions are so important and this one is dynamic. The Waterfront Café is in a hexagonal white building with the distinctive spider-like (screw pile) legs and design of the original lighthouse. One can actually see the water beneath the restaurant.
On our first visit, we were warmly greeted by manager Michael Hendrigsman who immediately turned us over to our server, Chuck—a true shepherd. After ordering a Murphy Goode chardonnay from Sonoma County , which carried subtle legs and a refreshing taste, we selected the soup of the day, a pea and asparagus taste delight in a creamy base that pushed each flavor to the foreground. Neither camouflaged the other; its warmth and thickness added to our spring dining pleasure.
My ally in food chose the Fried Oysters Count Chesapeake; they proved to be over-sized, succulent and sweet— all comfortably wrapped in a signature buttermilk batter. The Cajun remoulade sauce was an apt accompaniment. His entrée was Duck Three Ways, which appeared on a partitioned plate consisting of a duck breast with a balsamic reduction, a duck leg with a fig gastrique, duck pate with mostarda (mustard), and braised apple and red cabbage, set off with a towering sprig of rosemary atop a potato cake. The confit was rich; the fig sauce was refined; the mustard sauce was soft—and the duck pate was another rare element, smooth and elegant on the palate. The dish was a work of art.
My entrée was the piece de resistance on this occasion—two enormous soft shell crabs, gently sautéed in a blended virgin olive and vegetable oil that confided no oily taste. The crustaceans sat on a vegetable base of shining al dente asparagus, mini potato puffs and onions bathed in warm champagne tomato vinaigrette. Not only were the crabs of super size, they were the juiciest we had ever tasted. These taste sensations continued to explode with each bite. We could not manage dessert.
Determined to sample at least one of the seductive choices on the dessert menu, we visited a second time: just before dark, hoping to enjoy the many boats—about 60% power and 40% sail—in the slips of the Chesapeake Harbour Marina, and to ogle the huge bay outside the protected basin. But, first, we ordered another soup special and it was just that: special— creamy carrot with waves of ginger coursing over the pureed crests.
I hit another high note in the baby spinach salad of petite oval leaves, crispy smoked apple-wood bacon and shaved Tillamook cheddar cheese bathed in a hot and light dressing of champagne vinegar and mustard. Nestled to one side was a white jewel—a superbly cooked poached egg. Our wine on this evening was a Wente Vineyard chardonnay, which we characterized as crisp and clean. Our server, Diane, was savvy and attentive.
My ally in food selected an entrée of Rack of Colorado Lamb, which boasted multiple magnificent chops (cooked to extra rare perfection) and dusted with a thick coating of panko (Japanese bread crumbs), lemon, thyme and a few spirited spices. He declared them to be "the finest ever." We still couldn't manage dessert, but I confess to sneaking back for the chocolate and vanilla mousse in a chocolate cup…heaven. I've never been a chocoholic, and, come to think of it, I never cared for the taste of peas before, either. Never say "never."
Friday and Saturday nights feature jazz entertainment; Sunday's summer schedule features acoustic music on the Bay at brunch inside or in the outdoor bistro, Proud Mary's Dockside Bar.
Parks and Koromo seek perfection in cuisine of the classic tradition, highlighted with international touches. They employ a light technique and use the freshest and most generous gifts from the sea, the farm and the garden. With a splendid site, superb menu and doting service, Sam's on the Waterfront Café is climbing into the stratosphere.