Jimmy's Favorite Sites
We are half-way through 2007, and I thought it might be a good time to look back at my New Year's resolution to lose weight. I have gained back a third of my loss, but I am still doing better than I did in 2006, and I have to give much of the credit to a new bathroom scale I received for Christmas. This super scale is called the Body Balance Comfort F5 and is made by SOEHNLE, a German company. Take note that a newer model, the Body Balance Comfort FS5, is already being marketed at about the same price. It might seem a bit intimidating when you first use the unit, but it is no more complicated than setting a clock. First you create a profile of yourself by entering your height, age and gender. Then each day or week, depending on your demeanor, you weigh yourself. The unit calculates and records your weight, body fat, body water content, and body muscle mass. From this data collection, the unit calculates and displays your recommended daily calorie requirement, then stores all the data and plots each element and your progress on a timeline graph. The daily routine takes no more than 20 seconds. I can't attest to the accuracy of the calculations but I can say that getting on scale each morning is a required part of my self-imposed weight loss regimen, and after 6 months it still works for me. You can find this unit locally or at www.theconsumerlink.com/Leifheit/list/SOEBODY/1000 or for more information go to www.soehnle.de or www.soehnle-bodybalance.com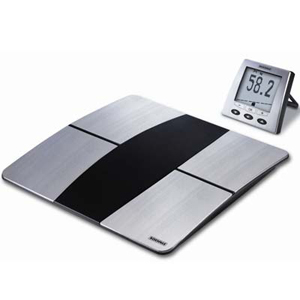 Space exploration doesn't get much press these days unless there is a mishap, a paid civilian passenger visits the International Space Station or funding is in question—as seems to be the case too often with the Hubble telescope. What we often fail to take into account is that any space flight project takes 10 or more years of planning and preparation before it gets any real press coverage. Thus, I thought it might be worth putting the Orion Space Project on our web browsing agenda. According to NASA, "Orion will be capable of carrying crew and cargo to the space station. It will be able to rendezvous with a lunar landing module and an Earth departure stage in low-Earth orbit to carry crews to the moon and, one day, to Mars-bound vehicles assembled in low-Earth orbit. Orion will be the Earth entry vehicle for lunar and Mars returns. Orion's design will borrow its shape from the capsules of the past, but takes advantage of 21st century technology in computers, electronics, life support, propulsion and heat protection systems. Lockheed Martin Corp was awarded the contract to build Orion on Aug. 31, 2006."
Orion will be similar in shape to the Apollo spacecraft, but significantly larger. The Apollo-style heat shield is the best shape for re-entering Earth's atmosphere, especially when returning directly from the moon. Orion will be 5 meters (16.5 feet) in diameter and have a mass of about 22.7 metric tons (25 tons). Inside, it will have more than two-and-a-half times the volume of an Apollo capsule.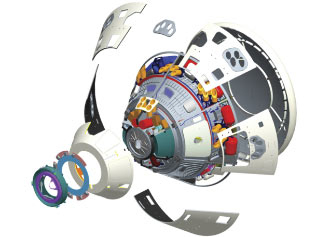 The larger size will allow Orion to accommodate four crew members on missions to the moon, and six on missions to the International Space Station or Mars-bound spacecraft. Orion is scheduled to fly its first missions to the space station by 2014 and carry out its first sortie to the moon by 2020. Check for progress reports often at www.nasa.gov/mission_pages/constellation/orion/index.html
The Hammonds have returned to birding at the home place. Just a year ago, I shared with you the incredible list of feathered friends that frequented our home. We are now setting out food in the morning, at noon, and occasionally in the evening and we have been rewarded with three birds we have never seen before. We saw multiple rose-breasted grosbeaks, a pair of eastern towhees, and a male scarlet tanager. The experience was made even more exciting due to the recent purchase of two 10 X 42 binoculars from West Marine. The quality is great and the price was even better for the second pair. For home-based bird watching, these are perfect optical instruments. See them at www.WestMarine.com.