The Maryland Renaissance Festival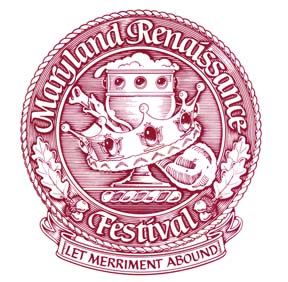 The Maryland Renaissance Festival, held every weekend from August 26 to October 22, is a recreation of a 16th century English village. Our village is named Revel Grove, and is set on a beautiful 25-acre wooded site with 85 acres of free parking. The village consists of craft and food booths, five pubs, ten major stages, a Jousting Arena and lots of games.
Every day is a Festival Day in Revel Grove, in honor of a visit by Henry VIII and his Royal Court. As such, the village will have entertainment, crafts, food, and frivolity fit for a king!
The gates open at 10:00 am, but you'll want to start the day with the King's Welcome outside the front gate at 9:45am. Once inside the gates, you may want to check your program for a listing of all the shows, but part of the fun of our Renaissance Festival is taking your time to stroll through the lanes and let the experience unfold before you.
Pause for a moment to listen to a musician. Watch a demonstration of glass blowing. Quench your thirst with a mug of ale and whet your appetite with a gigantic turkey leg. Pick up the latest gossip from the fishmonger. Thrill to the combat joust and then browse through the wares at one of the many fine craft booths. There's too much to do in a single day!
Performers from across North America entertain on the Festival's many stages while the streets and woods are filled with characters to amuse and delight. Watch authentic jousting in full armor, listen to music and choral groups, thrill at jugglers, magicians, and comely wenches. Our streets and stages are filled with nonstop entertainment for all ages.
Shops, displaying the finest crafts and works of art, invite you to see their wares. Stained glass, sculptures, original jewelry, pottery, wood-butchery, leather-work, inlay, clothing, glass-blowing, original prints, and soft sculpture are but some of the artistry displayed.
Enjoy the shops and shows while sampling the feast of foods the Festival has to offer. Favorites include succulent Steak-on-a-Stake, massive smoked turkey legs, cool Italian ices, tasty meat pies, sweet desserts, barbequed pork pockets, Knave sandwiches, and fried cheeses. Quench your thirst with ales, mead, soft drinks, lemonade, iced tea, and assorted wines. Games of chance and skill are at every turn of the Festival. Free pony rides, a free children's activities area, a maze, and archery range are only some of the offerings for fun for all ages.
The Maryland Renaissance Festival is a perfect family outing, in easy reach from both Baltimore and Washington, D.C. We are in operation from 10:00 a.m. until 7:00 p.m. Come early, for a full day of fun awaits!
Because the Maryland Renaissance Festival is located just minutes away from historic Annapolis, visitors from all across the United States will find that the Maryland Renaissance Festival can be part of a wonderful vacation adventure. Spend a day or two at the Festival, then visit Annapolis, Baltimore, and Washington. Don't miss the chance to experience the wonderful Maryland seafood and hospitality.
The Festival has become the region's premier outdoor event and the second largest Renaissance Festival in the country. Since the Festival's first season as a ramshackle village in 1977, the event has matured into a large theme show with more than 1,300 participants and 225,000 guests per season.
The Maryland Renaissance Festival employs more than 600 people during each season, working in entertainment and customer service. Eighty-five acres of parking space handle an average of 12,000 customers daily. The English Tudor village is 125 acres of woods and field that transport patrons to an era of chivalry, bawdiness, and good fun. There are more than 130 craft shops displaying wares handmade by the village artisans. Forty-two food outlets provide a feast of foods rarely seen at other festivals. Each season, more than half a million beverages are served at the Festival's eight soft drink stands, five beer stands, and five taverns.
More than any single business, the Festival attracts thousands of tourists and tour groups to the region. The Festival has been recognized by the American Bus Association as one of the 100 best events in North America. United States Department of Commerce figures show that special events generate $2.40 in the local economy for each $1.00 spent at the show. An exit poll reveals an extremely satisfied customer base with 99.6% saying they will return the following year.
The Maryland Renaissance Festival, more than a fun event of entertainment, food, crafts, and attractions, is a success that has exhibited continued growth without compromising customer satisfaction.
This Year's Storyline
The year is 1539. Henry VIII marks his thirtieth year as King of England. The village of Revel Grove prepares a spectacular harvest celebration to mark this milestone.
It has now been two years since the death of Queen Jane. The heir to the throne, Prince Edward, is thriving—but the fate of the Tudor dynasty cannot rest on the shoulders of one baby boy. It is imperative that the King marry again and secure the succession. But who will wed the King? Secretary Thomas Cromwell advises Henry to marry a European princess to secure a foreign alliance, but the King's matrimonial record is not encouraging to most women. As the Duchess of Milan remarked when hearing of Henry's interest in her—if she had two heads then "one should be at His Grace's service."
As Cromwell searches for a foreign bride for the King, Henry and his courtiers pay a visit to Revel Grove and he merrily enjoys his day as a bachelor King.