Supporting Our Troops Through Naval History
Nothing seems to make Dr. J. Scott Harmon happier than welcoming Midshipmen and other visitors to the Navy Museum at the Naval Academy and seeing their interest in this exhibition of the history of the United States. Director of the museum, Harmon is an educator at heart and has made sure that the emphasis of the museum is first on teaching—and the Midshipmen of the Academy are his first concern, with the greater public coming close behind. With exhibits of battle flags, model ships, weapons and armament, medals and maps and battle plans, Mids and other visitors learn the history of the Navy through primary sources, but this museum also includes exhibits that make the people of the Navy real and vital. Manuscripts, photographs and dance invitations illuminate some of the people of the Navy, and exhibits like the yellow dress once worn by Lillian Cordes, color girl of 1947, help make Naval Academy families from years past seem as real and immediate as the families of today.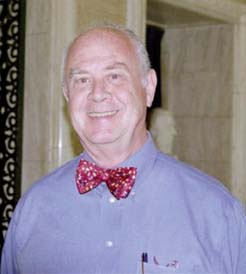 Harmon, USNA '64, came to the museum nearly eight years ago, after serving twenty-four years at the Harpers Ferry Center for Interpretive Media of the National Park Service. The Harpers Ferry Center creates interpretive tools for the parks of the National Park Service: audio-visual programs, historic furnishings, museum exhibits, publications and wayside exhibits. "We were the developmental center for the Park Service," says Harmon, and "concentrated on interpretive media in the parks." One of the long-term projects that was close to Dr. Harmon's heart finished up just before he came to the Naval Academy museum--the museum at Andersonville National Historic Site which opened in 1998. The museum, Harmon says, "Talks about the story of all American prisoners of war throughout our history" not just the Civil war, and "it's divided into things that are common to the whole POW experience: being captured, communication--writing letters, or codes or whatever inside the camp and getting them out, families who are left behind while their loved ones are being held, reunions, and that sort of thing. It's not a fun museum to go to—it's an emotional one and should be," and is dedicated to all brave men and women of the United States who have suffered captivity.
Harmon started life well on the other side of the country from Annapolis and Harpers Ferry. Northern Utah was his home from early childhood through his first two years of college, which he took at Utah State. Harmon's father was a professor at Logan in political science and his mother worked at the library; his paternal grandparents were also involved in education. Scott grew up reading the Horatio Hornblower series of naval adventures, so perhaps applying to the Naval Academy, while something of a fork in the road of life for the younger Harmon, wasn't that much of a leap.
Graduating just in time for the build-up in Vietnam, Ensign Harmon served on destroyers at Guantanamo Bay and the Gulf of Tonkin. It was service that suited the young officer: "the nice thing about destroyers is there is a small complement of officers and everybody is vital, everybody has many important jobs to do"—but after nine years in the Navy, Scott Harmon decided that "going to sea wasn't as fun as reading and writing about it" and got out to continue his education. He and his wife Katherine, who were married at the Academy chapel a few days after graduation, moved with their two sons back to Logan, Utah, where Scott earned a Masters in history at Utah State. That led him on to a doctorate at The College of William and Mary, during which time the family's third son was born. Asked what led him to Harpers Ferry Center, Harmon says that shortly before "finishing up my degree at William and Mary, I needed a job...I sent out dozens of requests for jobs and applications for teaching positions, and without the degree in hand and dozens of qualified applicants with degrees in hand for every teaching job—this was [the time of] Vietnam—my wife said, 'Well, why don't you fill out a Civil Service application?' Now, my hair was down to there, bell bottoms and all that stuff—rebelling against nine years in the Navy—so I said, 'Work for the government, are you kidding?' But then I filled out a Civil Service application and got a job interview at Harpers Ferry and they offered me the position of historian in the publications division as a writer and editor and I took it and it was a neat place, very creative spirit, and a brand new facility at that time, lot of energy, enthusiasm, creativity; it was really a great place."
A model ship builders symposium at the museum turned the tide one more time for Harmon when he learned there that the museum's director was leaving. When Katherine agreed to one more move, he applied for the position. With their three sons still living in Frederick, the Harmons moved to Crownsville and the Navy Museum at the Naval Academy. Harmon is now in the midst of a plan for renovation, and will be closing the museum next year for about eighteen months. When the museum reopens, it will have been completely gutted—floors, walls and ceiling—and rebuilt as a proper modern museum with all new lighting, temperature and humidity controls, modern displays and all new exhibitions. It will be an "interpretive museum, an educational museum," says the director, "I'm trying to make this a teaching museum, make it useful for midshipmen and visitors—you know, why their tax dollars spent supporting this museum are well-spent."
Harmon's service at the Academy teaching history classes, as Director of the Navy Museum, with the National Park Service and in the Navy itself: he's entered them all with a sense of adventure and a real understanding of the concept of service. "I don't think there's any higher calling than being able to serve the public," he says. "You know, there are a lot of people who are working for not a lot of pay, doing the best they can, and I feel that most public servants, civil servants, are as hard working, and I think more honorable than most of the private enterprise people." Harmon sums up his devotion to public service in his last words to a departing visitor: "Is there anything else I can do to help you?"