The Annapolis Bookstore:
Annapolisí Haven for Bibliophiles
Bibliophiles are junkies by any other name. Bibliophiles need books the way a drinker needs his drink. They may be able to manage a day or two, maybe even a week or a month, before the craving sets in again. It begins with a small tingling in the brain, a mild perturbation that grows into a consuming mental disturbance as the suffering individual wonders where the object of his desire can be found to calm the tremors of his cravings. Thomas Jefferson, a known junkie, said, "I cannot live without books." A century later German writer Franz Kafka confessed, "Books are a narcotic."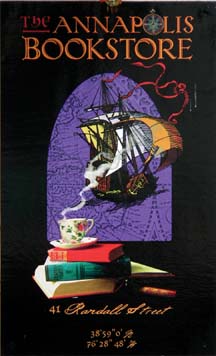 In a similar spirit, two such bibliophiles maintain their addictive habit unsuspectingly behind the doors of the fledgling Annapolis Bookstore. The Bookstore began as the dream of Annapolis resident Mary Adams, a direct descendant of America's second president, John Adams. The modern-day Adams, who like her ancestor, keeps an extensive personal library, was once upon a time pursuing a career in public policy and attended Harvard's Kennedy School of Government. Only later, after a stint in Vermont building solar greenhouses with her USNA graduate-turned-engineer husband, did she realize that much like Thomas Jefferson, she just couldn't live without books. A visit to her house would confirm this all-consuming passion. Books can be found there in such quantity they would be better placed in an outbuilding, which is precisely what President Adams did with his stash near his home in Quincy, Massachusetts. In Adams' Annapolis home books have been stacked so tall they would appear to lend structural support to the house.
The Annapolis Bookstore got a wintry start two Decembers ago when Adams opened up the business on Randall Street, just one block from the United States Naval Academy. She revamped the interior with fellow bibliophile Janice Holmes, a resident of Severna Park who also let her cravings get the better of her. Today the bookstore has a character loyal customers compare to the Shakespeare and Company Bookstore on Paris' Left Bank, whose owner, 91-year-old Massachusetts-born George Whitfield, insists that his customers read a book a day and believes that he himself lives in a novel.
Do Adams and Holmes expect their customers to read a book a day? Do they also believe they are living fiction?
"No, we're easier on our customers than that," Holmes vouched.
"Yes, I think I do live in a novel," added Adams. "A parallel universe, anyway. This couldn't be real life, it's got to be fiction, even science fiction."
What Holmes and Adams were really after in opening their store was building a sense of community in a town still much in need of one. Holmes has worked towards similar ends in Severna Park where she has participated in community theater events by scripting community-themed plays. Like other independent bookstore owners, Holmes and Adams hope to provide leaven in the community through community-oriented programming and satisfying inquiring minds by offering books no longer available through book store giants like Barnes and Noble and Borders. They sell books on the internet as well.
To date the Bookstore, which sells "used, rare and remarkable books," has offered an array of programs to satisfy the cravings of many a book junkie. Events are held at downtown restaurants, including the 18th-century Middleton Tavern at City Dock and Maryland Avenue's Galway Bay. The bookstore's first program focused on C.S. Lewis' seven-volume Narnia tales about four wartime English children sent off to the countryside who discover a magic world behind the door of a large wardrobe. A Valentine's Day-themed program in February celebrated "Letters of History's Great Love Affairs" with heart-throbbing correspondence between Beethoven and his still mysterious "immortal beloved," Napoleon and Josephine, Jefferson and French amour Maria Cosway, F. Scott Fitzgerald and wife Zelda, and American slave Abream Scrivens and wife Dinah Jones. For national Irish-American Month the bookstore featured author Peter Quinn, whose book Banished Children of Eve, about Irish Catholic immigrants at the time of the Civil War, won the American Book Award.
Annapolitans interested in poetry readings may join the monthly Hearing Voices program. Award-winning poets Elisavietta Ritchie and Temple Cone have joined bookstore members to read from their poetry collections. Last spring Holmes and Adams sponsored a citywide poetry competition judged by Cone, who is a professor of literature at the Naval Academy.
The bookstore's citywide Great Annapolis Treasure Hunt, also held last spring, raised funds for the local charity Box of Rain, launched in 2003 following the murder by area teenagers of Annapolis resident and avid sailor Lee Griffin. In Griffin's memory, Box of Rain was established to provide youth an alternative to violent street life, teaching them sailing and leadership skills. During the bookstore's fundraising event, two-person teams snooped around the town's historic center deciphering cryptic rhyming clues about Annapolis landmarks in exchange for a donation. The winners received a three-day luxury catamaran cruise.
"We did this as a community event to let people know about a great organization which is doing so much to help local kids," Holmes said.
When they aren't assisting children at risk or chasing down rare editions of Treasure Island, Holmes and Adams can be found in company with the books they have personally squirreled away behind the store counter. Clearly animated by their work with ceiling-high stacks of books, they are living proof of the sentiments voiced two thousand years ago by Roman orator Cicero when he uttered, "A room without books is like a body without a soul." When they are not fielding customers' questions about books on Annapolis history, Mexican ruins, the Naval Academy and Japanese art, they will do what all book-dependent people will do. They will crack open the latest hidden book and get some relief. Adams confesses that she does not always want to part with some of the books that have entered her store. But when a customer gives sufficient proof of her own cravings, she sighs, "I let the books go."