Chesapeake Bay Environmental Center
In the fall of 2004, Governor Robert L. Ehrlich, Jr., announced the establishment of the Bay Restoration Demonstration Site at the Chesapeake Bay Environmental Center (CBEC), a unique public-private partnership designed to showcase the cutting edge components of the Governor's comprehensive plan to restore the Chesapeake Bay.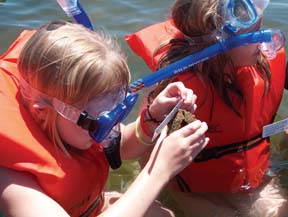 Located on a 500-acre preserve on the Eastern Shore of Maryland, approximately 15 minutes from the Chesapeake Bay Bridge, CBEC is a private, non-profit organization, part of the Wildfowl Trust of North America, Inc., (WTNA) and dedicated to Bay restoration through education, research, conservation and stewardship. Every facet of the CBEC mission promotes stewardship of the Chesapeake Bay.
Their education program is designed to increase public understanding and appreciation of the functions, processes and interrelationships of the flora and fauna of the Chesapeake Bay watershed. Conservation efforts focus on developing and sustaining a collection of captive wildfowl -- with emphasis on species native to the Chesapeake Bay -- and working to preserve their wetlands habitat. In collaboration with other research partners, CBEC conducts basic and applied research on wildfowl and their habitat ecosystems. This research contributes to scientific knowledge that promotes the development of conservation policies and environmental education programs.
One collaborative effort, between CBEC and the Environmental Center of Anne Arundel Community College, involves their working to refine strategies for restoring underwater grasses.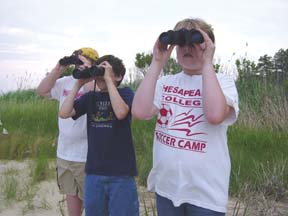 Judy Wink, Executive Director of CBEC, describes another, "One project resulting from our partnership with the Department of Natural Resources (DNR) was the installation of a continuous water monitoring device in Cabin Creek. . . [to monitor] salinity, dissolved oxygen, saturated oxygen, chlorophyll production, turbidity and pH and temperature. The measurements occur at 15-minute intervals and are recorded on an on-line site: www.eyesonthebay. The monitoring device is checked every two weeks to insure accurate calibration and general maintenance."
Much of the varied CBEC environment is tidal brackish marsh. Other habitats include beach, mudflat, fresh water impoundment, ponds, loblolly pine forest, meadow, thicket, and mature hardwood forest. This is a rich, natural environment inviting visitors to explore more than four miles of wetland and woodland trails, with collections of live waterfowl and non-releasable raptors, an aviary and a visitors center. Rental canoes are available for exploring the surrounding waters and wetlands. With a variety of habitats, CBEC is an excellent place to see the Chesapeake's wintering population of waterfowl, including Canvasback, American Black Duck, Shoveler, Ruddy Duck, Redhead, Canada Goose and Tundra Swan. Shorebirds make a strong showing in May and late summer, when hundreds can be seen. Over 200 species of birds have been recorded, and a list of these birds is available in the CBEC visitors center.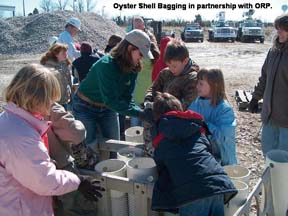 Beginning at the Visitor's Center and Pond, there is a gallery that provides panoramic viewing of many species of waterfowl common to the Chesapeake Bay. The wildlife gift shop is also located here. The Education Building houses special programs, exhibits, and has an indoor classroom. The Raptor Mews is an enclosed area that highlights non-releasable birds of prey. The Waterfowl Aviary features free-flying, diving ducks and marsh common to the Chesapeake region. There is a boardwalk that extends over the marsh to an observation tower that affords a panoramic view of the Kent Narrows ecosystems, and a system of trails for accessing diverse habitats and viewing blinds. Finally, there is a Waterfowl and Bird Care Facility where orphaned or injured birds receive treatment prior to joining the CBEC collection or being reintroduced to the wild. In terms of its size and opportunities for hands-on and feet-wet exploration, all of which vary with the changing seasons, those who visit the Center will want to return often. They will be attracted by the environment and by the programs designed to attract students from the age of two years through college students. Each student is charged a nominal fee.
Education
A variety of field learning experiences for schools and community groups feature wildlife, wetlands, and biodiversity for a meaningful Chesapeake Bay experience. Students of all ages are encouraged to become better stewards of the Bay through a hands-on, feet-wet approach to learning. Teachers and trained volunteers engage students in activities that are fast-paced and age-appropriate. These activities are correlated with the Maryland Voluntary State Curriculum, with at least one activity directly related to Bay restoration.
August and September programs for K-5 students include:
August
August 5 from 10 AM to 11:30 AM, ages 7 to 10. Marsh Muckers "It's Fishy." Learn about the types of fish in the Bay and some techniques for catching "the Big One," Members $7, non-members $10.
August 7/8, from 10:000 AM to11:00 AM (two sessions), ages 2 to 4. Creepy Crawlers "Chesapeake Bay Rainbow Fish". Find out if Rainbow Fish live in the Chesapeake Bay. Members $3.00, non-members $5. Must register 24 hours in advance.
September
September 2 from 10:00 AM to 11:03 AM, ages 7 to 10. Marsh Muckers "Weeds and Seeds". Flowers are done blooming and seeds are forming; discover how seeds move and how important they are to plants and animals. Members $7, non-members $10.
September 11/12, from 10:00 AM to 11:00 AM (2 sessions), ages 2 to 4. Why does a hermit crab borrow a shell for its home? Members $3, non-members $5. Must register 24 hours in advance.
CBEC also designs programs to meet the needs of middle school, high school or college students, specializing in tailoring "in-the-field" exploration and experimentation that compliment classroom work. Teachers interested in scheduling programs for upper grade and college students are invited to call 410-827-6694 or email sharlow@cbec-wtna.org.
These programs are making a difference in terms of stewardship of the Bay. Lori I. Rossbach, editor of the WTNA newsletter, On the Wing describes the success of their reef ball project, "Ray and Kenny's Reef City, an underwater metropolis of man-made reef ball structures, emerging grass beds and newly planted oysters – engineered to provide habitat for juvenile aquatic species has to come to life, right here at CBEC, thanks to rousing efforts by students and volunteers! . . . With the reef ball project, we have deployed habitat structures that we believe will benefit Bay species." An important ingredient of successful education programs and the maintenance of the Center is their energetic and dedicated corps of volunteers.
Volunteer Program
CBEC welcomes volunteers and provides them with practical opportunities to learn about and discover wetlands and waterfowl, while using their talents and skills to further the mission of the Wildfowl Trust of North America. Benefits of volunteering at CBEC include the WTNA volunteer newsletter, invitations to special events, cookouts and group field trips. Volunteers may choose from a variety of activities that include conducting education programs and group tours, performing husbandry of the waterfowl and raptor collections, conducting biological monitoring and surveys, and maintaining trails, facilities, and exhibit spaces. Volunteers may also help with fundraising and special events.
As a private, non-profit arm of the WTNA, the CBEC receives no direct federal or state operating funds. They sustain their mission by seeking grants, raising funds through memberships, annual giving and special-event fundraisers. Their largest of their fundraisers is the annual Wet'N Wild Auction held every November.
Wink is positive about CBEC's progress, commenting, "We covered a lot of ground and water in 2005. The shoreline restoration, reef ball and SAV projects show the most dramatic results."
The CBEC message to visitors, volunteers, and students is, "Learn more this year while having fun!" You can become part of their success by becoming a visitor, a member, and/or a volunteer in a wide variety of ways.
Directions
From points west: Follow Maryland Route 50 east to exit 43 B (Chester River Beach Road); turn right on Chester River Beach Road, then left on Route 18.
From points east: Take Route 50 west to exit 44A (VFW Ave.); bear right to get off the exit, then turn left onto VFW Ave. which comes to a dead end at Chester River Beach Road. Turn left on Chester River Beach Road, then left onto Route 18.
Once on Route 18: Make the first right onto Perry Corner Road. The entranc3e to CBEC is located about 1/2 mile on the right, and is clearly marked with a brown and white sign. Turn right at the sign onto a dirt road, called Discovery Lane, until it ends at the Visitor center parking lot.
As CBEC garners the respect of surrounding communities who acknowledge that as an organization, it is serious about doing something to help improve the status of the Bay, Wink directs us all to, "Keep an 'eye on the Bay' in your location, Check the readings and learn what they mean. Set a goal for 2006, and make a positive impact in Bay restoration."