A Symphony of Tastes in a Residential Setting
The Wild Orchid Café
909 Bay Ridge Avenue
Annapolis, Maryland
210-468-8009
www.WildOrchidCafe.net
Moderately Expensive
Appetizers, soups and salads: $3.95 to $7.95
Appetizers, soups and salads: $4 to $15
Lunch entrees: $10 to $15
Dinner entrees: $25 to $34
Hours: Mon. thru Thurs. Lunch 11 to 3, Dinner 5 to 9
Fri. and Sat. Lunch 11 to 3, Dinner 5 to 10
Sun. Brunch 9 to 3, Dinner 4 to 9
Where can you find a charming restaurant offering creative cuisine in a pleasant residential community, nearby urban accessibility, total serenity and parking? It's as rare as the orchid and awaits the discriminating diner in Eastport just a few blocks from the Spa Creek Bridge on Bay Ridge Avenue in Eastport. The name is The Wild Orchid Cafe.
The original building of 1912 has acquired lovely columns that are appropriate for this twentieth-century worker's home. Flowers and herbs abound in the gardens and flank the simple architectural base that accounts for the minimalist feeling and serenity of the Wild Orchid Café. The restaurant was purchased in 1996 by Jim Wilder, who brought his then ten-year-old catering business, Company's Coming, to a part of this complex.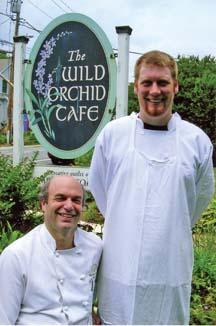 We called for a reservation on a Tuesday evening and were fortunate to have Chef Trey Raeder on duty. Owner and Executive Chef Jim Wilder trained Trey in his traditional American cuisine with exquisite blendings and pairings, not only with local foods but also with edibles from France and the Pacific Rim. Not one item on the intriguing menu appeared to be banal.
The seamless service began with a complimentary red pepper mouse served in a miniature fluted pastry dusted with parmesan cheese, all done with a light hand.
Then we turned to a cream soup of local butternut squash gently laced with back fin lump crabmeat. "Silky" is the menu's description of this dish, a modest appraisal for the heavenly quality of the soup. Just as one thinks there's nothing but the freshest of squash in this satiny concoction, the generous back fin lump latches onto the taste buds. The flavor lingered. It turns out this selection has been one of several favorites among the customers over the last ten years.
Without any prompting from staff or friends, my ally in food selected the Scallop Napoleon that proved to be one of the other all-time favorites. Pan seared scallops were layered with pecan lemon, delicious sweet potato pancakes, sautéed leeks, mushrooms and Persian lime sauce—all built into a masterful tower. It was an artistic triumph, marching with all the other creative presentations.
My selection was the Rack of seared New Zealand Lamb (served exactly to my "rare" specifications), crusted with pecans and served with roasted garlic mashed potatoes, delicately grilled asparagus and a surprise bed of herbed spinach. Surprises are the delight of the chef and happen on a regular basis. All flavors were seductive. Long of limb and thick of chop, this was another architectural presentation.
Our guest chose the grilled Free-range Chicken Breast with sugar cane shrimp, gingered yams and stir fried rapini (a broccoli raab with an edgy taste). Since rapini has a strong flavor, it could stand up to the robust gingered yams. She described it as a "symphony of tastes."
Along with our meal came two varieties of house-made bread, one a smooth cheddar cheese and the other a pepped-up basil. Both varieties were semi-crusty on the outside and soft on the inside. We were delighted with the accompanying spread of hot spinach, mushroom and leek.
The service was efficient and the server most solicitous about our enjoyment. And we found this to be true several days later when we returned for lunch in the lovely back garden. Music—easy listening and light jazz—is piped into the rooms of the house including a comfortable-sized main dining room that seats approximately 25 persons and a small room with three tables and an engaging fireplace as well as the garden that seats another 20.
Our lunch started with the Wild Orchid Salad of field greens tossed with gorgonzola cheese, fresh sliced strawberries and toasted almonds, brought to a dizzying height with house-made raspberry vinaigrette. It's called a "signature" house salad and deservedly so. The remainder of our event was for Chesapeake Bay crab lovers; we chose the soft shell crabs that were dusted with cumin, saffron and paprika. The spices released by sautéing the softies brought new dimensions to our palates. We also sampled the Maryland Backfin Crabcake—it was the smoothest of any we've tried, long on freshness—large white crab lumps and devoid of filler—definitely a top tier item. We celebrated dessert with a spectacular Key Lime Pie dressed in a bath of raspberry coulis.
The wine list is impressive—serving 100 wines from the world over. Spectator Magazine has given the wine selections accolades for the past decade. The Wild Orchid Café is repeatedly Zagat rated.
In the back of the house upstairs, a private party room graciously accommodates 20 persons for a special event, guaranteed to serve exquisite food.