Anne Arundel County Fair: Educational and Fun
By Margot Mohsberg
John Kozenski Jr. has one main wish as president of the Anne Arundel County Fair—that more young people would take advantage of the great experience the fair offers them.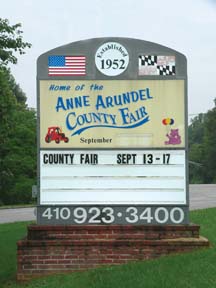 "A lot of kids don't participate in it because they don't think they can," he says. "But that's not true. We've seen it happen and, I tell you, if more kids would get into it, there would be a whole better life for them. These kids get to show their best and see how it stacks up against others. It gives the participants a sense of pride."
Exhibitors at the fair, which runs from Sept. 13 to Sept. 17 this year, enter their best of everything from livestock to canning to photography. He remembers one young exhibitor last year whose paintings won at least four best in show awards.
"He had this one piece featuring a bushel of crabs and I swear you could not tell it was a painting," John remembers. "To see these kids' faces when they win a ribbon—they just glow."
For the people who simply walk in the gates for a good time, there is quite an education available to them if they want it.
"The visitors get to see what people can do and it gives them ideas for what they can do," he says. "The exhibitors will give demonstrations on their crafts. It's amazing how much better a can of beans can be when you can them yourself. And you wouldn't believe how many different ways you can pickle things."
The first Anne Arundel County Fair was held in 1953 at the old Labrot Race Track near Sandy Point. There were beef and dairy cattle, chicken and pigeons all sorts, pigs, sheep, farm produce, home goods such as food and clothes, a horse pulling contest, rides, games, educational exhibits and a queen contest.
Over 20,000 people came to the first fair, which at the time was thought to be almost everyone in the county.
The following year, the fair moved to the new Sandy Point State Park where it remained for 25 years until the Department of Natural Resources and the county purchased land in Crownsville to give the fair a semi-permanent home.
"We have a 99-year lease on the property," John says. "If they were to give us anything longer than that, it would be considered ownership."
The fair these days is a lot different from the fair that was held half a century ago. There is less of a focus on livestock, more of a focus on the arts and crafts, and more than double the attendance.
"With the urbanization of Anne Arundel County, we have more home arts exhibitors now and less animals and farm produce," he says. "But we are still one of the last holdouts in the county of the 'My tomato is bigger than yours.'"
In fact, there is one exhibitor who believes his pumpkin last year held the record for the largest grown in the state.
"He has his pumpkin seeds flown in," John says. "He knows just how much water and daylight he needs to get his pumpkin just where it needs to be."
There are also contests for the best baked goods, canned goods, china and ceramic, Christmas decorations, farm and garden produce, fine arts, flowers and arrangements, handicrafts, herbs, home furnishings, homemade wine, honey, needle arts, photography, sewing, woodcrafts, livestock (such as cattle, sheep, and swine), poultry and rabbits.
There are many contests held merely for the fun of it, including a children's tug of war, an antique tractor pull, a garden tractor pull, a cute kid contest, a talent show, a scarecrow making workshop and contest, a watermelon eating contest, a hog calling contest, even a "Call Your Man or Lady" contest.
But even the county fair has become more politically correct these days. Instead of electing a fair queen, these days a fair "ambassador" is chosen. This ambassador can be either female or male and walks away with a scholarship for higher education.
"We realized the queen was a bit much because we crowned a queen but she wasn't involved in the fair that much," John says. "We wanted someone who was more involved in the day to day events of the fair who would mingle with the crowd and serve as an ambassador."
Lots of people today still come to the fair simply for the food and, of course, the games and carnival rides.
"Back when the fair was first held, there wasn't much else to do," John says. "The fair gave people a place to congregate. People wanted to show their best hog or their best quilt and get a prize."
Obviously, the county has changed considerably since then. Nevertheless, John says, the fair is still a place to get an excellent and rare education about the county's past, present and future. The fair serves as a showcase for the agriculture and home arts that are slowly eroding from a county that was once teeming with farms.
"There is just so much to do and see and learn at the fair," John says. "You can also just come and have a great time," he says.
For information on how to become an exhibitor or vendor at the Anne Arundel County Fair, call 410-923-3400 or go to www.aacountyfair.org.