Ray Weaver: The Spokesman for Annapolis
Ray Weaver, the new public information officer for the City of Annapolis, has been a lot of things in life—a radio broadcaster, a singer-songwriter, a short story author and now public spokesman for the city. While it might be hard for some to define him, Ray can sum himself up in one word—well, two.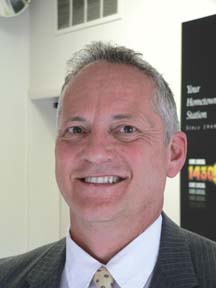 "I'm a writer," he says. "Actually, first and foremost, I'm a father. Then I'm a writer."
Everything Ray does stems from his love of language.
"I am guy who likes words," he says. "I still get really excited when I see a great phrase. I will shout out, 'Man, that's a great phrase. I wish I had written that!'"
In his years as a radio news reporter and a singer-songwriter, Ray traveled to a great many places, living in Virginia and Nashville for several years and then spending 10 years abroad living in Denmark and traveling all over Scandinavia. This year, his life has come full circle with the purchase of his childhood home in Pasadena from his mother.
"It's very exciting to be buying the home you grew up in but also an odd feeling to be back where you started," he says. "Growing up, I always wanted to get as far away from this place as possible. But I've come to realize there is something really special about this area. People have deep roots here. In my travels, I ran into a lot of people from this area and they always said, 'I live here but I'm really from Annapolis or Millersville or Pasadena.'"
Ray describes his family as "old fashioned," but in a good way.
"My mother was a homemaker and my father worked for General Motors in the electro-motive division working on diesel train engines," he says. "He was a regular blue collar worker who managed to support a family of four children. He was very intelligent, yet not well educated, but he taught me a lot of life lessons. He was the most honorable man I knew. He never said, 'I love you,' but I never doubted for a second that I was loved."
Ray's affinity for words started before he could even read them, longingly watching his grandfather read the newspaper and dying to know what it said.
"I remember I was just desperate to learn how to read," he says. "I like knowing stuff, which is why I think the job of public information officer for the city is so perfect for me. I don't mind reading several newspapers a day because I'm going to do it anyway."
One of his favorite ways to gather information as a child was to listen to the radio.
"Not only was I fascinated with radio, I was fascinated with the people on the radio," he says. "I got to know all the disc jockeys."
After high school, he attended the Broadcasting Institute of Maryland and earned a certificate in radio and television broadcasting and news writing.
"It cost a total $1,000 to earn a degree, which was a ton of money for my family in those days," Ray remembers. "But the great thing was they promised you placement at a station if you graduated."
Upon graduation in 1974, he was placed at a radio station in Gloucester, VA, near Williamsburg.
"It was a very remote place," he says. "I did everthing from news to sports to music and it was one of the greatest experiences in my life."
Two years later, Ray returned home to follow the other great passion in his life—music. He helped form The Last Chance Band, a popular band in the region when country rock like The Eagles was the thing. He eventually moved to Nashville where he spent several years trying to make it as a country rock singer-songwriter.
"I loved the whole vibe of the area," he says. "I loved walking down the street and not being ashamed of trying to make a living as a singer-songwriter, because everyone else was trying to do the same thing."
After watching Ray perform, a group of Danish men asked him to come to Denmark to perform at a hotel they were building.
"I needed a change of pace at the time, so I thought, 'What the heck?'" he remembers. Ray was a hit in Denmark, where they loved anything American. He also won the heart of a Dane named Lotte, who ultimately became his wife and the mother of his two youngest children, Savannah and Justin. He also has a daughter, Sandy, from a previous marriage.
"I initially noticed Lotte because she is absolutely breathtaking beautiful and doesn't know it," he says. "But I wasn't looking for romance and neither was she, so we just became running partners. It was very innocent. But then I fell in love with her. She's so smart and funny and has a great heart with no shred of ego."
Ray eventually decided to stay in Denmark, making a good living in the music industry. But even success wasn't worth the toll it took on his family.
"I was gone 200 nights a year to the point where my daughter almost didn't recognize me," he says.
The final straw came on Sept. 11, 2001.
"After 9-11, I felt extremely disconnected from my own country," he says. "All of the sudden, I just wanted to be home."
Ray found employment in the states writing songs that will likely be recorded by some well known country music stars in the near future. However, projects like that take a long time to come to fruition. In the meantime, he put back on his other hat, taking a job as a news reporter for WNAV where he formed a relationship with Annapolis Mayor Ellen O. Moyer.
"One day, Jan Hardesty called me and told me she was leaving her job with the city and that both she and the mayor thought I should apply," he says. "I liked the job because it is like the music industry in that no day will ever be the same. One day you will be writing press releases, the next day you could be working on longterm projects or attending an event.
"Plus, I love the City of Annapolis. I am really enjoying going to all of the meetings and getting to know the people from the various neighborhoods. I want them to start to recognize my face, know that I am accessible and see me as a link to the city. I'm really excited, you know."
Truth be told, Ray is fairly excited about life in general.
"In Denmark, when a couple gets married, people stand up and make speeches about them," Rays says. "My father-in-law stood up and said, 'Ray is a good man with a great deal of boy in him.' It's true. I'm still very enthusiastic about life. I have a few personal regrets but nothing I would want to do over again."