The Annapolis Yacht Club Celebrates 120 Years
When those of us who are bona fide landlubbers drive by signs announcing the presence of a "yacht club" along the banks of the area's inlets and harbors, we immediately picture an insular, clubby domain populated by the likes of Jay Gatsby and Thurston Howell III. But the 21st-century world of yachting is hardly a preserve of idle millionaires. As Jack Lynch, a member of the Annapolis Yacht Club for nearly 30 years, succinctly puts it: "For most of us, if we're not working, we're sailing. It's an activity you're involved in from the time you're in grade school until you die."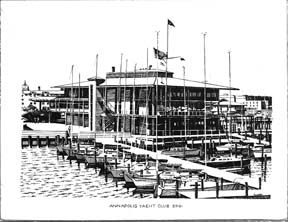 The Annapolis Yacht Club (AYC) has long been a fixture at the foot of Duke of Gloucester Street, on the Annapolis-side of Spa Creek. In fact, this year marks AYC's 120th anniversary. The club was originally established as an informal rowing club and was housed in a simple frame building built on a pile of oyster shells. Dubbed the "Severn Boat Club," the organization slowly expanded, building a new clubhouse and wharfs and staging regattas and swimming races.
During the 1930s, the Depression and a damaging hurricane threatened the club's survival. Reorganized as the Annapolis Yacht Club in 1937, the club staged competitive local races, floated a junior fleet and inaugurated a biennial Annapolis-Newport race in 1947. (The start of this 475-mile-long regatta was originally in Newport, but after years of complaints from competitors who balked at facing the often slow trip up the Chesapeake following the long ocean leg of the race, organizers reversed the course in 1957.) Between 50 and 100 ocean racing yachts typically battle each other in the Annapolis-Newport race, which can last from two to four days.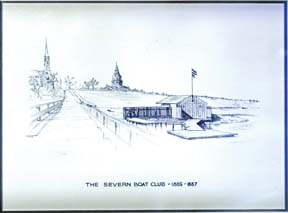 In the decades that followed, mid-week and cold weather "frostbite" races were launched, with hundreds of boats taking part. Today the AYC is thriving, with a full roster of 1400 members who own 1,000 boats among them. The club-sponsored Wednesday night races, which set off from the harbor near the Naval Academy sea wall, are increasingly popular, with as many as 130 sailboats participating. The clubhouse seen at the foot of the Eastport Bridge, originally erected in 1962, was extensively remodeled five years ago.
The club also owns four acres flanking the other side of the bridge (two on each side of Sixth Street), where the AYC Sailing Center is located. There the AYC's junior fleet of dozens of one-design vessels are stored on trailers. (The hulls of one-design boats are built in compliance with specific blueprints, so that all J/22s or Finns or Optimist prams or any other class of these small, one-two person sail boats are configured in exactly the same way. This ensures that one-design sail boats race against each other on a level playing field, so to speak.) The club purchased a crane in 1991 to launch the boats in its junior fleet, and also supports a harbor of 100 slips for its members' use.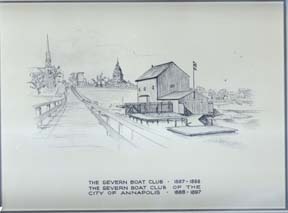 So just who joins a yacht club? According to Lynch, "Half of our members are sailors; half are power boaters. It's not like joining a social club—you join a yacht club to contribute to yachting—the cruising or racing of pleasure boats." He notes that in years past, "We used to have lots of power boat activities—races, fishing tournaments and timed trials—but now we have a very active cruising group that operates under both power and sail." AYC members cruise the southern reaches of the Chesapeake Bay, sometimes rendezvousing at the Tides Inn in Irvington.
And their boats come in all sizes. "Most members' boats range between 25 and 50 feet; only a couple dozen are larger than 60 feet." Lynch says, adding, "You don't even have to own a boat—as long as you can provide some demonstrable interest in yachting." More than 200 AYC members join committees that help support the junior fleet, stage national and international boating events, hold races for members, and promote and contribute to community-wide charitable and educational activities.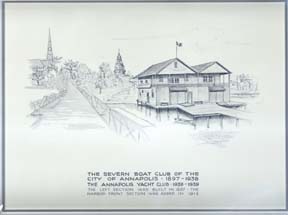 One such group whose races are sponsored by the Annapolis Yacht Club is the Chesapeake Region Accessible Boating (CRAB). CRAB, a non-profit that introduces physically and developmentally disabled individuals to the joys of boating on the Chesapeake Bay, conducts intramural races, cruises and other sailing-related activities. CRAB owns seven sailboats that are exceptionally stable, fitted with chairs (counterbalanced below decks) that pivot from one side of the boat to the other, enabling sailors to tack and jibe while seated. Other beneficiaries of the AYC are the Annapolis Maritime Museum, the Annapolis Arts Festival, the U.S. Coast Guard Foundation, the Annapolis Police Department Fishing Camp, and individual amateur sailing athletes. Each year the club also underwrites 16 scholarships that enable local underprivileged youths between the ages of 8 and 14 to participate in the AYC's junior sailing program.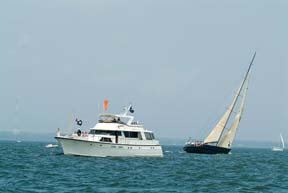 The junior fleet gets an annual financial boost from the club-sponsored Build-A-Boat Challenge, a kind of soap-box derby on the water. Last month 18 teams sponsored by local businesses and county and city organizations did their best to build the fleetest vessels ever, using just four sheets of plywood, some 1x2s, 2x2s and a 2x4, a caulk gun and unlimited marine adhesive. Prospective sailors receive an additional length of pipe and some blue tarp. Any kind of row boat or sail boat is certified as kosher, just as long as it is built from only the allotted materials. Construction takes place over a six-hour period at the AYC Annex, with the actual race scheduled for the following day. This year monsoonal rains postponed the 11th annual Build-A-Boat race until the following week, when it was witnessed by crowds of laughing spectators lining the Eastport Bridge.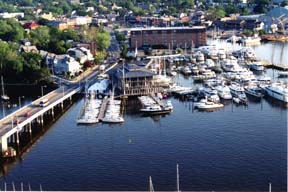 From international regattas to local tourneys, sailing both elegant yachts and jerry-rigged row boats, members of the Annapolis Yacht Club continue to shape life on Spa Creek, the Severn and South Rivers, and the Bay. With a three-to-four year wait-list to join the club, it looks as if the AYC may well continue to promote recreational boating in Annapolis for the next 120 years.