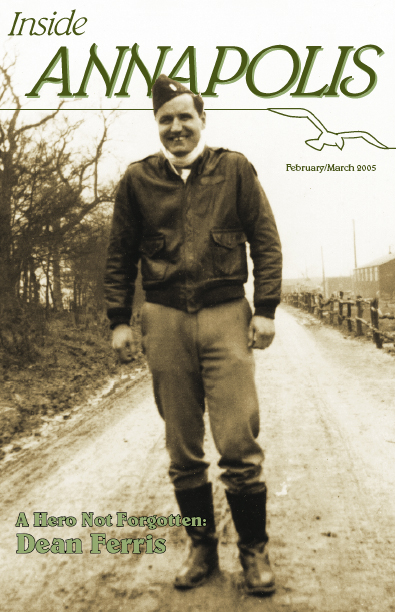 February/March 2005
Table of Contents

Cover Story: Born to Serve: Dean Ferris
He wanted to be a social worker, and ended up flying B-17s over Germany in WWII. "Lucky Bastard" indeed. M.A. Cashman looks at a man who continues to serve his country, long after the war.

Annapolis Insiders: Brian Fader of Mercedes-Benz of Annapolis, Lew Mason of Ledo Pizza, and Si Boettner of Chesapeake Trading Co.

Annapolis History: Alumni House...Then and Now

Bay Business:


Bowie Baysox: Local Ball Club


Walter Giera: Ice Cream Connoiseur


Legal Briefs: Trademark Law


Terry Antoniuk: Personal Chef


Consider This...


Jimmy's Favorite Sites

Features:
Something Special in a Bottle:
Mills Fine Wine & Spirits

"For the Love of It!":
The Cooperative Spirit of Colonial Players

St John's College:
Red Brick Buildings & Green Technology

BAY LIFE


Annapolis Editions


USNA: Pat Owens and Navy Golf


Environment: Chesapeake Spring


Home: Clean Sweep


Events: Opera/Madama Butterfly


Organizations: Lions Clubs


Education: The Summit School


Education: Indian Creek School


Art: Tour de Clay


Dining Out: Killarney House