Neighbor to Neighbor:
Si Boettner's Chesapeake Trading Company
By M.A. Cashman
John ("Si") Boettner was born in Frostburg, MD. When he was eight years old, his father was transferred to WV by Allegheny Power and young John spent most of his growing up years in Martinsburg. He graduated from West Virginia University with a degree in law and the moniker "Si" that he prefers to this day.

Si and Lynda met on a plane. At the time he was practicing law, and she was an investment broker with Merrill Lynch in Phoenix. Soon they married.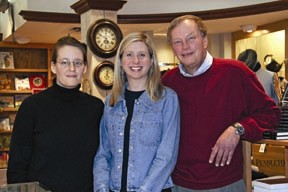 By the early 90s, Si and Lynda were anxious to change careers, so they came to the Eastern Shore and checked out locations for retail space. They looked at Annapolis, Chestertown, and St. Michael's: the markets, the customers, and any gaps in retail stores. They decided upon St. Michael's.

In 1992 Si and Lynda settled in St. Michael's. Soon they opened a book store. Realizing the need for diversity in a resort area, they expanded their merchandise. To the books they added music, then jewelry, and then apparel. Then they expanded again by opening a store in Annapolis, another resort area and boating town that attracts large numbers of tourists.

In 1996 they opened a store at 149 Main Street, in the space that was formerly Britches for Women. Initially they staffed the Main Street store with the kind of people known for responsibility and hard work: school teachers.

Today there is a team of managers, Pam and Shannon, who oversee operations and six sales staff in the Annapolis store. Both appreciate the downtown Annapolis location of the store. Pam is the customer relations manager. Describing her work, she says, "Love the customers, what we sell­ - I believe in what we do. We represent a small company and take pride of ownership. It's as if the store were mine." This theme is echoed by Shannon, who says, "I like the way we work as a team, Pam and I; and I like the regular customers, and I like the merchandise."

Friendly customer relations are also reflected by Shannon, who says, "I love the new faces and their reaction to the store, like 'I've never been in here before,' and to this, we say, 'We hope you will come back.'" And by Pam, " We do not have a robotic way of dealing with customers. This is more like being in your best friend's closet - be comfortable, no hounding. Here to help you, but no pressure."

Pam is going into her 6th year as the customer relations manager; Shannon has been manager of merchandising and staffing for five years. Si, proud of his staff in Annapolis, considers Pam and Shannon the center of a solid core group running the store.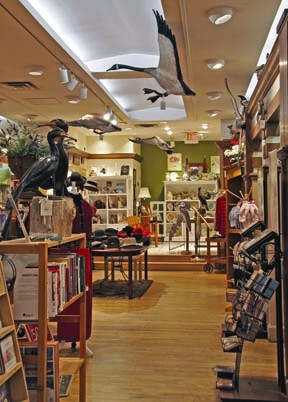 Business success can be measured by the longevity of employees, and employee longevity can be measured by the amount of autonomy and shared decision-making. The longevity of the Chesapeake Trading Company management team reflects the basic retail philosophy shared by Si and Lynda and their staff: to share their personal taste by offering things to the public as if they were neighbors. Si describes their personal taste as "eclectic." Their merchandise is truly varied in a way that offers something for everybody.

That "something" for everybody includes the quilted, flowered and geometric designs in bags by Vera Bradley, the staple designer of the store. Shannon describes some of the other clothing lines, "We have best access to vendors like Willow, Eileen Fisher, FLAX, and ISDA - a company out of San Francisco that carries contemporary sports clothes."

People walking down Main Street are drawn to the seasonal window displays at 149 before entering the store. Once inside, there are visual and auditory treats that promote lingering. Directly in front there is a large, circular desk, a command center of sorts. The lower level shelves glisten with jewelry. On both sides, stretching all the way to the back, colorfully arranged displays of bags, books, and clothing attract the eye.

Si takes pride in their eclectic approach to retail. In music, they carry and play CDs offering customers a soothing musical background -- jazz, lots of vocals. Diana Krall and Rod Stewart are among their favorites. In books, they carry a wide array from fiction to non-fiction, from history to health and healing, from collections of recipes to coffee table books on the Chesapeake Bay. Many are whimsical, such as "How to Be a Gentleman" by John Bridges and "How to Be a Lady" by Candace Simpson Giles.

Si is proud of their unique merchandise. "There are many items in the Chesapeake Trading company that you will not find in other stores," he says. Unique among the items of jewelry are original pieces by Margaret Thurman, an artist who began as a street vendor in New York City. Her "Echo of the Dreamer" collection features river rock stones and gemstones.

Also unique is the selection of strikingly realistic wooden carvings of birds by Lance Lichtensteiger, an artist from Surf City, NJ. Si and Lance first met at a Waterfowl Festival in Easton, then again when Lance came into the store in St. Michael's. Now both stores carry a variety of these life-size sculptures of birds native to the Chesapeake Bay - diving ducks, dabbling ducks, geese, swans - and others, such as a 3-foot flamingo.

The birds are posed in a variety of positions, many with impressive wingspans. Carved from the rare wormy Chestnut, these life-sized sculptures are truly investment art, sold exclusively in Maryland at the Chesapeake Trading Company.

Another unique item is a selection of brass table lamps, each base a brass instrument. While Si's father, John, is the craftsman responsible for these lamps, Si provided the inspiration. It was during a Woody Allen movie some time ago, when Si's attention was drawn to a lamp with a black clarinet base. He was so intrigued by the lamp, Lynda had one made for him. When the lamp was displayed in the St. Michael's store as a fixture, it attracted customer interest. Realizing a real market opportunity, Si had lamps made.

Soon they were selling the lamps. The bases of shining brass instruments are actually recycled cornets and saxophones that have been refurbished and electrified by Si's father.

Si has two sons. Fritz works in Maine with an engineering firm that measures environmental conditions, such as toxic waste dumps. Teddy, a graduate student at the U of NH, is working on his Master's in Political Science.

Si's passion for retail in an eclectic and neighborly style equals his passion for sailing. He divides his time between the two store locations and sailing. In fact, It was Si's love of sailing that prompted their move to the Eastern shore. After many years as an armchair sailor, he began crewing when he settled in St. Michael's.

Si sailed in the Wednesday night races, in the race from Annapolis to Solomon's, and in many other bay races. Then, one year for a birthday present, Lynda gave him sailing lessons with the Chesapeake Sailing School in Eastport. Soon Si bought his own boat, a CAL 18' and raced it for four years. Now he has a new boat, a 35' Elite, a French boat he has named Cabaret.

The Chesapeake Trading Company reflects Si and Lynda - their personalities and formula for successful selling to neighbors in resort communities. The neighborhood of the Main Street store is their kind of location, a historic resort surrounded by holiday celebrations, art and antiques shows, boat shows, weeknight sailing races, year-round festivals, all of which draw neighbors and visitors to Annapolis, Capital of the State of Maryland, home to the US Naval Academy, and sailboat capital of the country.

Si's store is a friendly place with something for everybody.