Terry Antoniuk: Personal Chef
By Paula Anne Delve Phillips
Terry Antoniuk returned from her 2002 Manhattan honeymoon inspired about life and love and ready to cook up a storm. As head chef for House Specials Personal Chef Service, she wanted the trip to include plenty of culinary delights. Her husband Jeff, a sax player and college professor, looked forward to catching some jazz. The couple's stay in New York was filled with museums, music and restaurants, and Chef Terry's clients still benefit from the inspiration it afforded her.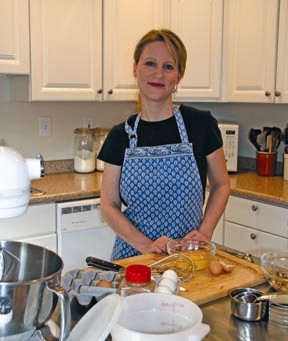 "I wanted to go to some of the restaurants that I had read about, and had cookbooks from," recalls the petite blonde in her Texas twang. Among them were Sarabeth's Kitchen, a restaurant associated with an award-winning jam maker and pastry chef, and Amy's Bakery, which sells Amy Scherber's famous breads. While there, the newlyweds collected an autograph from the gourmet guru. An evening at the Blue Note accommodated the groom and a meal at Union Square Café proved memorable for both of them.

"We went to Union Square," recalls Chef Terry Antoniuk. "It's a restaurant that has one of the first cook books that I collected back in 1994. I ordered roast chicken with roasted potatoes - nothing exotic but it was the best roast chicken and roast potatoes I ever had. With their attention to quality in the ingredients and their attention to detail in the preparation , they elevated the dish to a culinary experience. That's the kind of cooking I wanted to do," she says.

By all accounts, she has succeeded. Back in Annapolis, Terry Antoniuk industriously marketed her personal chef business and developed new recipes for her rapidly growing clientele. One of her recipes is for "Stuffed Pork Chops With Mash Potatoes," large pork chops filled with a pecan stuffing and topped with gravy. The entree can be paired with vegetables such as green beans or roasted Brussels sprouts.

Her "Beef Wellington" is served with wild rice and steamed broccoli. The dish is a puff pastry filled with a mixture of roast beef, jack cheese and mushrooms served with horseradish sauce. Just as scrumptious are her "Chicken Toscana," the "Grilled Mahi Mahi," and "Salmon in Potatoes Buerre Blanc."

While such dishes seem suited to "lifestyles of the rich and famous," House Specials clients tend to be single professionals or two career families whose work, commuting and errand time has eroded the pleasures and healthy benefits of home cooked meals.

Terry Antoniuk knows what it's like to be a working wife in a two-career family. A lot has happened since the honeymoon. She juggles her personal chef business on one hip and their spunky toddler on the other. In addition to his teaching, her husband's various jazz bands may have him jetting to a Trump party in West palm Beach one day and a Hawaiian Island fete on another.

As a personal chef, she plans menus, shops for groceries and prepares nutritious dinners for people like her family, who don't have time to cook. And, she asks with studied candor, "What is the point of being successful if you aren't healthy enough to enjoy the fruits of your success?" It's a good question and more and more people are asking it.

At a time when an overweight, overwrought nation seems to be popping pills for every type of dietary and digestive problem imaginable, driving to a fast food joint is surely not the answer to feeding one's family. A person can eat only so many pizzas, burgers and burritos before problems like obesity, cholesterol and Type II diabetes take their toll.

The personal chef service begins with a comprehensive interview to determine food preferences and dietary requirements. Chef Terry works with a 30-Point questionnaire. The information is used to create customized menus, which may include some vegetarian fare upon request.

A local psychologist and her physician husband are two-year clients of House Specials. The busy couple engaged the service for lunches and dinners because,"We didn't have the time to cook and we wanted to eat well." They appreciated the personal chef's flexibility and ability to accommodate their various interests and needs. "We're a wheat-free couple. That can be challenging," the client offered. "Besides, Terry's a great chef. Her cooking is very flavorful."

"We also had cooking lessons," the psychologist continued. "That was really fun. a great gift." She bought her husband a solo lesson so he could learn to cook some things he had always wanted to make. Following that, the two doctors invited another couple over for a second cooking lesson.

On the menu: Roast Leg of Lamb with Roasted Potatoes and Shallots, Whole Roasted Char with Thai Ginger Sauce, Lemon Garlic Chicken and Cold Lemon Soufflé. Once the feast was prepared and table set, Chef Terry left the group to their luxurious meal. The two doctors have since given House Specials cooking lessons as a gift to other friends. The cost is about $200 for two hours and gourmet food for four, not including wine. (Calculate the rate at $50.00 an hour plus the cost of food.)

Another House Specials service is vacation specials for boaters or other travelers. An average cost of $350, (depending on the amount of steak and lobster) to feed two people for 10 days. Last summer, a long-term client with five children took a two-week's supply of House Specials cooking with her to the family's Eastern Shore beach house. Her idea of a vacation was not slaving over a hot stove. Standing in long restaurant lines with a brood of hungry children was equally unappealing.

Chef Terry is a pioneer in the personal chef industry begun just over a decade ago. In July of 1998, Newsweek Magazine reported on the new phenomenon, citing Chef Terry as a prime example. After the birth of her son Aidan less than two years ago, she slowed the business down for a while to spend plenty of time with her baby and take stock of her life. She says she will never regret that decision. However, people do need to eat, and with the help of a part-time nanny, Antoniuk can help as the personal chef industry and her part of it continue to grow.

Terry Antoniuk and other personal chefs can serve a family of four with surprising economy and style. The cost of 10 meals for a family of two is $310. Make that 20 meals for a single person. The chefs plan the meals, purchase groceries and generally cook in the clients' homes, leaving in their wake the aroma of fresh herbs such as rosemary and thyme.

With seven years under her belt, Terry is a senior professional in the field and has learned much in the process. "I seem to be cooking a lot," she says, "including meals for people with extreme allergies. Like everyone else, those folks are looking for more than vitamins and nutrition. They want to enjoy their food." Chef Terry can make that happen. To make things easier, she invests in fresh food products without additives.

To find out more about House Specials personal chef business, visit www.housespecials.com.