"For the Love of It!"
The Cooperative Spirit of Colonial Players
By Lynn Schwartz
Cary Myles was looking for an acting class for his daughter. But the call to Sharie Valerio, actress, teacher, and member of Colonial Players changed his life. "She told me that I had a nice voice (which he does) and invited me to join an acting class (which he did). It was the first time I had ever done anything like that," says Myles, who was a manufacturing company owner. That was 1982. Today, Cary Myles is the president of The Colonial Players, Inc.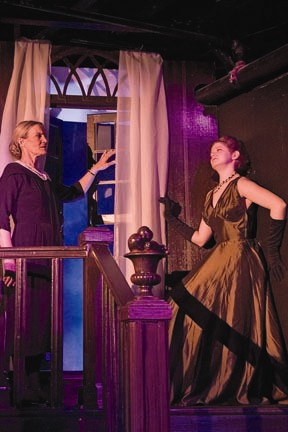 The welcoming attitude and encouragement to newcomers is impressive. The long-term commitment to the organization that results from such hospitality has been a hallmark of Colonial Players since its inception.

Founded in 1949, Colonial Players of Annapolis made their home in the former USO building at the corner of Compromise and St. Mary's streets. No longer needing the property, the federal government donated the building to the city, with one requirement. "Use it or lose it."

Finding a use for the building was the job of the city's Community Services Planning Committee. Betty Moss, a committee member and Crownsville Hospital administrator, vowed to get it organized. And organize they did. Theater lovers from all backgrounds joined together in the effort - business owners, Navy personnel, professors, teachers, homemakers, government employees, carpenters, scientists, and students.

Kim Taliaferro directed the group's first production, The Male Animal. It opened June 17, 1949 for a ticket price of 75¢ and was a hit. By 1955, the organization purchased an old car repair shop on East Street, where the 180-seat arena theater is today.

Now in their 55th season, with over three hundred productions to their credit, and still offering a very reasonable $15 ticket price, the Colonial Players continues to be a 100% volunteer organization. In 1998, honoring their 50th anniversary, the book "For the Love of It!" was printed. It is a beautiful, comprehensive tribute to the Players' history and to the thousands of volunteers who were devoted to artistic excellence.

"The book was a group effort," says author Ann Jensen. "There were intense gatherings to recall memories. Members brought me scrapbooks, clippings, programs, and photos. I had boxes and boxes of files," says Jensen, who worked full-time on the project for over one year. Coincidentally, Jensen realized that her godmother was one of the founding members - none other than Elizabeth Moss, the Players' first president.

"It was wonderful working with the group," Jensen says. "There was a determination to get this thing done. Community theater is the bringing together of kindred spirits."

Beth Whaley is one such thespian spirit. As a long-time member (she and her husband Dick joined in 1951), past president, and esteemed actress, Whaley believes that the group has flourished because it creates a sense of responsibility and integrity.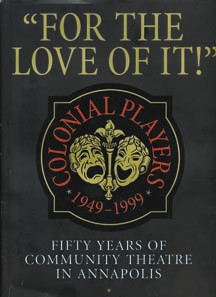 "I personally believe if you have a talent you should use it," says Whaley. "In community theater you have the opportunity to do that. We have people that are dedicated to all of the tasks, not just acting - set construction, sound, lighting, costumes, ushers, and box office." In fact, Dick Whaley finds his inspiration behind the scenes. "My one time on the stage was agonizing," he admits. "And I only had two lines." Luckily for the Players, he enjoys the important job of set design and construction.

While the group is a community theater operated by numerous volunteers like the Whaleys, there has always been an unusual commitment to professional excellence. This standard was insisted upon since the beginning. Jensen recounts one such incident in her book. Apparently, under Kim Taliaferro's direction of the group's first production, actors started skipping rehearsals. "I'm wasting your time and you're wasting mine," said Taliaferro. "We're going to act like professionals or not at all." And then, she walked out. The cast quickly requested her return and worked by professional standards forever more.

With the bar set high, it is not surprising that Colonial Players has been recognized numerous times - nine times by the British Embassy Players' Ruby Griffith Award for Outstanding Overall Production - more than any other community theater in the Washington metropolitan area.

An outstanding production starts with a great play and tremendous effort is made to choose quality plays. A selection committee reads 75-100 plays, which it whittles down to 20 candidates. Ultimately, five plays are chosen for the season. Each is given 20 performances. The group performs conventional comedy and the classics but also attempts to represent the larger scope of theater today. "There is a lot more out there besides Neil Simon and musicals," Whaley says. "We try to offer a balance."

For the first time, the 2004-2005 season is based on a theme - identity and the search for acceptance. The characters in these five diverse plays ask universal questions: Who am I? How do I fit in? How do we fit together? By the close of 2004, audiences had been treated to Proof by David Auburn, Kid Purple by Donald Wollner, and A Christmas Carol by Richard Wade and Dick Gessner (this adaptation is a special, annual production that has been performed for 24 years). The current play, As Bees In Honey Drown by Douglas Carter Beane will run in January and February and Stephen Sondheims's Assassins in March and April. The season finishes with The Last Night of Ballyhoo by Alfred Uhry in April and May.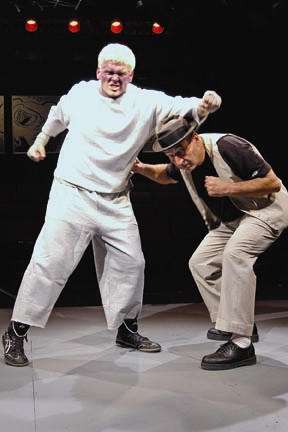 Carol Youmans directs the production, As Bees In Honey Drown, an urban comedy, which ran Off-Broadway in 1997, winning the Outer Critics Circle and Obie awards. Youmans, a framer and printing production manager, has directed over eight shows for the Players and she is a good example of how one can progress with the group. "Everything I know, I learned here," she says.

Youmans began with a "strong literary background and pushy personality." More importantly, she came with a willingness to learn. "I worked as an assistant director for Rick Wade, an experienced and accomplished member. Community theater gives you the opportunity to learn by doing. I learned about casting, the rehearsal process, what a director does, and I worked on sets. After eight years, I got my own show to direct."

While members and audiences are clearly loyal, the troupe is not without its challenges. Parking is an issue and the growing trend in last minute ticket buying makes financial planning difficult.

There is also a concern that most theaters face - the problem of attracting young people. "All theaters have aging memberships," says Cary Myles. "We have to think hard about how to involve young people."

Myles says that the skills acquired in the theater are important for the young. "I had been frightened to get on stage but through the encouragement of others, I gained a level of confidence." Beth Whaley agrees. "Community theater is where the seeds are sewn. There is the teamwork of putting a play on - these are real lessons for life. You learn to hone skills and even to live with disappointment."

The Colonial Players is unique in its enduring, cooperative spirit. "This is a place where one can fulfill an artistic vision with great support," says Youmans. That is surely a wonderful opportunity for community members of all ages.

Colonial Players, Inc. 108 East Street, Annapolis.

Box Office (410) 268-7373 www.cplayers.com.