A Genuine Article in Davidsonville
By Patricia Barry
Killarney House
584 West Central Ave.
Davidsonville, Maryland
410-798-8700

Moderate Prices
Appetizers, soups & salads: $4.50 to $12.95
Entrees: $11.95 to $21.95
Extensive wine list, pub beers and specials
All major credit cards accepted.
Hours: Mon-Tues: 11:00 a.m. - 9:00 p.m.
Wed-Sat: 11:00 a.m. - 10:00 p.m.
Sun. Brunch: 10:30 a.m. - 1:30 p.m.
Lunch & Dinner 'til 9:00 p.m.

If it's Irish fare in a country setting you're seeking, look no further than Killarney House, which opened in August, 2001 on Central Avenue (Route 214) in Davidsonville. Whoever greets you upon entering this eatery will make you feel welcome. Or, in the ancient Gaelic, "Cead mile failte," (one hundred thousand welcomes). With the luck of the Irish on your side, you may first encounter owner Michael Galway, "a genuine article," from County Kilkenny. Michael, his brother Fintan Galway and Michael Clarke of Dublin, have opened two Irish restaurants in the area in the last half decade. The other is Galway Bay located since 1999 on Maryland Avenue in Annapolis. Then, during the summer of 2004, they added a third, The Kinsale Inn, in Mattapoisett, Massachusetts - a favorite summer haunt for Michael and his family. The inn on this site in Buzzard's Bay is recognized as "the oldest seaside inn in the nation".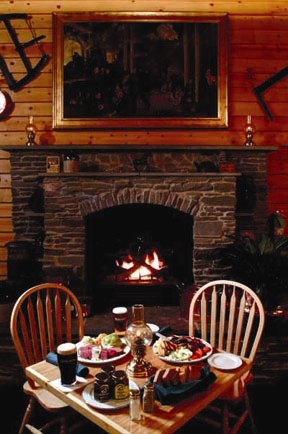 The current barn-like structure that has morphed into Killarney House was the former Spring House restaurant. Aptly named, it sits upon a natural spring surrounded by the country setting of Davidsonville that reminds some diners of the Irish countryside and assures ample parking.

Once inside, the vaulted ceiling surrounds you with rafters, trusses and walls of unfinished wood siding adorned with antique equipment and tools from Irish farms. Builder Isadore Beattie installed colorful panes of stained glass in the large windows covered with wood shutters. Movable wood tables each hold an oil lantern. The focal point of this large, yet hospitable room, is a massive stone fireplace that features a harp (the official symbol of Ireland) chiseled into its façade.

General Manager Beth Palumbo exudes special warmth and is extremely knowledgeable about the building and the menus. She also plans the many private parties held in the facility.

Time for some refreshment - we selected a draught of Smithwick ale, the smooth, bestselling beer in Ireland. Smithwick is one of a dozen draught beers featured at Killarney House including, of course, Guinness Stout. Three beers wearing the Galway Bay name are brewed to original recipes and feature hops from Bennetsbridge, County Kilkenny.

Our appetizers included Oysters O'Reilly, a half dozen plump and juicy oysters marinated in Guinness Stout, breaded and seasoned with secrets, and then shallow-fried and served with fine coleslaw. Molly Malone's Cockles and Mussels included a generous portion of littleneck clams and mussels steamed with garlic, shallots and white wine, topped with a Jameson Irish Whiskey, tomato and basil cream sauce. Both dishes are representative of Irish country fare and display high quality ingredients and attention to detail.

From the Killarney Favorites, my ally in food selected something that is quite popular at the restaurant, but that he can't get at home, Jameson's Liver and Onions. Calves liver flamed with Jameson's Irish Whiskey, served with onions and bacon over Colcannon potatoes (spuds infused with cabbage, cream, butter and mace) and fresh market vegetables brought a smile to his face. A generous portion, it traveled to our home and continued to delight three days later.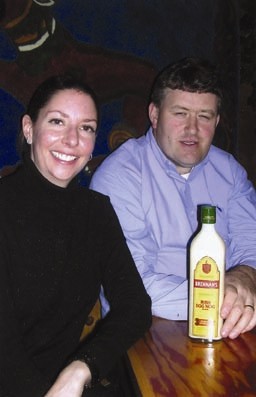 The Irish breads are made fresh here each morning. Irish Soda Bread is light and tasty and even more appealing is the Brown Bread made with imported Oldum's brown flour.

From the House Specialties, I selected the Foul Play, a combination of breast of chicken and breast of duck flamed in Tyr Connell Whiskey and finished with a leek cream sauce served with garlic mashed potato. Although the chicken and duck were juicy and cut to a perfect consistency and the leek cream sauce was faultless, it was too heavy for my taste. I asked the helpful server, Rebecca, if the sauce might be served on the side. Her response was an accommodating, "absolutely." My solution - I sampled the entrée and took home the meat, sauce, cooked but crisp vegetables and the scrumptious potatoes; three days later I thinned the sauce, then warmed the meat, vegetables and potatoes, served the amount of sauce I preferred and had a delectable meal of chicken and duck along with still al dente vegetables and excellent potatoes.

Desserts are creative here - take a risk and try the Great Guinness Float, a glass of rich root beer topped with a scoop of homemade creamy Guinness ice cream. The conservative top choice is Traditional Bread Pudding followed by Black Currant Bailey's Mousse, a white chocolate mousse flavored with Baileys Irish Cream and black currant coulis.

Killarney House offers a fine Sunday Brunch of salad, fruit, Cottage and Sheppard's Pies, Irish potatoes, sausage, peppers and onions, scrambled eggs, bacon, Gaelic toast, pastries, Irish breads and a special of the day. A bargain at $12.95 for adults and $6.95 for children under 10.

The lunch menu offers soups, salads, sandwiches and small entrees in the same Irish country motif. Another interesting dining opportunity is the early evening dinner menu on Monday, Tuesday and Wednesday from 2:30 to 4:30 p.m.

Killarney House is truly a dining destination that abounds in Irish food and hospitality all year long.