Annapolis Opera:
A Third production of Madama Butterfly
By M.A. Cashman, PhD
Opera history in Annapolis began in 1752 with the The Beggar's Opera, a ballad opera by John Gay. Two hundred twenty years later, opera continues under the banner of Annapolis Opera Inc.

In August of 1972, founder and first President Martha Wright along with local theatre people, some from Colonial Players and Tom Thumb Theatre, founded the company. Looking back over the years, Wright sees that Annapolis Opera is thriving. With characteristic enthusiasm, she exclaims, "Nothing could make me happier."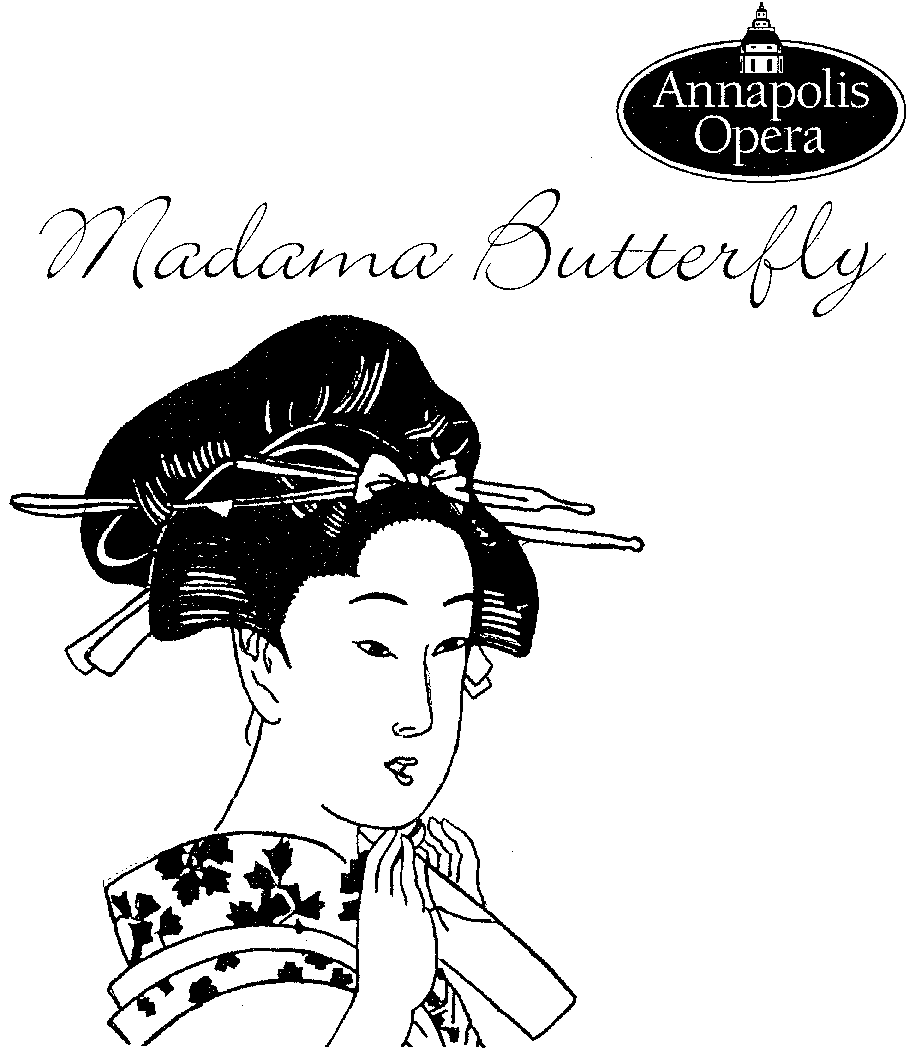 Currently Annapolis Opera is guided by President Dr. Dennis Monk, former Director of the Music School at the University of Alabama, Treasurer and Officer Manager Nancy Eagle Lindley, a Doctor in Musicology from the University of Maryland, Vice President Dr. David Mauriello and Secretary Leah Solat. The artistic staff is headed by musical director Ron Gretz, Professor of Music at Essex Community College, stage director Braxton Peters, who teaches voice at Essex and costume designer and artist Lorraine Vom Saal.

On March 18 and 20 Annapolis Opera will present Puccini's Madama Butterfly for the third time since 1972. Of all his operas, this was Puccini's favorite. He collaborated on the libretto with the American playwright, David Belasco, and composed the opera score while confined to an invalid's chair after an automobile accident. Initially unsuccessful at its premiere, Madama Butterfly soon became one of the best-loved and most-widely performed of all operas.

Set in Japan in the early 1900s, this is a story about a pretty young geisha named Cio-Cio-San, affectionately called Butterfly by her fiancÚ, Lt. B. F. Pinkerton of the US Navy. While he does not take their marriage seriously, Butterfly gives him her heart and soul, renouncing her religion and her family when she marries him. Soon Pinkerton returns to America, and three years pass with no word from him. Butterfly remains faithful, living with her devoted companion Suzuki and the child that she has borne in her husband's absence (and without his knowledge) and rejecting the rich Yamadori and other suitors. When the American consul tells her that Pinkerton is returning with an American wife, she refuses to listen. Certain that he is returning to her, Butterfly sings the signature aria of the opera, "Un bel di vedremo" (One fine day we will see him), and undertakes an all-night vigil, awaiting Pinkerton's arrival. Then, when his ship docks and she sees the American wife, Butterfly has to face reality. She realizes that if she cannot live with honor, she can die with honor. Giving an American flag to her child, Butterfly turns away and uses her father's ceremonial sword to end her life -- just as Pinkerton enters, singing, "Butterfly, Butterfly!"

Madama Butterfly will be performed on Friday, March 18 at 8:00 PM and Sunday, March 20 at 3:00 PM. Tickets are $50, with special group rates for seniors. For information and ticket orders, call the Annapolis Opera office at 410-267-8135.