Dr. Lorraine Tafra: Medical Director of AAMC Breast Center
By Margot Mohsberg
Dr. Lorraine Tafra, medical director of the Breast Center at Anne Arundel Medical Center, has spent her career setting standards in breast care.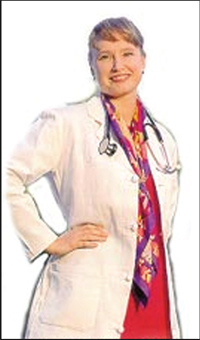 She was one of the first breast surgeons to create a training program to teach other surgeons how to do the same. And, at least once a month, she gives talks to physicians around the country about improving breast care.
Because of her respected reputation in breast care, health care manufacturers invite her to participate in clinical trials, resulting in the AAMC Breast Center having one of the highest rates of patient participation in clinical trials. This means her patients continually get the latest in breast cancer treatment options.
Tafra may be well-known worldwide in the field of breast cancer treatment and research, but her day-to-day relationships with her patients in the community are the heart of her work. No part of her day is more poignant than when she must give a patient a diagnosis of breast cancer.
"I will stay with my patient for as long as it takes, and that could be hours," she says.
Annapolis resident Rosemary Varson, a four-year survivor who now volunteers at the center, helping newly diagnosed patients, says Dr. Tafra makes her patients feel better the minute she meets them.
"When you are in her presence, you just know things are going to get better," she says. "She saw me at a moment's notice during her lunch hour. She is totally concerned about the patient and the family as well. You know she will leave no stone unturned."
Anyone who has visited the Breast Center, part of AAMC's DeCesaris Cancer Institute, knows it is a special place. The center's atmosphere and decor are carefully designed to be calming and comforting. The receptionists and volunteers – many of whom are breast cancer survivors themselves -- are friendly, respectful, and compassionate.
"We work very hard with our customer service representatives to get them to understand what it feels like to be there for a breast problem," Tafra says. "We hold meetings every week to ensure they always retain this understanding."
Tafra has the passion of someone who always knew what she wanted to be when she grew up. But that was far from the case. Like many children, she followed in the footsteps of parents – both artists – and attended Skidmore College to study art.
"By my second year, I discovered I hated art," she says. "I can do art work, but I was never passionate about it. My best friend was a pre-med student, and the minute I thought about going to medical school, I immediately knew that was what I wanted to do. It was the same way about becoming a breast surgeon. The minute I thought of it, I knew that was what I wanted to do."
She completed her medical degree at Case Western Reserve University, her residency at Thomas Jefferson University, a research fellowship at the University of Pennsylvania, and fellowship training in surgical oncology at the John Wayne Cancer Institute in Santa Monica, CA.
During her career, Tafra has published over 30 articles and has been the principal investigator on numerous nationally funded grants for clinical research. She was the lead investigator on one of the first multicenter clinical trails investigating sentinel node biopsy for breast cancer patients and is an invited speaker on the subject, both nationally and internationally. (A sentinel node biopsy is a technique for determining whether breast cancer has spread into the lymph nodes under the arm. By examining the sentinel node, surgeons can predict with greater than 98 percent accuracy the presence of cancer cells in the other lymph nodes.)
Tafra is active in the American Society of Breast Surgeons, has been a past president and is currently the Chair of the Patient Safety and Quality Committee.
All of these accomplishments give Tafra and her staff at the Breast Center the increased ability to be at the cutting edge of breast cancer treatment and provide patients with the best care possible. "My goal participating in these clinical trials is to investigate any research that has the potential to improve care," she says. "I want to find treatments that are less invasive, and I want it yesterday."
Each year, more than 250,000 people will be diagnosed with breast cancer; only lung cancer ranks higher. But the rate of survival has dramatically increased because of research being done by physicians and researchers such as Dr. Tafra.
"Because of improved diagnostic imaging and better education, the average size of a detected tumor has decreased significantly," she says.
The Breast Center was the first facility in the United States to conduct studies using Positron Emission Mammography (PEM), an imaging device that can see tumors as small as millimeters.
Once a tumor is detected, Tafra's goal is to remove the cancer using the most minimally invasive technique and preserving as much of the healthy breast tissue as possible. One such method is cryosurgery. Using ultrasound for guidance, a surgeon inserts a needle probe into the center of the tumor and freezes it. The ice ball forms around the tumor and destroys it, affecting as little of the surrounding healthy tissue as possible. The less normal tissue removed, the better the breast looks cosmetically.
Tafra and her staff are currently the lead investigators in the international multi-center study of a hand-held surgical device developed by Dune Medical Devices. Their innovative device may allow them to perform lumpectomies – the removal of breast cancer and the immediately surrounding normal tissue – with even better precision.
"This innovative device has the potential to decrease the need for repeat surgeries and significantly contribute to improving the accuracy of breast conserving surgery," Tafra says. "We want to remove the entire tumor the first time and leave as much normal tissue as possible to retain the contour and appearance of the breast. This device brings us closer to that goal."
Under the guidance of Tafra, Dr. Zandra Cheng was one of the first surgeons to complete the one-year training program at the Breast Center. At the end of her fellowship, she accepted an invitation to join the staff. "I love the environment," Cheng says. "We have all the benefits of an academic institution – research, technology, leaders in the field – without all the disadvantages, such as bureaucracy and residency turnover."
Tafra's mission for the Breast Center and the staff's research is to find more effective and less debilitating treatments for her patients and, ultimately, a cure.
"We are getting there," she says. "The average tumor size continues to decrease. If we can detect two-millimeter tumors, we'll be curing the vast majority of breast cancer cases."