Grateful Pets Pet Sitting Service:
Is Your Pet a Grateful Pet?
For the past three years, Grateful Pets has been providing in-home pet care services under the guidance of owners Barbara and Jim McCaffrey. "We were attracted to the business because of a life-long passion for animals and over 25 years experience in self-employment in the customer service business," Barbara McCaffrey said. "We felt that we could transfer our experience to the important personal service business of in-home pet care."
According to McCaffrey, there are more than 60 million pet dogs and nearly 70 million pet cats in the United States. In Anne Arundel County's 487,000 households, an estimated 176,000 have dogs, 154,000 have cats, and 22,000 have birds. In addition, there are many households with guinea pigs, hamsters, gerbils, and reptiles. "All of these pets need care when their families are away," noted McCaffrey.
The pet services market is growing, and pet owners spend nearly $8 billion on pet care and pet supplies each year. "The in-home pet care services industry has largely been a cottage industry," McCaffrey explained. "The market, however, is changing. In-home pet care is fast becoming big business, with multi-location service companies and franchises."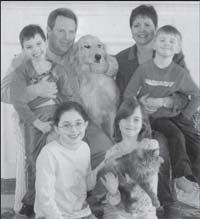 With over 1000 active clients, Grateful Pets is growing, too. McCaffrey acknowledged her dedicated team of administrators, managers, and pet sitters for their role in the company's success. "They are people from many walks of life who share a common emotion – a compassion for animals. They feel compassion for a frightened cat, an elderly dog that is lonesome, or for a hungry fish. They are hard working, caring, and trustworthy individuals who love animals."
She explained Grateful Pet's approach: "Our staff travel to a client's home and care for the pets while the client is out of town, working long business hours, delayed in arriving home, laid up with illness or injury, or just looking for a last minute evening out on the town."
For someone new to the service, an initial consultation is required. The meeting is conducted at the client's home, where the care and routine for each pet is discussed in great detail. The company customizes services to meet the unique needs of the pet, creating a plan that includes an exercise schedule, menu planning, and health and medical care. Other services include vet transport, food pick-up and delivery, and waste removal. An active client can order services at any time.
When services are reserved, clients receive an e-mail itinerary detailing the dates and time frames requested. "My clients enjoy receiving the confirmations and are assured that the services are exactly as ordered," McCaffrey said, adding that clients can also reserve services directly over the Internet. "I have many clients who operate almost exclusively from their Blackberry and really enjoy staying in touch over the web."
An important aspect of in-home pet care is giving the home a lived-in look while the client is away. "Bringing in mail, newspapers, deliveries, bringing trash to and from the curb, adjusting lighting, and plant watering are part of our standard services," she said.
Among the unique experiences for the pet-sitting firm was a wedding that featured a very excited bride-to-be with a dog, a boxer with a custom tux, who was made an honorary member of her wedding party. The client needed a pet sitter to attend the wedding ceremony and take her dog home prior to the reception. "My pet sitter had a wonderful time," McCaffrey said "The pet sitter later remarked that the wedding was beautiful, the dog quite handsome, and a good time was had by all."
Another incident occurred when a couple, who were clients of Grateful Pets, arrived at the airport only to realize that neither one had scheduled the pet sitters to be at their home. "They made a quick call and arranged for services beginning that afternoon for an entire week," McCaffrey said. "Were they ever relieved!"
Although the majority of pets are healthy, some suffer from chronic and/or progressive illness. These pets need extra care and can require a regimen of medications and injections. "We have a very experienced staff of pet sitters with veterinary backgrounds who provide the care for some of our most fragile and sick pets," McCaffrey said. "We are in constant communication with our clients, especially those who leave their sick companions behind."
Even seemingly healthy pets can become suddenly ill. McCaffrey talked about a client with an older kitty that became very ill with undiagnosed diabetes while the client was out of town. "The pet sitter immediately recognized the symptoms of diabetic failure and took this very sick boy to the emergency vet," she said. "He made a complete recovery and now receives daily insulin. My client was ever so grateful."
Grateful Pets participates in many pet-related events and fundraisers throughout the year. "I personally love the Halloween Bark and Bash sponsored by the Friends of Quiet Waters Park," she said, where dogs are dressed in some very creative costumes.
"I love the idea that I can have fun and be successful," McCaffrey summed up. "The pets are fantastic and so are my clients. I like that Grateful Pets can bring great peace of mind to our clients, especially the empty nester and the busy professionals. They can call Grateful Pets on short notice and know that their loved ones will be well taken care of. This gives my clients the freedom to enjoy their lifestyle with the reassurance that their companions are being very well cared for."
Pull quote:
Barbara explained Grateful Pet's approach: "Our staff travel to a client's home and care for the pets while the client is out of town, working long business hours, delayed in arriving home, laid up with illness or injury, or just looking for a last minute evening out on the town."