Improve Your Day with Fun Gourmet
By Kerry J. Smith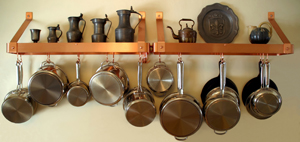 After a stress-filled day at work, a long commute or rushing the children from activity to activity, it is often hard to face the challenge of making dinner. And yet, it is a quiet meal at home with family and friends that helps us relax, unwind and transition to the kind of good night's sleep necessary to face the challenges of a new day. Opinion polls that when people are asked what they yearn for more than anything else, the most frequent answer is "peace of mind". I have developed the concept of Fun Gourmet to help people bring back that comfort and peace that so often characterized dinner time in their youth.
Often, cooking at home can seem overwhelming because we don't have the appropriate tools, the required skills, the right recipes or the necessary ingredients at our fingertips. The first step is to make sure you have the appropriate tools.
While many people think that you need to have an expensive, elaborate professional kitchen to prepare good meals, but it's not true. The kitchen pictured at the beginning of this article is Julia Child's kitchen which was on display at the Smithsonian's Museum of American History.
I've chosen Julia Child to exemplify my Fun Gourmet concept because she is the first person I ever saw who seemed to be having fun cooking. Years ago, as I watched her cook on Public Broadcasting Television, Julia would laugh, make jokes and sip wine while she was cooking. And when she made a mistake, she laughed it off and adjusted. For first time, I began to suspect that cooking may have the potential to be fun. And in the years since, I have confirmed that suspicion.
To start, you only need a kitchen with a working stove, oven (two ovens would be ideal), and a refrigerator/freezer. There are many varieties of these appliances available in the marketplace, but your primary considerations should be how you want to cook and what you can afford. If you plan to bake a lot, you definitely need two ovens, if you focus your meals on fresh ingredients, you probably need a larger refrigerator, or if you plan to prepare large meals for several days and freeze them, the freezer needs to be a primary focus.
A variety of small appliances can be helpful in easing you cooking burden, but just like the larger appliances, there are many reliable models available from a variety of vendors and with a broad range of prices. The choice should boil down, once again, to how you cook and your budget. Another consideration should be the amount of space you have for storage on countertops or in cupboards. For small kitchens, combination appliances, such as Cuisinart, make efficient use of space.
The small appliances needed to support basic Fun Gourmet are a food processor, and a mixer (either portable or stand mounted). If you do a lot of baking, you will definitely need a stand mixer such as those offered by Kitchenaid. A slow cooker can ease your burden by allowing you to cook while you are away and having the core of your dinner ready when you arrive home. A blender is also important if you make a lot of soups, smoothies, milkshakes, or frozen drinks.
Cookware is one of the most important components of a well-equipped kitchen. Two areas where you don't want to cut corners are cookware and cutlery. Good quality stainless steel cookware is normally the best choice for most cooking needs that do not require a non-stick surface. But you need to make sure the stainless steel cookware you buy has five-ply bonded metal with at least one of aluminum or copper to ensure that they heat evenly and conduct heat well.
Non-stick cookware is particularly important if you do a lot of frying and want to minimize the fats used to cook. Most non-stick surfaces are coated with a Teflon composite, the subject of some controversy today. If you do use Teflon coated pans, buy good quality. Alternative surfaces are available in the marketplace. The Swiss Diamond Corporation manufactures aluminum pans coated with a non-stick diamond composite that heat s evenly and holds the heat. Because the diamond dust coating on these pans is so hard, any kind of utensils can be used in them without causing peeling or wear, allowing the manufacturer to guarantee them for life.
Your basic cookware should include: an 8 in. fry pan; a 10 or 11 in. fry pan; a 10 – 12 in. sauté pan with a lid; a 1-1 1⁄2 qt, 2 qt, 3-3 1⁄2 qt sauce pans with lids. A 6-8 qt. stock pot and an 8-10 qt steamer pot, with both large and small baskets, are also important. Specialty pans such as cast iron skillets, crepe pans, omelet pans, paella pans and a Wok are available depending upon the type of cooking you want to do.
Fine cutlery is essential to timely meal preparation with minimal frustration.Knives should be made of fine carbon steel that will sharpen easily and keep an edge. They should be well- balanced at the point where the handle ends and the blade begins. While handles should be smooth, they should not slip out of your hand. Knives should be kept sharp and cleaned by hand so the dishwasher does not damage the tempering or the handle. They should always be stored in a knife block or on a magnetic rack out of the reach of children, never in a drawer.
There are many good brands of cutlery on the market today. Among the best are Global, Shun, Zwilling J.A. Henckels, Wusthof and Ergo Chef. When purchasing kitchen knives hold them in your hand, mimicking the motions of cutting, slicing and peeling. One of the primary criteria in selecting cutlery is how it feels in your hand. It should be comfortable and easy to manipulate. Your supply of knives should include: a 6-8 inch chef's knife; a 5-7 inch hollow ground santoku knife; a 5-6 inch utility knife; a 5-6 inch serrated utility knife; a serrated bread knife; and a 2 1⁄2 -4 inch paring knife. You also need a diamond or carbon sharpening steel to keep your knife blades properly aligned.
In addition to these critical tools, many other common utensils can be included in your cooking equipment inventory to enhance your cooking experience.
Needed for measuring: a scale; one cup and four-cup measuring cups; a set of stainless steel measuring spoons; a meat thermometer; a quick-read thermometer; a deep frying thermometer; and a portable timer.
Needed for grating and grinding: a zester; a box grater; a cheese grater (Microplane makes For draining and straining you will need: a skimmer; a colander; a variety of different sized strainers. If you fry a lot, a deep frying basket and a Chinese strainer can be of great help.
Needed for stirring, lifting, and serving: a variety of spatulas (metal and non-metal depending on whether you use non-stick pans); slotted and solid serving spoons; deep bowled ladles with handles at least 12 inches long; a heavy duty carving and cooking fork; a variety of wooden spoons of various sizes; a variety of wooden and metal tongs (you will need silicone coated tongs if you use non-stick pans); and of course, a good ice cream scoop.
Needed for mixing: a set of stainless steel mixing bowls ranging from 1Qt to 8Qt; and a variety of different sized stainless steel whisks.
Needed for baking: a sifter; a rolling pin; a variety of biscuit cutters; rubber or silicone spatulas; a pastry brush (the new silicone brushes are the most sanitary); a dough scraper; both round and square cooling racks; narrow metal spatulas; and a dredger. Depending on the types of baking you plan on doing, you may need pastry bags, pastry tubes, a pastry cutter and specialized cutters for cookies and other pastries.
Baking in the oven requires a special set of pans and tools. You will need: a 16 (or 17) x 12 inch stainless steel roasting pan with a roasting rack; an 11 1⁄2 x 7 1⁄2 x 1 3⁄4 inch glass or ceramic baking dish; a variety of casseroles ranging from 4 qt to 9 1⁄2 qt; a variety of oval ceramic gratin dishes; a baking sheet; a jelly roll pan; a pizza pan; a 9 inch glass or ceramic pie plate; a square cake pan; two round spring form cake pans; a loaf pan; a tube cake pan with a removable tube insert; and a cupcake pan.
Round out your essential kitchen utensils with a bulb baster, some funnels, some skewers, a corkscrew some utensil crocks, like Julia's, and you will have taken your first step toward enjoying Fun Gourmet!