North County High School
Young in age, but old in spirit." North County High School of Glen Burnie, Maryland is quite young compared to the other eleven public high schools in Anne Arundel County. It is the result of the merging of Brooklyn Park High School and Andover High School and occupies what once was the Lindale Middle School building (Lindale now exists in what once was the Andover High School building). Over 2,100 students and 190 members of the faculty and staff are now learning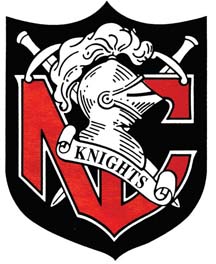 and working in the building.
By joining the communities of Ferndale, Glen Burnie, Linthicum, and Brooklyn Park, the school radiates a true "melting pot" feel and offers a wide variety of active organizations, sports, and clubs to meet its students' diverse interests. In keeping with this spirit of diversity, North County also prepares its students for a wide range of post-graduate endeavors, including employment, two- and four-year college, technical school, and careers in the military.
"The Knight's Way Is The Right Way," became the new slogan of the school at the beginning of this academic year. New sayings are not the only display of school pride, however. In the week preceding the annual Homecoming Game, students are encouraged to show their spirit by dressing up for various thematic days such as "Wacky" Wednesday and "Blast from the Past" day, which is held on every Thursday before the Homecoming day. This is when the school's senior class traditionally wear togas (generally made from a bed sheet, though one senior memorably wore plaid and painted half of his face blue this year, honoring the movie Braveheart). On the day of the Homecoming Game, there is a huge display of school pride when students and faculty dress in red, black, and silver to support their Knights.
Striving for success is emphasized at North County, and is often met with glorious results. The school's "Lady Knights" softball team has earned the title of State Champions in 2000, 2002, 2003, and 2005. Though in a slump in recent years, the football team has been successful in getting back on track to its former glory by making it to the first round of the play-offs. The school's cheerleaders have been an exhibition of the school's athletic achievement as well by winning the Regional Championships in 2004 and placing 2nd in Regional and County Championships this year.
Not all of North County's pride can be attributed to its athletic accomplishment. The school has recently become AP (Advanced Placement) Certified, indicating that the school's AP enrollment and number of AP classes have increased. This past March, Nathan Giles (now a senior) was recognized as one of only two students in Anne Arundel County, five in the state of Maryland, and 107 nationwide to achieve the coveted "perfect score" (raised from a 1600 to a 2400 with the new version of the test) on the SAT. Just this past December, students Jake Routh and Pat Finney won first place at the Young Engineers and Scientists Seminars Engineering Competition. North County also boasts three winners of the National Council of Teachers of English Writing Awards in the years 2003 (April Penn), 2004 (Lesa Wilcox), and 2005 (Lauren Helinski) and hopes to add another win this year.
Adding to athletic and academic success are the school's numerous active organizations, ranging from Concert Band to the Student Government Association. The Marching Band and Orchestra have been trophy-winning for many years in regional and nationwide competitions. The school's "A Knight at the Theatre" Company work long hours to put on a fall play and spring musical each year. The school's yearbook has won awards for the past three years: honorable mentions in 2003 and 2004 and for cover design in 2005 from a yearly competition held by the book's publisher.
It is evident that the "Knights" who call North County High School home have a lot to be proud of, but what is perhaps their greatest asset is the Knights themselves. The staff is made up of dedicated teachers who take personal time to work with students who need extra help and to assist in advising the school's organizations and coach the school's clubs. As students move from year to year, they grow more prideful about their school and committed to its success. They say "it takes a village". North County is lucky enough to have several "villages" supporting it, for without the support of the Knights themselves and their surrounding communities, none of the school's past and future successes would have been possible. The school which unified Brooklyn Park and Andover may not have many years to its credit, but the pride of students, parents and faculty show a school with a seasoned spirit.