Crofton Middle School
By Sharon H. Hansen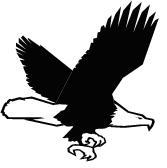 Serving students in the Crofton and Gambrills area since 1981, Crofton Middle School, with its soaring eagle mascot and school colors of black and red, is a source of community pride. Under Principal Sharon Hansen's leadership, academic excellence shows in high test scores and in student achievement. About two-thirds of eighth graders earn two or more high school credits for Algebra, Geometry, French or Spanish, and even Algebra II and Pre-Calculus, with 100% HSA pass rate for Geometry for four years running. Students compete and win essay contests sponsored by the PTO, VFW, Links of Annapolis, and the Fox 45 Champions of Courage. The 550+ students in the choral and orchestral programs earn top group and individual honors yearly, competing in state festivals for the last seven years.
Excellent students require excellent teachers. Contributing a depth of knowledge and excellence to the school are founding teacher Mrs. Kay Jonas, Math department chairperson, and Mrs. Pat Manns, Guidance department chairperson, who joined the staff during its initial year. A dozen teachers either have or are working on National Board Certification. Many teachers have been nominated or named as West County, Kiwanis Club, or Anne Arundel County teachers of the year and some have been named to the National Who's Who of American Teachers.
Even with the amazing academic side of the school, the heart of the school is community service. Reaching out to others is integral for students and faculty. For four years, Crofton Middle has topped every school in the state Harvest for the Hungry food drive, amassing 70,000 pounds of food contributions last year. Social studies teachers, Mr. Chris Wells and Mr. Ty Bosnjak, will be spearheading this year's effort kicking off on October 23rd. While a student-faculty basketball game motivates students to gather canned goods, they also know they are helping the hungry right here in our state. The Builders' Club, formerly headed by Mrs. Carole Ehemann, and now by her former student and current faculty member, Ms. Wendy Scholfield, collects stuffed animals, personal care items, winter coats, 'souper' bowl monetary collections, and more for local needs. Every student participates in service learning with eighth graders racking up miles in a Walk-A-Thon for charities of their own choice, seventh graders buying an 'ark' full of animals for needy farmers throughout the world, and sixth graders addressing immediate needs such as aiding Hurricane Katrina victims. Teacher Kerri Van Mol heads the relay team for Breast Cancer donations among faculty members and Mrs. Suzanne Bradley, administrative assistant for 21 years, organizes donations for the Daffodil Days for cancer research. Over 100 students participate in a PTO sponsored musical for the whole community each April. Students and parents contribute thousands of hours to make this Broadway in Crofton event possible.
Community partnerships abound, linking the school with businesses and other groups. The PTO, the biggest supporter for the school, contributes many thousands of dollars of materials, and countless volunteer hours. From huge amounts of library books and technology purchases to a personal Lindt chocolate truffle for each staff member, the faculty is supported 100% by PTO. Each quarter, honor roll students and students who improve grades receive a special card entitling them to free goodies at local restaurants and businesses. The PTO is the guiding force for this academic incentive.
Students have enrichment opportunities. After- school care provides supervised activities for students. Numerous faculty-sponsored clubs offer students chess, Destination Imagination, intramural sports, art, newspaper work, robotics, spelling, and more. Welcome to Middle School sessions are run throughout the summer to help ease rising 6th graders into the school. Study Smarter Not Harder sessions are run by guidance. Help sessions are held each Wednesday after school by every teacher. Mrs. Alberta Baker's unique trip to French Canada is the highlight of French students' middle school years as are the band and choral trips for the music-minded.
Ms. Hansen often refers to a wheel with four equally supportive spokes to compare the community, parents, faculty, and students who all contribute to a middle school that is in the middle of the Crofton area's heart.