Gioele Settembrini:
Born to Sing and to Serve
By M.A. Cashman, Ph.D.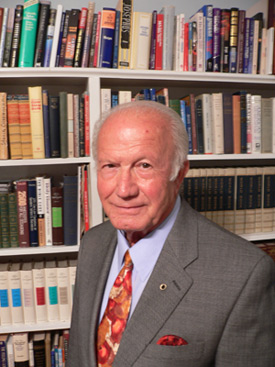 "Each morning of life represents a fresh opportunity to serve the Lord."
He wakes up singing and fills his day with song. Gioele Settembrini is a Baptist minister and self-trained lyric tenor who maintains his voice for the church as well as the concert stage. Born in Latiano, on the southeastern coast of Italy, in the province of Brindisi—an area that he refers to as "the boot"—Gioele had a childhood filled with music. When opera singers performed in front of the large fountain in the middle of the town square, the eight-year old Gioele would sing along, especially drawn to tenor arias from Tosca and Turandot. He would sing along with his father's recordings of some of the greatest opera singers in the world: Tagliavini, Gigli, and Gioele's idol, Mario del Monaco in his signature role of Otello. He also admired Schipa, for his "impeccable vocal technique." As his voice matured, the teenage Gioele would sing opera alone, a cappella, under the arch in town, where the acoustics were best. At 14, his passion for opera inspired him to ride his bicycle 85 miles each way, from Latiano to Bari, to hear a performance of Aida.
Gioele was the middle child in a family of seven girls and three boys, all with names from the Bible (Gioele is Italian for Joel, prophet of the Pentecost). He remembers his mother Pompea's compassionate spirit and his father Giuseppe's powerful inspiration, both of which still sustain him. Father and son sang opera and sang in church. Giuseppe was a Protestant minister of the Waldensians, a 12th century sect considered heretical by the Catholic church, yet prominent in the mountains of northern Italy.
Upon graduation from high school, Gioele was attracted to a career in vocal music and a vocation in the ministry. He chose to pursue the ministry, but continued to sing. He went to college at the Biblical Institute of Bari, and did additional study at the Florentine Seminary.
In 1954, he came to the U.S. with one dollar left in his pocket from the ten dollars he had when he left Latiano. His mentor, an American soldier named Haslup who was close to the family during the war, played the piano in Giuseppe's church, and later taught music at the University of Maryland. Through Haslup, Gioele was given a full scholarship at the Washington, D.C. Bible College. There he met and married Esther Stokes, whose family had lived in Annapolis for generations.
In 1956, he joined Americans United for the Separation of Church and State, and spent more than 28 years traveling, lecturing, and appearing in concerts on behalf of the organization. He traveled widely, addressing college and university audiences and singing concerts in 49 states, all except Hawaii. He also continued to sing in church on Sundays, for weddings and funerals, and on special occasions.
In the 1950s, he received artistic feedback from several professional singers. After a Jan Peerce concert at Constitution Hall, Gioele sang for the Metropolitan Opera tenor, who advised him to come to New York and study voice. In Baltimore, he sang for Rosa Ponselle, who advised him against singing Vesti la giubba, an aria for dramatic tenor, and focus on arias for lyric tenor. Encouraged and validated, Gioele re-dedicated his life to the ministry rather than the serious study of voice. This prompted tenor Bartolini to write, "You deprive the world of a beautiful voice." Gioele continued to sing opera, from the lyric and the dramatic repertoire.
Highlights of his many performances include a benefit concert in New York at Carnegie Hall, where he sang the tenor role in duets from Madama Butterfly, Showboat, Il Trovatore, and Tosca. In Chicago he sang a program of Italian opera and Neapolitan songs. He also sang in Annapolis at the Naval Academy, in the chapel and in orchestra concerts. His TV appearances include a live studio performance over WETA, singing excerpts from Aida.
Gioele has always loved the preaching ministry of preparing the sermon, moving to the pulpit, and fashioning his words to the minds of the congregation. In 1957, he fulfilled his vocation as a minister by starting The First Baptist Church of Shadyside, MD. The six founding members spurred such growth, that within fifteen years, they invested $650,000 in building the church and improving the property. Of great importance, the church incurred no debts, as all investments were cash. By 2000, at the height of church growth, the congregation numbered 116 members with an attendance of 80 to 90 every Sunday and from 50 to 60 in Sunday school. Recently retired, Gioele is now Pastor Emeritus of the church, and continues to preach.
In 1962, Gioele returned to Italy for the first time, as a credentialed correspondent at the Second Vatican Council in Rome. Every year since then, he has returned to his beloved Italy.
Gioele's ministry has matched his love of travel. For the Southern Baptist Convention, he flew to Ireland to interview Ian Paisley, a member of the British Parliament in Northern Ireland and to the Island of Malta to interview Prime Minister Don Mintoff,
He has written 21 booklets, including Unholy Smoke over Belfast, An Italian Report on the Second Vatican Council, and the autobiographical A Tale of Two Nations.
Gioele just returned from a trip to Sardinia and a singing engagement in Johnson City, TN, and now goes on to Italy, and Lima, Peru, where he and his brother, Gabriele, performed Neapolitan songs and the Lord's Prayer for television. He has spent about 100 days of the year traveling around the country and the world, and he continued to invest his incredible energy in singing opera and preaching the gospel.
His singing is all about sharing the music of opera. Profoundly moved by the operas of Puccini, he easily approaches a group and begins to sing, in full voice, the tenor aria from Turandot, Nessun dorma, or E lucevan le stelle from Tosca. His voice and charisma create such an emotional response in listeners, they want to hear more.
His preaching is all about sharing the gospel of forgiveness. In 1982, he returned to the cave in Italy where 170 Waldenses were burned alive during the Inquisition. Crawling into its small opening, Gioele stood inside the cave and sang The Lord's Prayer.
His life is all about family. Gioele and Esther have two children, five grandchildren, and seven nieces and nephews. This past summer they celebrated their 52nd wedding anniversary. A man of many talents, Gioele is proud of his inestimable achievements as itinerant artist, author, lecturer, pastor, preacher, and charismatic leader. Yet he is proudest of his family.
A man of many words, the word "retire" does not compute for Gioele. After all, there is so much more singing and so much more preaching—and there is still Hawaii.