Dr. Glen Gibson
A True 21st Century Surgeon
By Effie Dawson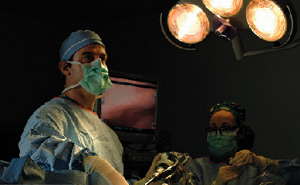 Surgeon Glen Gibson and his family settled in Annapolis two years ago for a lot of reasons.
An East Coast native, Dr. Gibson had grown up in New Jersey and, as a shot-putter at the University of Pennsylvania during his undergraduate days, he visited Annapolis in the late 1980s and early 1990s to compete at the Naval Academy.
He graduated from Tufts School of Medicine in Boston and underwent surgical training at Dartmouth in New Hampshire. He then enjoyed a taste of the West Coast while continuing his training in a surgical oncology fellowship at the City of Hope in Duarte, California.
At the end of the fellowship he and his wife, Tracy, a dentist, were drawn back east by the mild weather and the change of seasons they and their three children could enjoy in the mid Atlantic region. But the attraction to Annapolis was also professional. Dr. Gibson recognized the Maryland capital as an exciting place to practice medicine, specifically the minimally invasive cancer surgery that he had studied at the City of Hope.
Anne Arundel Medical Center's Geaton and JoAnn DeCesaris Cancer Institute was looking for a fellowship-trained surgical oncologist. Dr. Gibson was looking for a medical community with a comprehensive approach to cancer treatment and state-of-the-art equipment to ensure the best results of that treatment.
It became a perfect fit.
"Anne Arundel Medical Center had a vision of what it wanted to expand into," Dr. Gibson said. "AAMC made a big commitment to ancillary support services, such as the Lymphedema Center and the Wound Center. Those are the things patients need in addition to their specific medical treatment. The physicians among different specialties also work together well, developing comprehensive plans for treating their patients."
The complementary services, camaraderie and leading-edge technology at AAMC have enabled Dr. Gibson to advance the field of minimally invasive surgery for complex cancer operations.
Minimally invasive surgery allows doctors to make smaller incisions and utilize tiny cameras to guide the surgery. These techniques result in less blood loss, less scarring, less hospital time, less risk of infection and quicker recovery time. Although there have been tremendous advancements in minimally invasive techniques since the first laparoscopic gall bladder surgery was performed two decades ago, complicated cancer surgery at many hospitals still means large incisions.
"Cancer surgery is not usually laparoscopic or minimally invasive and doctors who perform minimally invasive surgery haven't historically been cancer surgeons," Dr. Gibson said. "What I learned during my City of Hope training was that you can do these big operations with minimally invasive technology."
Dr. Gibson's interest in advancing minimally invasive techniques is also a perfect fit with AAMC's growing Robotics Institute. A year ago, AAMC began use of the da Vinci Surgical System, one of the most innovative tools available for minimally invasive surgery. During its first year, AAMC doctors performed more than 100 surgeries with the robot.
"The da Vinci system represents the next stage of evolution in minimally invasive surgery," said Dr. Kenneth Lee, chairman of the AAMC Robotics Institute. Dr. Lee helped develop the da Vinci technology and trains surgeons across the nation on how to use it.
This robot technology assists, but does not replace, a surgeon's hands. The surgeon operates the robot from an operating room console, where a camera system enables 3-D viewing of the surgical field. Included in the console are tools that seamlessly transmit hand, wrist and finger movement through the computer to surgical instruments placed inside the patient. The robot itself has four arms—instrument arms and an endoscopic arm—that execute the commands of the surgeon. These arms provide seven degrees of motion that mimic with great precision the dexterity of the human hand and wrist. The robotic arms are then attached to surgical instruments, each of which has a specific purpose like suturing, clamping or manipulating tissue. Surgical team members help insert the arms into the patient's body through incisions 1 to 2 centimeters long and then supervise the instruments during a procedure.
While some hospitals in the region have started using this system for specific surgeries, AAMC has expanded the da Vinci program to encompass urology, gynecology, thoracic and general abdominal surgery.
Dr. Gibson said robotic surgery is a better option than laparascopy for surgeries deep in the pelvis, such as rectal cancer resections, prostatectomies and gynecologic surgery because the 10-times magnification, 3-D vision and ability to move around delicate organs and arteries with greater dexterity. "Procedures that were impossible to do laparoscopically can be done robotically," he said.
For cancer patients, this type of surgery can be life-altering.
"Some cancer patients, with already weakened immune systems, are not candidates for the traditional large incision operations because of the stress of surgery," Dr. Gibson said. With a minimally invasive approach, the reduced recovery time means patients can more quickly resume vital post-surgical treatment, such as chemotherapy or radiation.
"The robotic approach allows me to do more things to help more people. This is a very important advance for cancer patients," Dr. Gibson said.
Dr. Gibson said he is looking forward to continued advances in this type of surgery at AAMC. New features in the da Vinci system allow transmission of video-feeds, which eventually could allow for remote collaboration with other doctors.
The continued focus on advancing medical techniques – as well as the pleasant weather – made Dr. Gibson happy with his decision to settle in Annapolis. "AAMC has a comprehensive, progressive vision and I'm happy to be part of that," he said.