Cynthia's Severna Park
By Patricia Barry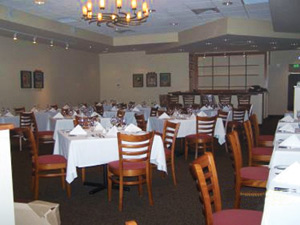 Park Plaza Shopping Center
Severna Park, Maryland 21146
410-315-8088
cynthiassevernapark.com
Lunch: Tuesday – Friday 11:30 a.m. to 2:30 p.m.
Brunch: Sunday 10:30 a.m. to 2:30 p.m.
Dinner: Tuesday – Thursday 5:30 to 9:00 p.m.
Friday – Saturday 5:30 p.m. to 10:p.m.
Sunday 5 p.m. – 9:00 p.m.

It's all about the food." No waterfalls, weird-shaped plates, exotic colors or servers on roller skates.
Two professional chefs have teamed up to concentrate on the food in a serene atmosphere. They offer upscale, contemporary American cuisine, using seasonally changing ingredients, while incorporating diverse cooking styles and international touches. And, if you are inclined, you'll find a thoughtful wine list that compliments your choices. Counsel is available from the attentive servers or the owners who are either in the kitchen or the intimate dining room.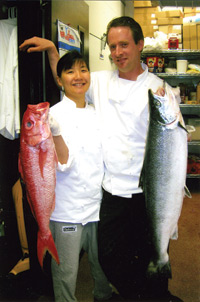 Cynthia's is easy to find. Just follow the simple directions and look for "Cynthia's" in lighted script above the restaurant. Another hint: it's just next to Annapolis Seafood Market.
Parking is abundant. Reservations had been made (it is highly recommended to do this) and we were received by a gracious hostess who seated us in a quiet corner at a table with a crisp white cloth and napkins, sturdy flatware and crystal glasses. As with the entire space (which seats only 71 diners), everything is unobtrusive and low-key. The surprises are in the selections, presentation, and fine tasting dishes.
One of the two chef owners, Cynthia Bennington, is a pastry specialist and her dinner roll, called the "Guggenheim" (named for the New York City museum), is a temptation of spiraling dough, slightly sweet, with a dusting of sea salt over the top. It is unusual and unusually good.
Three of us began with a l'amuse (a complimentary taste teaser)—a small puff pastry filled with lamb, chicken and gentle spices. This is a popular delight among the clientele, with one asking for "a dozen to make a meal." Unfortunately, this is not yet available.
We selected a pinot noir named Bouchard Bourgogne that proved to "have legs, fine bouquet and a rousing finish," according to my ally in food. It paired nicely with the starter "poppers," another favorite that grew out of l'amuse. Zucchini jalapeno potato poppers—cheddar and Monterey jack cheeses, fresh salsa, and guacamole in a crisp covering: one is never enough.
Moving on in the starters, we also sampled the shrimp tempura with gingered Asian slaw and garlic chili sauce. High quality shrimp were nestled in the lightest of tempura batters. We have learned that all sauces are house made and carry the chef's flair for lightness and originality.
The salad of baby greens is constituted from individual lettuces into a mixture from the freshest available heads and leaves of greens. In other words, this mixture is created by the chef and not acquired in a premixed bag. The accompanying tomatoes were stuffed with warm chevre cheese.
From the entrée list we were impressed with the presentation of the diver sea scallops potato roll sitting on a bed of sweet spinach. Large succulent scallops perched within a thin potato roll under a hood of tomato pepper relish and an ethereal balsamic buerre blanc. This dish appeared majestic—as if it were a royal headdress—all irresistibly edible.
The seared Colorado lamb loin was a good choice for a lamb lover and was cooked to perfection: rare. It was surrounded by couscous, tomato fondue, spinach, and anointed by an original sauce with a base of curry oil. All won raves, but the sauce lingered on.
We felt were in an unhurried atmosphere, amazing after talking with the two chef owners who are passionate about their creations and insist on "everything from scratch."
Whatever the time of day, be sure to seriously consider the desserts prepared by pastry chef Cynthia herself. Among those we tried was the chocolate soufflé with vanilla chantilly where "hot is hot" and "cold is cold." We also sampled the Strawberrysomethingoranotherorangecake (not a typo), which was at first comfortably old fashioned, but made unique by the honey ice cream.
On another visit for lunch, a friend and I learned that the grilled breast of chicken came from a fresh bird that had been cut, boned and marinated in herbs and a stealth marinade for six days at just the right refrigeration to make it a sort of "drunken chicken." When cooked, it was an incredible taste sensation. Paired with a generous salad of baby greens, dried cranberries, slivered almonds and a house-made ranch dressing, the textures were crunchy, soft and tender—making the experience ultimate dining.
My luncheon companion selected the Burger a la Continental, a combination of prime beef, lettuce, tomato, onion, cheese and sweet pickle sauce. Sounds familiar, but as she noted, "You'll never have a better burger and definitely the best of the best of fries."
Executive Chef and owner Brian Bennington brings with him not only his own fire for exquisite cuisine but an impressive career as a graduate of the Culinary Institute of America in Hyde Park, New York, a long spell as chef de cuisine at Patina's in Los Angeles, executive chef at Pinot Brasserie at the Venetian Hotel in Las Vegas and well as other top restaurants around the U. S. Finally deciding on the Annapolis area for his home, he served a brief but acclaimed stint at the Annapolis Yacht Club before opening Cynthia's, Severna Park with his wife Cindy where "it's all about the food."
Back