Frances Chumley
Chef on a Mission
By Michael Rhian Driscoll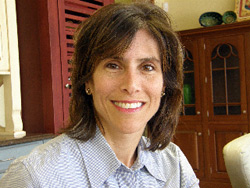 Emeril's got nothing on Frances Chumley of Annapolis. All he does is manage a few restaurants and a cooking show. Frances raises four children, teaches exercise classes at Big Vanilla or at a client's home, runs her bakery business, and offers regular classes to adults and kids in cooking, wine tasting, and life.
Despite being a cook with a specialty in desserts, she stays just as lean as any Olympic athlete. But, she says, you don't have to pack on the pounds. "I can eat whatever I want." The trick is to "enjoy what you eat, just in moderation. After all you eat to live, not live to eat. So do it all in moderation, and also exercise."
In the gym or in people's homes, Frances works with clients to prepare exercise regimens for themselves. It's a "personal approach, giving people the satisfaction of doing the right thing with support behind them." She helps people to lose weight and find a healthy lifestyle.
To illustrate the eating part of her healthy approach to life, Frances offers the "Organically Scrumptious Cooking School," teaching people not only how to cook, but what they are cooking, as well as what they are eating. This includes foods that are unprocessed, fresh, with no preservatives and no chemicals. It's a healthy approach to food and fitness, which doesn't include sauces, because it's best to prepare foods that are easy and healthy.
The process of cooking is on the swift side for the sake of simplicity. Dinners feature tofu and raw foods "that make you feel good, and also help you lose weight."
That being said, "I'm not 100% organic, because you can't always get needed supplies so I try to be flexible. And I still eat meat. I'm a foodie, I love everything," but all in moderation. Her classes are located in Design Solutions, at the Antiques Mall near the Bay Bridge, and are both for kids and grownups. The kids cook on Sundays and the grownups on Tuesdays. Class size ranges from four to 14 students.
There are themed classes from time to time, such as Thanksgiving, where the kids can really get their hands into dough and pie filling and other tasty goop that they can transform into seasonal goodness for their own tables. She calls this the "Kids in the Kitchen" program. There is also a cooking camp in summertime. It "teaches kids to notice what they are eating." One of her more interesting techniques to accomplish this with a "blindfold taste test. I give them several different types of apple to try. So far we've found 12 different tastes."
For the adults there are special "aphrodisiac classes" held on the last Friday each month, with a special class in February to mark Valentine's Day. These classes feature foods and wines presented with a playfully romantic spin. This angle is not without its risks, as at least one marriage has resulted.
"The man gave me a ring to hide so that it could be served up at the right moment," which she did by lighting candles and then bringing it in, hidden in a special dark chocolate dessert.
Frances is also a demo specialist at Whole Foods at the Annapolis Harbour Center. This means that she demonstrates the preparation of various foods sold at the store. A few months ago, says Sarah Kenny, the chain's marketing coordinator, Frances noticed that the previous demo specialist had left the store, so she applied for the job.
"Frances demonstrates quick, simple and easy ways to prepare these foods to people who tend to be fairly inexperienced. She's pretty straightforward."
Ms. Kenny says that both Whole Foods and its customers are very happy with the arrangement. "She's uniquely talented, knowledgeable, and a real foodie. It's a really compelling experience to spend time with her, whether its just five minutes or five hours. She's wonderful."
As a teacher, her style is relaxed yet firmly in control. She makes it look easy, guiding a diverse team of foodies in pulling together various ingredients spread out all over a kitchen into simple, filling, and delicious fare.
Everybody gets to help build the meal. Then at the end, everyone sits down to eat the lessons, savoring the results over fine wines, fresh water and good company.